Over 5,600 signatures so far on this petition opposing Youngkin as GMU Commencement speaker – sign it! Also, for a reminder of how bad a Youngkin Commencement speech can be, check out what he had to say last year at bats***-crazy Pat Robertson's Regent "University"…ranting about "Hyphens," "Pronouns," "Cancel Culture," "Groupthink." Why would anyone want someone like THAT as their Commencement speaker? Of course, we're talking about GMU, which is heavily funded by the far-right Koch brothers, so…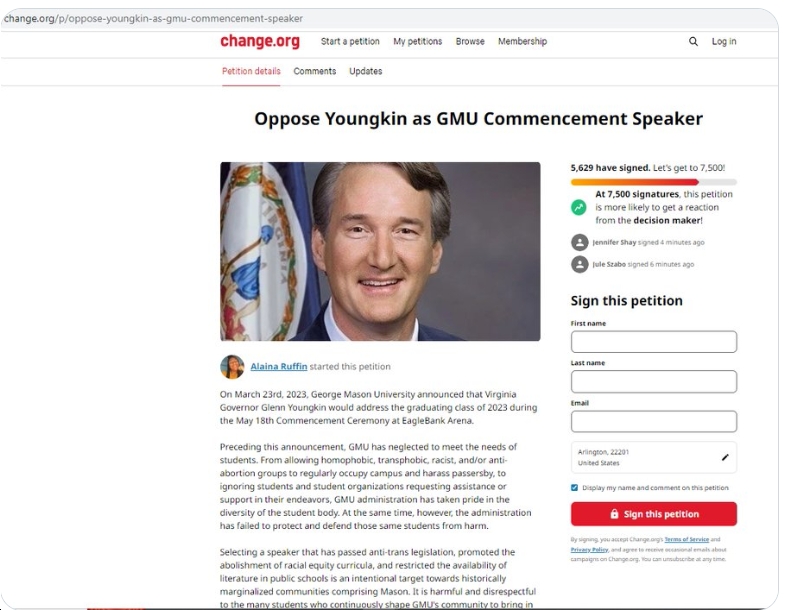 On March 23rd, 2023, George Mason University announced that Virginia Governor Glenn Youngkin would address the graduating class of 2023 during the May 18th Commencement Ceremony at EagleBank Arena. 
Preceding this announcement, GMU has neglected to meet the needs of students. From allowing homophobic, transphobic, racist, and/or anti-abortion groups to regularly occupy campus and harass passersby, to ignoring students and student organizations requesting assistance or support in their endeavors, GMU administration has taken pride in the diversity of the student body. At the same time, however, the administration has failed to protect and defend those same students from harm.
Selecting a speaker that has passed anti-trans legislation, promoted the abolishment of racial equity curricula, and restricted the availability of literature in public schools is an intentional target towards historically marginalized communities comprising Mason. It is harmful and disrespectful to the many students who continuously shape GMU's community to bring in an individual who has also neglected the needs of Virginians. George Mason University prides itself on being one of "the most diverse institutions in the Commonwealth." Yet by having Governor Youngkin as this year's Commencement speaker, we believe that the University compromises its supposed values of centering students' experiences and overall well-being. When satiating its own desire to appease the powerful few, the University, once again, has abandoned these principles. 
As a Patriot and prospective alumna of George Mason University, I and my peers do not want the memories of our graduation day to be tainted by an individual who has harmed and continues to harm the people he serves. On behalf of the GMU Class of 2023, we call on you to sign this petition and demand that George Mason University administration take appropriate action to ensure Governor Youngkin does not attend or speak at the Spring 2023 Commencement Ceremony.