by Jimmy Rogers, campaign manager for Sen. Dave Marsden (D-SD35)'s reelection campaign
Sen. Dave Marsden's 26-percentage-point win in the June 20th Democratic Primary turned out to be an extreme outlier based on Virginia electoral predictions. On the eve of the election, leading politicos were consistently projecting a "Leans Drauschak" result, meaning that Sen. Marsden overperformed expectations by about 30 percentage points. The politicos correctly called other marquee matchups like Russet Perry ("Safe Perry"), who won by 30 percentage points; and Creigh Deeds ("Tossup") who won by 2 percentage points. They were close on others like Louise Lucas ("Tossup"), who won by 6 percentage points; and Jeremy McPike ("Tossup or even leans Guzman") who won by <1 percentage point.
Sen. Marsden's win is also an outlier in Fairfax County, where he was the only incumbent Senator to hold on. The politicos were either right on, or in the ballpark, for the other Fairfax County races: Stella Pekarsky ("Lean Pekarsky"), who won by 4 percentage points; Jennifer Carroll Foy ("Likely Carroll Foy"), who, like Marsden, won by 26 percentage points; and Saddam Salim ("Lean Petersen"), who won by 8 percentage points. In Fairfax, Sen. Marsden's victory margin was tied for the highest of the four Senate races, and Marsden's campaign was the second-most efficient in dollars-spent-per-vote-earned.

Revisiting Sam Shirazi's claim that out of 31 Democratic primaries for State Senate and House of Delegates this past Tuesday, "White men only won 3 of them, with Sen Jeremy McPike narrowly ahead in 1 other": that makes Sen. Marsden an outlier in Virginia as well. Since two white men faced each other in SD27 (Joel Griffin vs. Ben Litchfield), Shirazi's tweet is more applicable to Dave Marsden (a whopping 25.74 percentage points over Heidi Drauschak), Creigh Deeds (a narrow 1.96 percentage points over Del. Sally Hudson), and Jeremy McPike (an even narrower 0.42 percentage points over Del. Elizabeth Guzman).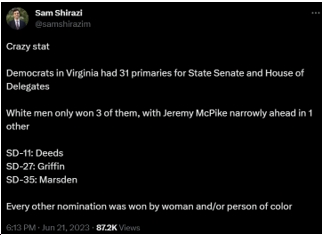 Finally, Sen. Marsden's campaign was one of only a few that won this past Tuesday, despite being heavily outspent by their opponent. Sen. Marsden's 2023 reelection campaign had a broad range of financial supporters (note: past Dominion Energy contributions were a virtual non-factor in this election, although even in the past, they had only ever amounted to about 3% of Sen. Marsden's fundraising) and Marsden was still able to efficiently and effectively communicate with voters. Sen. Marsden also had a significant advantage with in-district, small-dollar contributions, which made it difficult to label him as a corporate candidate. Reviewing the 2023 spending numbers through June 8th, plus the large contributions reported afterwards, the Drauschak campaign spent about $845,000 vs. Marsden's $447,000: nearly a 2:1 advantage for Drauschak.
https://www.vpap.org/money/large-pre/senate_cands/
https://www.vpap.org/candidates/449770/finance_summary/?start_year=2023&end_year=2023
https://www.vpap.org/committees/184379/marsden-for-senate-david/expenditures/category-4-campaigning/?start_year=2023&end_year=2023
Sen. Marsden was also redistricted into the new SD-35, over 70% of which had not been represented by Marsden previously, so there wasn't much of an incumbency advantage with previous voters.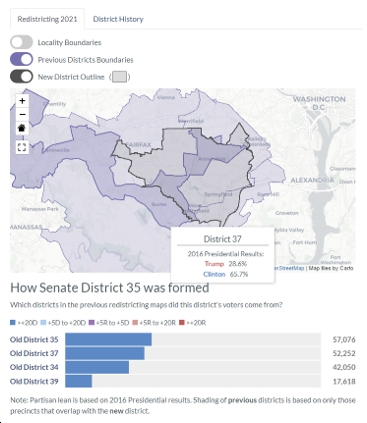 Sen. Marsden was facing an assortment of arduous trends; a 70+% new district, two neighboring incumbent Senators (and a third neighboring candidate who was a 2021 statewide Democratic nominee) being defeated in the same county, being a man running against a woman, and being heavily outspent. Yet, Marsden won a landslide victory. So how did he do it?
Abortion rights. Sen. Marsden was clear and unequivocal about this important issue, receiving the endorsement of REPRO Rising (formerly NARAL Virginia) for not only his 100% voting record on reproductive rights, but also for his leadership in being the first man in the Senate to endorse Lashrecse Aird against Joe Morrissey, as well as for repeatedly going down to Virginia Beach to knock doors and helping fund the campaign of now-Sen. Aaron Rouse, who became the deciding vote in a pro-choice Senate majority. This was by far the top issue for Democratic voters, who universally demanded a well-defined and decisive stance from candidates on abortion rights.
Gun safety. Sen. Marsden has always proudly received an "F" from the NRA. Sen. Marsden also has a long history of working with groups like Moms Demand Action (where he was again a "Gun Sense" candidate) and Brady PAC, and has introduced or co-patroned over 40 gun safety bills in Richmond. Gun safety will be a big issue in the Virginia general elections this November as well, and you'll likely see Republicans make the same mistake (as they've done and will continue to do with abortion rights) of being vague and non-committal on guns for fear of alienating their base.
Environmental protections. Sen. "Earth Dave" Marsden is the back-to-back Legislative Climate Champion. Sen. Marsden also received the endorsement of Climate Cabinet Action, as well as 100% scores from the League of Conservation Voters and the Sierra Club. Sen. Marsden is committed to delivering the environmental protections and clean energy growth outlined in the Virginia Clean Economy Act.
Campaign finance. Voters are huge supporters of reforming Virginia's campaign finance laws. In addition to being very efficient with his own campaign spending, Sen. Marsden supports contribution caps and a personal use ban on campaign funds. Voters wondered how the Drauschak campaign was able to pay for TV and mailers if they were not accepting corporate money. This was a valuable lesson for the general election; if a commercial looks like it was expensive or has high-production quality, the actual message may make less of an impact. The Drauschak campaign was making the right points, but ironically the superb quality of their media was a distraction for voters. The low-budget, longer-form, direct-to-camera ads that Marsden's campaign ran turned out to be a compelling way to win the hearts and minds of Democratic voters in the district. We heard from viewers that they didn't want to feel like they were being shown a heavily filtered or "focus group tested" message, but wanted something more authentic.
Straw polls. Straw/Twitter polls aren't always accurate, but Sen. Marsden won all of them by margins consistent with the primary election results; Blue Virginia 67%-33%, Dranesville Dems 65%-35%, Fairfax Dems 54%-46%, Franconia Dems 70%-30%, and Braddock Dems 80%-20%. An interesting aside; the other winners of the Fairfax Democrats straw polls were; Stacey Kincaid (won reelection), Steve Descano (won reelection), Jennifer Carroll Foy (won election), Stella Pekarsky (won election), Saddam Salim (won election), Karen Keys-Gamarra (tied for lead in straw poll, won election), Laura Jane Cohen (won election), Makya Little (looks to have lost election by 1.6 points), Andres Jimenez (won election), Dan Storck (won reelection), John Nowadly (won straw poll by 1 vote, lost election by 8 points), Ilyrong Moon (won endorsement for School Board), Kyle McDaniel (won endorsement for School Board), Lawrence Webb (lost endorsement for School Board to hadn't-yet-announced candidate Ryan McElveen), Paul Thomas (lost endorsement for School Board to Melanie Meren), Mateo Dunne (won endorsement for School Board). Ultimately, the Fairfax County Democratic Committee proved to be the heartbeat of the primary electorate. In their straw poll, Fairfax Dems went 2/2 on constitutional office races, 4/4 on Senate races, 2/3 on House races, 2/3 on Supervisor races, and effectively 3/4 on School Board races – an incredible success rate.
Worker rights. Sen. Marsden stood with Labor, making it clear that he would support increased union membership, prevailing wages, Project Labor Agreements, and repealing so-called "Right-to-Work" laws here in Virginia.
Marsden himself. Dave Marsden is a truly wonderful person, and those who interact with him sense the authenticity and generosity that are at the core of Dave's values. There is no substitute for how a personal interaction makes someone feel, and Dave is genuine and compassionate. Dave is always happy to talk with people directly, and can be reached on his cell phone at 703-964-6821.
For the record, I want to congratulate Saddam Salim, Stella Pekarsky, Jennifer Carroll Foy, their campaigns, and all of the successful Democratic campaigns during this primary season. I also want to express my deep appreciation for Sen. Chap Petersen, Sen. George Barker, and former Del. Hala Ayala, each of whom I've had the honor of working with, and each of whom have helped deliver incredible progress for Virginians during their public service. To all of the candidates who did not prevail this time, we owe you a debt of gratitude for stepping up and offering to serve – thank you all.
Also, of course, thank you to all the Democratic voters, volunteers, and supporters in SD35 and across Virginia. Thank you to Heidi Drauschak and her campaign team, who ran a great campaign and meaningfully advanced the conversation on our shared Democratic values. And of course, thank you to Sen. Dave Marsden, who trusted me to run this campaign, who has always supported our entire team, and who leads by example.
With the primaries behind us, Sen. Marsden's campaign is looking forward to working with all of the Democratic nominees in Fairfax County and all across Virginia – and most importantly, winning together this November!
Sincerely,
Jimmy Rogers
Campaign Manager – Marsden For Senate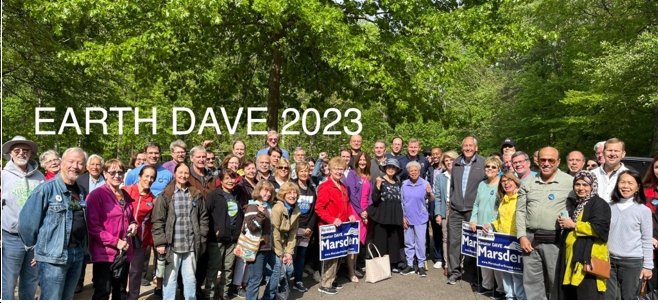 To support our SD35 Democratic nominee in the General Election, Sen. "Earth Dave" Marsden, please contribute at https://secure.actblue.com/donate/earthdave