Good stuff from Equality Virginia and the Human Rights Campaign:
Richmond, Virginia — Earlier this week, the Human Rights Campaign PAC (HRC PAC) and Equality Virginia PAC (EV PAC) announced their joint endorsement of 21 pro-equality champions running for the Virginia State Senate and the Virginia House of Delegates, eight of whom identify as LGBTQ+. In-person early voting in Virginia begins on September 22, 2023 and Election Day is Tuesday, November 7, 2023.
THIS MORNING, August 31 in Richmond VA, HRC PAC, Equality Virginia PAC, and the endorsed candidates hosted a joint press conference. Speakers included HRC President Kelley Robinson, Equality Virginia PAC Executive Director Narissa Rahaman, State Senator Adam Ebbin, former Delegate Joshua Cole, father of trans child Hans Bauman, and mother of a trans child Liz Erion. In 2023, anti-equality lawmakers in Virginia introduced 12 anti-LGBTQ+ bills – the most in any single Virginia legislative session – making it critical now more than ever to elect pro-equality leaders who will advocate for all Virginians.
"If and when we elect these pro-equality candidates, we are going to be able to safeguard our rights," said Human Rights Campaign President Kelley Robinson. "We are going to be able to stave off extremists, and we can show the rest of the country that when politicians attack our fundamental freedoms, when they attack our families, they lose."
"In just a few short years, Virginia, my home, has gone from a place that was moving towards supporting all people to a state on the verge of outlawing transgender people completely," said Hans Bauman, the father of a transgender child in Northern Virginia. "Radical forces have made transgender identities the most dominant issue of this political cycle, but what seems to be lost in this debate is that we're just parents and families supporting and protecting our kids."
"He (my son) is not an ideology, he's not trying to agitate anyone with his gender, he's just a kid, a kid that some in this state and country have made into a scapegoat, casting the small minority of transgender youth in Virginia as an existential threat," Bauman also added. "Though Northern Virginia is a relatively progressive and supportive place, my son now looks to the future with unease, worrying about his identity and future in this new world that seeks to deny his existence."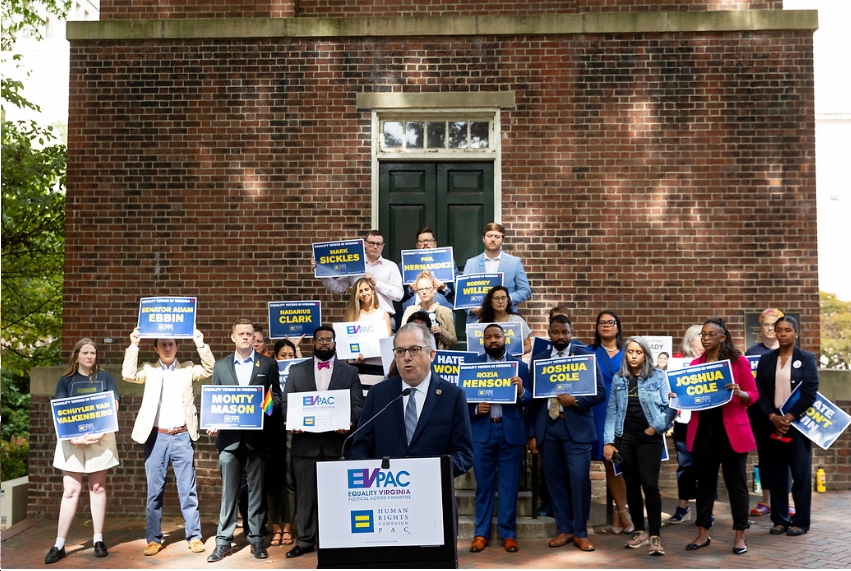 "Along with reproductive rights and the future of democracy in America, LGBTQ rights are very much on the ballot," said State Senator Adam Ebbin. "Virginians must show in 2023 once again with their votes that discrimination and bigotry are not welcome here in the Commonwealth."
Equality Virginia-Endorsed & HRC PAC-Endorsed Virginia Senate Candidates
| | |
| --- | --- |
| Schuyler Van Valkenberg | SD-16 |
| Aaron Rouse | SD-22 |
| Monty Mason | SD-24 |
| Joel Griffin | SD-27 |
| Danica Roem | SD-30 |
| Russet Perry | SD-31 |
| Adam Ebbin | SD-39 |
Equality Virginia-Endorsed & HRC PAC-Endorsed Virginia House Candidates
| | |
| --- | --- |
| Adele McClure | HD-2 |
| Laura Jane Cohen | HD-15 |
| Mark Sickles | HD-17 |
| Rozia Henson | HD-19 |
| Josh Thomas | HD-21 |
| Travis Nembhard | HD-22 |
| Susanna Gibson | HD-57 |
| Rodney Willet | HD-58 |
| Joshua Cole | HD-65 |
| Kimberly Pope Adams | HD-82 |
| Nadarius Clark | HD-84 |
| Phil Hernandez | HD-94 |
| Kelly Convirs-Fowler | HD-96 |
| Michael Feggans | HD-97 |
HRC's Commitment to Virginia
This latest round of endorsements continues HRC's multi-year investment to mobilize the Commonwealth's 1.5 million Equality Voters. In 2020, HRC's long-term efforts in Virginia culminated in the passage of the landmark bipartisan Virginia Values Act, making Virginia the first state in the South to enact nondiscrimination protections on the basis of sexual orientation and gender identity.
Equality Voters, including the more than 1.5 million in Virginia, are a voting bloc of demographically and geographically diverse Americans who are united by the advancement of LGBTQ+ equality. Equality Voters are younger, more racially diverse, and more female than the general electorate, they recognize and trust the HRC brand, and they are more likely to identify with issue-specific organizations than candidates or political parties. Across the country, HRC works every day to elect pro-equality leaders who support policies that will support the rights and lives of LGBTQ+ people.