Home
Tags
Affordable Care Act
Tag: Affordable Care Act
This past Sunday, January 15th, hundreds of energized Democrats rallied together at the Bell Tower in Richmond to defend the Affordable Care Act. With...
Cross posted with permission from Goodlatte Watch Congressman Goodlatte has been among the Republicans voting repeatedly to repeal the Affordable Care Act (aka Obamacare), which...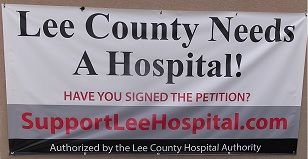 Some simple truths about health care and health insurance in America are essential to understanding why we are where we are: prior to the Patient Protection and Affordable Care Act (ACA) they weren't accessible, equitable, or adequate for far too many. Unfair practices in the market led to enactment.
If the playing field had been level the law would never have come to pass. The sweeping changes reflect the institutionalized predatory practices that it ameliorates. In an effort to allow the market to adjust and adapt, there were provisions designed to allow consumers to maintain coverage they believed to be adequate. Of course, the problem has always been that you wouldn't know if coverage was adequate until you had to use it and then it was too late. It wasn't as though you could shop around after that revelation; who'd take you on when you were laying in an emergency room? But even the "grandfathered" policies are prohibited from practices insurance companies commonly used to defraud consumers and shelter margins: When a uniquely Virginia health care plan was rolled out at the beginning of 2014, there was apprehension and confusion among stakeholders. Emerging from the turmoil in the McDonnell administration and in the midst of a political battle in the General Assembly over the Medicaid gap, this initiative engendered consternation.
That consternation, it turns out, was from unnecessary friction. Commonwealth Coordinated Care (CCC), a concept sanctioned by the Affordable Care Act (ACA), is an effort to improve health care delivery to Virginians who are eligible for both Medicare (entitled to benefits under Medicare Part A and enrolled under Medicare Parts B and D) and full Medicaid. Medicare and Medicaid were not designed to work together and do not function seamlessly. This and the socio-economic characteristics of the client base create gaps and overlaps in services inviting waste and fraud.
The goal of this initiative is to provide Virginians with high quality, person-centered health care that focuses on their needs and preferences.
Virginia's Department of Medical Assistance Services (DMAS) designed a demonstration that operationalizes a more effective, cost saving concept by establishing overarching Medicare-Medicaid Plans (MMPs). This should be an effort hailed across the political spectrum and embraced by health care providers, beneficiaries, and all citizens of the Commonwealth. But other than potential enrollees, most of us haven't even heard about this effort to improve health care for some 76,000 eligible Virginians living in designated regions.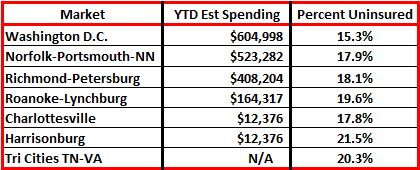 Though intended to serve at least two purposes, the $450 million spent on anti-Affordable Care Act (ACA) ads have failed their purpose(s) and may have unintentionally informed the uninsured that they have a path to healthcare coverage. The other intent, to support Republican candidates by inference, may also backfire.
The correlation of negative ad spending to enrollment is not direct and is affected by demographics, but research prepared by Brookings Institution fellow Niam Yaraghi provides some very interesting data. The chart for the television markets that encompass Virginia shows raw spending data from 2013 (national TV market map and data). This is not per capita data, so cannot be used for an accurate correlation, but it is informative. And Yaraghi does point out that the market where the highest per capita spending occurred, Washington, D.C., had the highest Obamacare enrollment rate, 11%.
In the states where more anti-ACA ads are aired, residents were on average more likely to believe that Congress will repeal the ACA in the near future. People who believe that subsidized health insurance may soon disappear could have a greater willingness to take advantage of this one time opportunity.
What is also clear from the spending data is that this advertising is aimed at assisting Republicans in states with the most competitive mid-term Senate races: Kentucky, Arkansas, Louisiana, and North Carolina. The aim is probably as much voter suppression as it is support for the Republican candidates. In Virginia, these ads may influence the outcome of two Congressional races (7th and 10th) more than the U.S. Senate race not only because Senator Warner has a nuanced position on the ACA but also because his opponent is a cold fish.
We are no closer to expanding health care coverage in Virginia than we have ever been. Governor McAuliffe blames the tea party but that is too kind to the legislators who do not support expansion. They are either math challenged or corrupt, morally and/or ethically. The tea party provides obfuscation.
"There still is a House of Delegates which remains unmoved and unmoving on this issue." - Reverend John Peterson speaking at an Organizing Virginia vigil for Medicaid expansion just prior to the Senate joining the forces of obstruction
Hospitals and patients in Virginia have to live within the reality of the law whether or not one agrees or disagrees with the Affordable Care Act, explained John Peterson, Chairman of the Board of Augusta Health. So it is in all our best interests to find a solution that makes the law as workable as possible for as many patients and those who serve them as possible. $300 million in annual payments to Virginia hospitals were eliminated under the Affordable Care Act including disproportionate share hospital payments for treating the uninsured and cuts to Medicare reimbursement rates. Those Medicare reductions were to be offset by Medicaid expansion in the states.
Peterson outlined the effects of failing to expand Medicaid. Augusta Health provided some $25 million in uncompensated care last year and an additional $5 million in community benefits related to care. So, I understand that little
Bobby McDonnell
can't decide whether to extend Medicaid coverage to 430,000 Virginians who cannot afford to purchase health insurance, compliments of and paid for by the Federal government for the most part, Perhaps I can explain why the decision is a no-brainer in the only language that Republicans understand - in dollar terms.
According to the American Hospital Association, unpaid bills cost hospitals about $40 billion every year, and the Medicaid expansion will do much to offset the cost of uncompensated care. To help with the cost, many hospitals now receive funds through the Medicaid and Medicare Disproportionate Share Hospital (DSH) programs. Assuming the number of uninsured people will fall beginning in 2014, the Affordable Care Act decreases DSH payments under both programs. So, if Bob McDonnell decides Virginia won't take part in the program, he's not just denying Medicaid to almost half a million people he evidently doesn't care about. He's also doing all he can to bankrupt Virginia's hospitals that are the offering health care that's a last resort for uninsured people.
If the cost of unpaid bills is lowered by Obamacare, that means less cost-shifting to the people who have health insurance, potentially lowering premiums for all Virginians. Having more insured people results in fewer people presenting in emergency rooms with complex, previously untreated dangerous illnesses. Healthier adults are more productive workers. Healthier children do better in school.
Health care is one of the fastest growing employment categories. Expanding Medicaid will create jobs, Mr. "Bob for Jobs." Medicaid expansion doesn't even require localities and the state giving piles of money to some corporation to create jobs. Instead, Medicaid expansion is a Federal jobs program with lots of benefits for Virginia's working people with little or no cost to the state.
I suggest that Bob McDonnell set aside his snitty pique at not being in "President" Romney's cabinet and do what's right for Virginia's insured citizens, Virginia's hospitals, and Virginia's unemployment rate. I realize he doesn't give a hoot for working-class, uninsured people, but surely he cares about the state bottom line. Or, does he? Man up, Bobby. Decide. Is it shocking anymore to observe Republicans in Virginia doing nothing but obstructing or stalling important policies from being implemented? No, but even the stall tactics being used to weigh against the Patient Protection and Affordable Care Act seem stunningly mind boggling in their absurdity. Why?
If the Republican gamble doesn't pay off and Romney loses the presidential competition and the U.S. Congress does not fall squarely into the hands of the GOP, Virginia will lose millions of dollars and thousands of Virginians will be denied access to primary medical care. So not only does the GOP stall maneuver make little moral sense, but it also makes little sense on the front most sacred to Republicans, the economic front.
The Affordable Care Act requires every state to set up its own health exchange where small businesses and individuals can compare and contrast different health insurance options. McDonnell had the ball in his court, so to speak, but dropped the ball by failing to "push" the health exchange initiative through the General Assembly after some of the top GOP members in Virginia agreed to go along with it.
It should go without saying that the health of Virginians is not a partisan issue, or at least it shouldn't be. But McDonnell and some Virginia Republicans have made it just that, an issue that can help shape their message of excessive federal government overreach and their own roles as local guardians of their constituents.
Here are two important things to remember as the GOP, with the help of Chief Justice Roberts, try to spin the Affordable Health Care Act into a TAX (already they are at it falsely purporting the largest tax increase in history). No, Justice Roberts, the majority of us will not be taxed for non-compliance with Mandatory health insurance. It's a tax cut for most of us!
Indeed, 98% of Americans essentially will get a tax cut because we will no longer be subsidizing free-loaders who willingly do without insurance and overload our emergency care system. Before I go on let me state emphatically that those who cannot afford insurance are not the freeloaders of whom I speak. Indeed, they too will be helped by the Affordable Care Act. In fact, on average, families will get about a $2000 gift in the form of lower federal costs and less pressure on insurance premiums because of the free-loaders.
Most of you know this, but we fail to counter effectively the GOP spin machine. Every time an uninsured person enters the emergency room, the cost of our care goes up because hospitals have to treat the patient. But SOMEONE has to pay for it. Crossposted at ProgressVA.
Yesterday, the Centers for Medicare & Medicaid Services (CMS) announced new and exciting data about the impressive savings for Americans because of the Affordable Care Act. According to CMS' Office of the Actuary, through 2016, the ACA will help the Medicare program save more than $200 billion by implementing anti-fraud measures, changing providers policies to improve productivity and ending excessive payment to insurers who offer Medicare Advantage plans. For seniors and those with disabilities in the traditional Medicare program, the ACA will help them realize a savings of $59.4 billion through 2016 and $208 billion through 2021 by lower cost-sharing and premiums.
This latest data further proves the that the ACA is good for America and good for Virginians. Since the law was enacted in 2012, Virginians have saved millions and gotten the health care that they need to live healthier lives.
Check below for an important list of the facts: