Rejoice among Democrats that Kenny C will be the Republican nominee is premature. So, no such right wingnut could become Governor of our Commonwealth? This would be the same reactionary who won the statewide contest for Attorney General in 2009. And this would be the same DPVA that was swept.
There is nothing substantive the DPVA can show as a response to the 2009 debacle. Republicans have a completely new wardrobe on order for 2013. OFA blew in, blew up, and blew out. Republicans still hold everything but the teetering state Senate (one special election away) and have an amazingly slick snake oil salesman in the Governor.
Note to all Democratic hopefuls: the OFA field organizers did nothing without guidance and were held on a short leash. Not a one was required or allowed to demonstrate initiative or individual competence. They followed a well designed call-center playbook; they might as well have been selling time shares. Political acumen was not in their terms of reference. They consistently alienated their local Democratic contacts. Check beyond their references before bringing them on.
Meanwhile, the Republicans are reining in the vitriolic. It will fade as we proceed through the 2013 General Assembly session. Delegate Rob Bell (R-58th), candidate for Attorney General, is already stepping up as a defender of the elderly. This despite his party's burial of a bill last session he now claims to champion. Republicans are moving back toward dog whistle politics. Remember, crazy is not an impediment to political success (See Hitler, Adolph). You just need someone to blame.
Assessing the gains from the OFA effort locally is difficult. At least in my locality, we know who volunteered. But the OFA walk list has not been fully harvested. The use of social media is not a DPVA strong suit despite Frank Leone's (who is now more focused on hockey than Virginia politics) promises, but OFA has been redirected to use that medium to sell policy rather than promote candidates and that may mitigate effectiveness of any DPVA mimic. Mimicry is not what we need. We really need professionals to determine the way ahead. Unfortunately, those professionals are persona non grata at DPVA.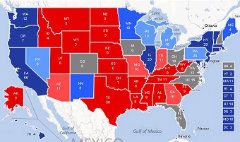 Barring any unforeseen event, there aren't enough undecideds to sway these uncertain elections. Persuasion is over now. The embers are being fanned with advertising dollars, but the electorate is now fairly immune to the heat from either side. The negative ads won't do the heavy work of GOTV.
The tea leaves from the polls give a very murky outlook. Republicans told us weeks ago that the polls are unreliable and biased. They were certainly not giving the news that they wanted to hear. For a while they were apoplectic; then curled up in the fetal position. When the polls swung their way, they suddenly became prophetic. But the truth is we (except maybe Nate Silver) won't know what they mean until midnight Tuesday.
The benefit of the ad deluge right now is nearly zero compared to ads run in June or July. Dr. Quentin Kidd (Christopher Newport University) suggests that was factored into the strategy of the Obama campaign. The campaign had ads up at that point in all the swing states because they wanted to set the stage early. Everyone knew that by fall the ads would be ubiquitous to the point of being indistinguishable. This strategy may prove the difference in this race.
In a conversation with Cathy Lewis on WHRV last week, Kidd concurred with the view that we have reached the point of political ad saturation. But, he said, we are in an arms race from which no campaign can pull back without demonstrating some sort of weakness; suggesting maybe the financial support has gone (see George Allen's contribution to himself). And just today a very expensive 20 page, glossy, Obama mailer arrived from OFA.
Maybe it was an unguarded moment but a Mercer tweet last night revealed a lot. The decks are cleared for a McAuliffe gubernatorial run. But nothing portends smooth sailing. Creigh Deeds picked up no wind from Obama. Tim Kaine is barely drafting. There's little reason to believe Terry will benefit...unless.
"This is our opportunity to get some payback and to show them that this isn't a movement, this is about governing. We're here to stay. We are the 'New Majority' and its time that they get used to it." - Senator Don McEachin at the 7th District Convention
The conventional wisdom that 2009 was the result of a disillusioned electorate (an electorate that expected immediate change and economic recovery) is absolute drek or balderdash or a more colorful word I would have used in the Marine Corps. Those of us raised in the old south have the embedded memory of a bipolar Democratic Party; a party whose statewide politics and national politics were distinct and different. A Party that in 1964 could convince the same demographic to prefer both Orval Faubus and Lyndon Baines Johnson. Or maintain its stranglehold on statewide offices despite yielding the national contest to Goldwater. This isn't your father's Democratic Party.
There is good cause that President Obama's organization never counted on the Democratic Party of Virginia (DPVA). There really isn't anything behind the curtain. It is an organization designed to support incumbents; a self-licking ice cream cone. It relies on the repugnance of the alternative rather than an appeal to shared values. This worked well when the other side offered up Kilgores and Gilmores in the era of a bumbling Bush, but the Republicans are no longer cooperating. Republicans staying home was more important than the Democratic candidate carrying the day. That won't work for Obama and it won't work for Terry McAuliffe. In homes and watering holes across America, Obama supporters will gather this evening to celebrate his 50th birthday and hear a message broadcast from Chicago. Virginia Beach Democrats got a head start last night at the regular monthly committee meeting. A local public gathering is planned tonight at Croc's.
Croc's 19th Street Bistro is the Virginia Beach restaurant where Governor Kaine signed the smoking ban legislation and a regular location for many campaign events. To find a location of a house party near you, go to the 2012 Campaign Website.