by Lowell Here are a few national and Virginia news headlines, political and otherwise, for Wednesday, October 23. Trump's Syria Trifecta: A Win for Putin,...
by Lowell Here are a few national and Virginia news headlines, political and otherwise, for Tuesday, October 22. Trudeau outlasts challengers to gain second term...
by Lowell Here are a few national and Virginia news headlines, political and otherwise, for Monday, October 21. Also, check out the excellent summary by...
by Lowell Here are a few national and Virginia news headlines, political and otherwise, for Sunday, June 10. Amid feud with Trudeau, Trump pulls U.S....
I'm definitely with Robert Reich (see his statement below) on this one; why would any Democrat worthy of the name vote against cheaper pharmaceuticals...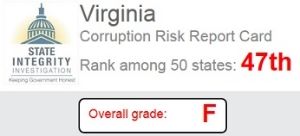 It isn't politicians alone. Commercial media never called out a horribly flawed Governor and Attorney General. Less than two dozen citizens showed up for a public forum on ethics. And the newspaper that hosted that event obscured references to specific instances of malfeasance. Truth is, it's always open season here.
Monday, the outgoing Lieutenant Governor issued a memorandum he penned proposing changes to existing ethics standards. Where was he when it was revealed that his fellow Republican statewide office-holders violated the very standards he proposes? Or anytime during his almost two decades in the Senate chamber? Wednesday members of the House of Delegates offered up what was termed a "sweeping bipartisan ethics reform agreement." The only thing it sweeps is the issue under the carpet. I am ashamed it's called bipartisan. And consistently the media has offered up little in the way of objective or substantive reporting on ethics violations.
Maybe the citizens of Virginia don't care that the state is rated one of the most vulnerable to corruption by the Center for Public Integrity. When the Richmond Times Dispatch held one if its Public Square events last October, it was sparsely attended. When it reported on the discussion, the transcript that publisher Tom Silvestri promised was delivered redacted, removing the most compelling discussion, much of which was about politicians the paper regularly supports.
A couple of things before I continue. No doubt Tom Silvestri would be a super game show host and is certainly an entertaining addition to any cocktail party guest list, but I wouldn't count on his paper or any Media General product for my news. Delegate Jimmie Massie (R-72nd) will come across in what follows as at best naïve and sometimes self-serving, but gives no cause to suspect his personal integrity. At least Delegate Massie puts himself out there and should be applauded for showing up and his openness during this discussion. But there are a number of things you might not know if you rely on the redacted transcript (or "highlights" to use the paper's term), you weren't among the twenty or so at the forum, or you can't find the full video online because the Times Dispatch has made that difficult to search by titling it Public Square 1008 on YouTube. This was Public Square 48.
We now bring you this short break from the Virginia elections for a matter of extreme urgency for our planet:
I was at Lafayette Park and around the White House today, participating in and covering the massive protest against the proposed Keystone XL dirty tar sands oil pipeline from Canada to the U.S. For now, I'm mainly going to focus on getting video and photos (click here for my Flickr set) up (see the "flip"). Let me just say GREAT job by the amazing, indefatigable environmental activist Bill McKibben for organizing this. Also, in general, there was tremendous energy there today, tons of young people, totally peaceful (yet determined), demanding forcefully that President Obama keep his promise to stop the destruction of this planet's climate and to get us off of our oil addiction. I couldn't agree more.
P.S. Good seeing The Green Miles there, although we got separated early on and never ran into each other again in the enormous crowd.
Every president wants to leave a favorable legacy behind, one that scores of future generations of Americans will look at with nostalgia and admiration. But if President Obama wishes this for himself, signing off on the Keystone XL pipeline is the worst way of showing it. As proposed, the
Keystone XL pipeline
would extend all the way from Alberta, Canada to Texas. That's nearly 2,000 miles of pipeline!
But the large distance itself is not the core issue in the matter. What's primarily at issue is the possibility for a leak, a break, or another catastrophe involving any portion of the pipeline. Situated over some of America's most beloved and valued ecosystems and sources of drinking water, any such catastrophe could make BP's oil spill in the Gulf of Mexico look like the best of all possible worlds.
It's understandable that President Obama wants to appease particular elements within the business community, the electorate, and numerous other constituent groups by giving the "all clear" to construct the Keystone XL pipeline. But when American's voted for change, many such as myself voted for a change in the way we deal with environmental and economic issues. When as many unknown variables enter the environmental equation as in the case of the Keystone XL pipeline, then a hold should be placed on whatever might cause human and environmental harm until the unknown variables are found and properly addressed.