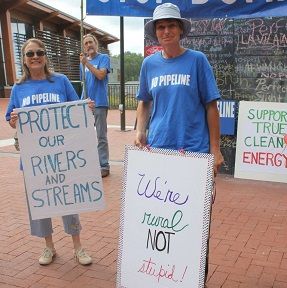 This is the fourth letter in our series, "We're Rural, Not Stupid." Dominion held its first open house for residents last night in neighboring Augusta County, VA. One attendee said, "At yet another table someone was asking about gas export. We pressed the brown shirt [the Dominion representative] who finally said Dominion just builds the pipeline." Tonight it's Nelson's turn to listen to the "experts" tell us how wrong we are.
Cheryl Borgman is a life-long Democrat who stands strongly against Dominion's Atlantic Coast Pipeline. She has worked with Nelson Democrats consistently in the past in campaigns for local, state and federal candidates. Cheryl has canvassed, phone banked and done a lot of data entry. She's one of the folks the local committee can count on...one of the ones with the asterisk by their name, because they always say yes when asked to help. This year, she feels differently. She has sent her letter to the local Democratic Committee and to Democratic candidates seeking office in 2014.
Here's Cheryl's letter: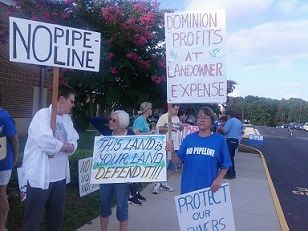 In May, property owners along a 550-mile route, beginning near Clarksburg, WV and traversing Virginia to Lumberton, NC, received letters from Dominion Transmission stating their properties would be "studied" for a 42" natural gas pipeline.  In Nelson & Augusta Counties, the 400' corridor affects 225 Nelson and 201 Augusta landowners.
The letter was part of a formal request required under VA Code Section 56-49.01 in support of Dominion's Southeast Reliability Project.  Dominion Transmission "asked" landowners to sign and return the letter which would allow Dominion to enter their properties for these studies. Only 24% of Nelson landowners receiving these letters signed and returned the letter to Dominion. Like that matters.
Nelsonians believed they had the right, as property owners, to refuse access.  However, Nelsonians quickly learned that VA Code Section 56-49.01, passed by the Virginia General Assembly in 2004, essentially gives away the property rights of every Virginian to any natural gas company. The section reads:
§ 56-49.01. Natural gas companies; right of entry upon property.
A. Any firm, corporation, company, or partnership, organized for the bona fide purpose of operating as a natural gas company as defined in 15 U.S.C. § 717a, as amended, may make such examinations, tests, hand auger borings, appraisals, and surveys for its proposed line or location of its works as are necessary (i) to satisfy any regulatory requirements and (ii) for the selection of the most advantageous location or route, the improvement or straightening of its line or works, changes of location or construction, or providing additional facilities, and for such purposes, by its duly authorized officers, agents, or employees, may enter upon any property without the written permission of its owner if (a) the natural gas company has requested the owner's permission to inspect the property as provided in subsection B, (b) the owner's written permission is not received prior to the date entry is proposed, and (c) the natural gas company has given the owner notice of intent to enter as provided in subsection C. A natural gas company may use motor vehicles, self-propelled machinery, and power equipment on property only after receiving the permission of the landowner or his agent.
B. A request for permission to inspect shall (i) be sent to the owner by certified mail, (ii) set forth the date such inspection is proposed to be made, and (iii) be made not less than 15 days prior to the date of the proposed inspection.
C. Notice of intent to enter shall (i) be sent to the owner by certified mail, (ii) set forth the date of the intended entry, and (iii) be made not less than 15 days prior to the date of mailing of the notice of intent to enter.
D. Any entry authorized by this section shall not be deemed a trespass. The natural gas company shall make reimbursement for any actual damages resulting from such entry. Nothing in this section shall impair or limit any right of a natural gas company obtained by (i) the power of eminent domain, (ii) any easement granted by the landowner or his predecessor in title, or (iii) any right-of-way agreement, lease or other agreement by and between a natural gas company and a landowner or their predecessors in title or interest.
The Blue Virginia front page provides an excellent call by Andy Schmookler for liberals to come alive in 2014 and presumably to gain seats in the US House and hold onto the US Senate. His message could not be more important or timely. Congressional elections aren't far away. Virginia gained the top three executive positions and the Virginia Senate, but there is so much more to do. As if you need any reminder, your neighbor to the south provides a cautionary tale to never, ever give up. What's at stake is not only everything we hold dear, but also our ability to even live in our country or on this planet. The stranglehold by the corporate elite on environmental protection is that gripping. The Koch-Peter Peterson-Art Pope anti-environmental (indeed, anti-human) wrecking crew has succeeded at dismantling environmental protection in state after state. And the evidence is stunning. In the course of less than two weeks North Carolina shows what happens when you West Virginia a once progressive state.
(See the list below the fold.)
Behold Article Fourteen, Section Five of the North Carolina state
constitution
.
Sec. 5. Conservation of natural resources.

It shall be the policy of this State to conserve and protect its lands and waters for the benefit
of all its citizenry, and to this end it shall be a proper function of the State of North Carolina
and its political subdivisions to acquire and preserve park, recreational, and scenic areas, to control and limit the pollution of our air and water, to control excessive noise, and in every other appropriate way to preserve as a part of the common heritage of this State its forests, wetlands, estuaries, beaches, historical sites, open lands, and places of beauty.

To accomplish the aforementioned public purposes, the State and its counties, cities and towns, and other units of local government may acquire by purchase or gift properties or interests in properties which shall, upon their special dedication to and acceptance by a law enacted by a vote of three-fifths of the members of each house of the General Assembly for those public purposes, constitute part of the 'State Nature and Historic Preserve,' and which shall not be used for other purposes except as authorized by law enacted by a vote of three-fifths of the members of each house of the General Assembly. The General Assembly shall prescribe by general law the conditions and procedures under which such properties or interests therein shall be dedicated for the aforementioned public purposes.
The bottom line is that it is a Constitutional duty for the powers that be to provide clean water and air for the citizens of NC. You would think that those in charge in NC would take seriously their Constitutional duties as indicated (in part) above. But the Tea-Publicans of North Carolina instead have taken a wrecking ball to their constitutional obligation to provide clean water and air for its citizens. Instead, they have:
Two weeks ago, Nationwide Insurance became the
first major company
to exclude damage to homes from fracking. The decision applies to companies which frack as well as to homeowners who allow fracking below their property. It is unclear how this will affect those who refuse to lease but live surrounded by those who sign.
There are several significant ramifications of this decision by Nationwide.
1) Should other companies follow suit (and they likely will), homeowners in or near fracking areas (remember horizontal drilling reaches out one to two miles from the original well site) might not be able to insure their homes.
2) 2) If one cannot insure a home, then mortgages will be void.
3) This is because lenders require homeowners to carry insurance. So, mortgages could be called back, that is to say, cancelled.
4) If other insurers join in, no new mortgages could be written for the property.
5) And no one is likely to buy an uninsurable home.
6) If a home cannot be sold, it's market value is zero, thus obliterating the value of the homeowner's investment and putting the homeowner seriously "under water." Watch this short video telling the truth about about fracking and then recall the ad most often shown on television about the subject (in the ad they never even call it by either fracking or its technical name, horizontal hydraulic fracturing).
The ads present a perky blonde lecturing us about the supposedly safe gas exploration. Like the antiseptic diagrams she misleads with, she propagandizes that it's all good. There are no safety concerns. Nada, not even as the drilling process drills between one and two miles horizontally, injects a slurry of toxic chemicals and exceedingly high pressure. No problem, she pretends.
But we do have a problem. If this method of extraction of gas from shale, is used near aquifers, wells, lakes and streams, as it is and is proposed in a number of states, we put the sustainability of large swaths of our nation at risk.
Are communities really making money off of oil and gas drilling if they have to spend nearly all of the tax revenue
building infrastructure to support oil and gas drilling
?
The state should invest up to $5 billion in northwest North Dakota communities with the most oil activity, the president of the North Dakota Petroleum Council said Wednesday.

Ron Ness, while testifying to a group of legislators meeting in Williston, said communities need significant resources to do long-range planning, but the state's grant program for those areas is only helping them react. Ness called for a five-year plan with $800 million to $1 billion per year invested in schools, roads and infrastructure for communities in the core areas of the Bakken. [...]

The industry paid $1.3 billion in oil and gas production tax last year, and will pay even more this year, Ness said. Those dollars should be targeted at the counties with the greatest oil activity, he said.
It makes oil and gas drilling sound like a Ponzi, doesn't it? You'll make lots of money eventually, but only if you keep re-investing! As places like Virginia consider whether to allow oil and gas drilling, politicians like Gov. Bob McDonnell make it sound like every penny of tax revenue will go to existing roads and schools. But
if the oil and gas industry expects the money to be spent on supporting the industry, how much will really be left for your community
?
A
bill
opening the door to fracking (hydraulic fracturing) within a few years moved out of committee this week in the North Carolina General Assembly. The possible advent of fracking in NC was the brainchild of a NC senator.

Somewhere in Mecklenburg County miles from the believed natural gas trove beneath rural Chatham County and job-starved Sanford, is a dentist with drilling on the brain.

So begins an
Indy Week
article. You can almost hear the tooth doc saying, "Drill, Baby, drill." Sen. Rucho can hardly wait to use
hydraulic fracturing
, which injects a "witches brew" of chemicals under high pressure to tap gas resources purportedly beneath rural Chatham County and Sanford. In either case, the effort would be dangerously (from a seismic perspective) near the Sharon Harris nuclear plant. And equally important, it has the potential to destroy the ground water (and therefore the drinking water) for a large area of NC. You've got to wonder how dentistry is considered sufficient background for the man who would lead NC down this "scorched-earth" path. You know, they had to destroy the NC quality of life to save it.
The version passing out of committee is the more lax of the proposals envisioned by NC lawmakers. A somewhat more protective plan (which advocates seem a bit too sanguine about--more on that later) has also been proposed, but awaits action.
If you're looking for evidence the Tea Party is a
fake movement funded by polluters like the Koch brothers
to distract voters into freaking out about fake threats while overlooking real ones, look no further than fracking. As Mother Jones reports, Tea Partiers in
Kansas
and
Arizona
are losing their minds not just about
current
made-up anti-sustainability and Islamophobic conspiracies, but the
possibility of future residents deciding to solve aforementioned made-up problems
.
But what about the very real threat posed by the natural gas drilling technique known as fracking
? While it creates huge profits for corporate drillers, nearby residents see few benefits and face
potential health threats
:
The report, based on three years of monitoring, found a number of potentially toxic petroleum hydrocarbons in the air near the wells including benzene, ethylbenzene, toluene and xylene. Benzene has been identified by the Environmental Protection Agency as a known carcinogen. Other chemicals included heptane, octane and diethylbenzene but information on their toxicity is limited.

"Our results show that the non-cancer health impacts from air emissions due to natural gas development is greater for residents living closer to wells," the report said. "The greatest health impact corresponds to the relatively short-term, but high emission, well completion period." That's due to exposure to trimethylbenzenes, aliaphatic hydrocarbons, and xylenes, all of which have neurological and/or respiratory effects, the study said. Those effects could include eye irritation, headaches, sore throat and difficulty breathing.

"We also calculated higher cancer risks for residents living nearer to the wells as compared to those residing further [away]," the report said. "Benzene is the major contributor to lifetime excess cancer risk from both scenarios."
Much more data is needed on the threats posed by fracking to our air, water and public health. To learn more about fracking, tune in to NPR's series this week,
The Fracking Boom: Missing Answers
.
Chesapeake Energy has been
fined repeatedly for its sloppy safety record
when it comes to "fracking" natural gas drilling. Now Aubrey McClendon, the same CEO who repeatedly
professed Chesapeake's innocence on safety violations
, is
stepping down as chairman of the board
after a Reuters report revealed he was playing Wall Street-style accounting games, using company resources to rake in extra cash for himself:
Aubrey McClendon, the embattled chief executive of natural gas company Chesapeake Energy, will relinquish his title as chairman of the board, the company said Tuesday.

The news follows last week's announcement by Chesapeake that McClendon agreed to negotiate an early termination of the controversial Founder Well Participation Program (FWPP), which allowed him to take personal stakes in wells drilled by the company.

The incentive program came under fire last month following news that McClendon took out loans worth over $1 billion against his personal stake in the company's wells, raising concerns about a conflict of interest.
How the hell does this guy not get fired outright
? What does it say about the state of the energy industry & corporate America that this guy is revealed to be using Chesapeake Energy as his own personal piggybank and
he still gets to stay on as chief executive officer
?