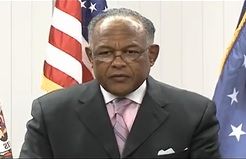 Tis the season for miraculous financial initiatives. The man who didn't clearly outline
Richmond's obligations for his NFL football summer training facility
or find backing for
burying hallowed historical ground under a minor league stadium
is now preparing to make the Democratic Party of Virginia (DPVA) homeless.
All the get rich land development schemes that characterize Richmond City high finance remind one of the common flights of fancy on The Honeymooners. One difference, though: Mayor Jones is banking with other people's money and trust. After making an effort to gain clarity on the DPVA's financial health, there is nothing to show but despair. Appropriate since Jones and his recent predecessors as Chair have all left the political party borrowing against time while concealing the bottom line. Requests for financial statements have been ignored, so the depth of the hole remains closely held. Miraculously, during six years with a Democrat in the White House and in a state with two Democratic United States Senators plus the election of Democrats to all three statewide executive offices in the past year, time has run out on the Party's mortgage.
A big portion of the DPVA party leadership's responsibility is to provide the hired staff with sufficient resources to run a statewide political party. But Jones, who fought through charges that he doesn't represent the party's principles of equality and equal rights to gain the position of Chair, has been an absentee landlord. The infrastructure, physical and fiscal, has continued to decay since his ascension to the post. He has consistently missed meetings and party conference calls. E-mails go unanswered. The excuse is always that his responsibilities as a pastor and Mayor consume his time. Those responsibilities did not preclude him from interfering in an intra-party state Senate primary race (his influence proved ineffective). Now he's on the verge of missing the payment on the DPVA's "digs" on Franklin Street in Richmond. McDonnell's failed trade mission to China, an expensive effort at personal aggrandizement that netted two jobs (in Shanghai) may have had a blessing in disguise. After all is said and done, his bumbling attempt to conduct economic diplomacy saved him from an association with Bo Xilai's venal Chongquing administration.
With no trade success to report during last year's trip, much of the press coverage of McDonnell's boondoggle was filled with other issues like Virginia's own Republican Delegate Phil Hamilton scandal. The Governor never managed to meet with officials in the municipality that was to be the focus of his visit to promote Virginia tourism, wines, or anything he could claim as an accomplishment. Just as well, these fellows play for keeps, way out of the league of an international neophyte.
'You cross me - never come to China, you'll never get out of jail'. Gu Kailai, wife of Bo, warning a British businessman attempting to start up a tourism venture.
There were so many missteps, it is difficult to fix a cause for the failure. McDonnell's front man for commerce, Jim Cheng might have been one reason for the failed effort to engage. As a practical matter, Cheng's close ties to Taiwan aren't the bona fides the Chinese look at good naturedly. Whether it was that or McDonnell's inept planning, they dodged a bullet. An association with the disgraced Bo would not curry favor with the likes of Hu Jintao, China's leader himself, who is said to have been the subject of Bo's wiretapping. All of this could have been avoided by leveraging State Department resources in China. Or it easily could have been poor relations with staffers in China that set things headed downhill.
November 8th will be an interesting day in Loudoun County. There are a rather significant number of threads that, stitched together, form a fabric of pre-electoral corruption with post-electoral significance that will extend into the next decade.
Take the case of Loudoun developer and cable company owner MC Dean. MC Dean and company has spent twenty years building developments in Loudoun, thanks to their close, personal relationships with people on the current, and previous, Board of Supervisors. There's a funny thing about these developments, too. There's a monopoly cable provider - OpenBand - with exclusive rights to provide Internet and TV service to those communities. OpenBand is, of course, owned by the Dean family as well.
This year, the OpenBand cable franchise is up for renewal by the Board of Supervisors here in Loudoun County. Many of the communities who OpenBand serves are actually suing OpenBand, their experiences have been so bad. Of course, those communities and residents don't vote on the cable franchise renewal. The members of the Board of Supervisors do.
So it is interesting to note the buckets of money that MC Dean and OpenBand (and their owners and executives) have been contributing to certain Supervisor races.
Follow below the break for the details of what is going on.