The following video is from a hearing Monday in a Virginia House of Delegates subcommittee, at which legislators were (in the words of NARAL... The litigants in Norfolk are same-sex couples, but in the end the discrimination will result in inequitable application of the law that places many opposite-sex couples at a financial disadvantage. Such will be the consequence of the twisted effort by Virginia homophobes to socially engineer human behavior by unconstitutional edict.
For all the whining about Attorney General Herring's position regarding defense of a patently unconstitutional scar on the Virginia Constitution, he never mitigated enforcement. Not one single same-sex couple has been issued a marriage license in Virginia while we wait for the law to be struck. The opinions of both his predecessors regarding the effects of the law remain in force; for now. But consider this. When the marriages of same-sex couples are inevitably recognized in Virginia, those couples will have an option that other married couples will not: filing their Virginia income tax returns with the most advantageous filing status.
Based upon an opinion by then Attorney General McDonnell and guidance from former Attorney General Ken Cuccinelli, the Virginia Department of Taxation does not allow same-sex married couples to file joint income tax returns even though they must use the status on their federal tax returns. Everyone else must. What was (and currently remains) an undue burden on same-sex couples (the requirement to construct fictional federal income tax returns to calculate Virginia income taxes) transforms to an advantage; consistent with federal policy after the Supreme Court DOMA decision, married same-sex couples will likely be allowed to choose the filing status that is to their advantage for the years when they were prohibited from using a married filing status.
So my advice to Virginia's married same-sex couples: if filing using a status other than married is to your tax advantage, file this year's return soon, before the stay on yesterday's ruling is removed; after that, you'll be like everyone else. Then for the three years prior to this, recalculate your Virginia tax returns to determine if you should file amendments, in the same way you should have with your federal returns last year. How the Department of Taxation will handle these amendments could be a bit more complicated, so stand by for guidance.
For other married couples, you just won't have equal treatment under the law. You might want to send the bill to Senators Marshall and Newman who spearheaded the amendment or those George Allen strategists who supported it in an underhanded effort to save his bacon. In the latest attempt to push right-wing legislation through the General Assembly, the House of Delegates passed a bill this morning that would establish a panel to research the possibility of Virginia creating its own currency.
The bill
, which basically passed along party lines, authorizes almost $18,000 to be spent on establishing a 10 person panel that would "study the feasibility of a metallic-based monetary unit."
In other words, it would require the state to spend financial resources on studying whether or not we want to return to the gold standard. On top of that, it would require state employees to spend countless hours on the project -- time that staff members simply don't have due to all the cuts Republicans have made to the public workforce.
Since the ultimate goal of the measure is something that's only supported by the extreme right flank of the GOP, it shouldn't be too surprising that the measure was sponsored by Bob Marshall -- a delegate from Prince William County who has earned the reputation of being extremely conservative and more than a little odd. Marshall has tried to pass similar legislation since 2008 and has tried to use it as a way to discuss his opposition to the Federal Reserve and the policies it promoted during the economic recovery process.
While many of his fellow Republicans might have joined in his opposition to a large centralized governmental agency like the Federal Reserve, he had a difficult time getting any support for the measure before this year. Governor Bob McDonnell, for instance, has publicly said that he doesn't think Virginia should print its own money. And the idea was once considered such an absurdity that a lobbyist handed out fake coins at a dinner in February of 2011 for the Virginia Capitol Correspondents Association that read "In Bob We Trust."
The measure will probably have a hard time surviving both the Senate and McDonnell's veto pen, but it does force you to look at how conservative the House Republican caucus has become recently. I mean, the legislation has gone from being considered an absurdity being promoted by a lone ultra-conservative member to making it's way through the House. It's time again for Richmond's favorite reality show, WORST BILL EVER! Excited Republican state Delegates and Senators are lining up today to try to pass the weirdest, dumbest, most cynical or just plain revolting legislation. Make sure to vote in the poll at the end of this post for the bill you think deserves the prize.
This round's contenders include:
- Del. Bob Marshall's "Funny Money" bill (HJ 590) -- Sideshow Bob is the Rocky Balboa of freaky legislation, and he never fails to disappoint. This worthy contender, to study whether Virginia should print its own currency, is one for the ages -- I encourage you to read it in full, while enjoying such lines as "WHEREAS, many widely recognized experts predict the inevitable destruction of the Federal Reserve System's currency through hyperinflation in the foreseeable future..." Needless to say, this bill has been approved in subcommittee.
- Del. Marshall's "Cold, Dead Hands" bill (HB 2340), which would prohibit state employees from helping to enforce new Federal gun laws. Whaditellya? Like Michael Jordan, Sideshow Bob never just takes one shot at the basket. Of course, this bill is too mild for our friends at the Virginia Gun Owners Coalition, who point out that it fails to include a provision to arrest Federal officials who themselves try to enforce Federal laws. Well, good point, but Rome wasn't brutally massacred in a day. This bill, needless to say, has been reported out of committee. We're living a cartoon. One character puts up his dukes and the adversary pulls out brass knuckles, then escalation each in turn through a knife, pistol, rifle, machinegun, cannon, tank... It goes where arming and armoring schools goes: no constructive advantage. Cost without benefit other than political cover.
Governor McDonnell legitimizing the concept of arming more personnel inside schools demonstrates his narrow experience and linear, attritionist approach to the issues raised by the violence at Sandy Hook and Virginia Tech. This is understandable. As an army intelligence officer raised and trained in the era of a set piece battlespace, he is comfortable with templates and minor tactics against local threats. His cohort, Delegate Bob Marshall (R-13th), lacks even that experience with conceptual threats. Marshall's hobbies, weight lifting, gardening, and photography, might give him time to contemplate but do nothing to qualify him to defend our children or us. But both of these fellows do demonstrate the ability to push hot buttons even if they are unconcerned about the consequences they initiate.
Nattering nabobs such as them attract attention. Some of that from Democrats who either think they must say something or are afraid of saying nothing even if they have nothing to add. At least the Republicans are expressing a core value, no matter how wrongheaded it is. The Democrats on board with this idea sound as hollow as their self-serving position. Disappointing.
Reducing the security of children to talking points about arming teachers and adding resource officers limits the debate, ignores the broader issues, and potentially places children in substantially greater danger. Look, I have the greatest respect for teachers but they are not public safety employees and many are unsuited for this responsibility. Adding a resource officer to the soup definitely secures the few square feet occupied at any given moment, but has McDonnell, Marshall, or any of them actually been inside a school lately? Those resource officers are there for and deal with a lot of student issues not related to invasion; issues that do not occur in elementary schools. Unless we go back to one room schoolhouses, these ideas are just lipstick on a pig. Recently,
Not Larry Sabato analyzed
the Virginia House of Delegates district of Del. Bob Marshall (R-Prince William/Manassas Park), and concluded that it most resembles New Mexico politically - a solid Obama/Kaine/Democratic district in presidential years. The implication, of course, is that "Sideshow Bob," as I call him (because of his many insane, extreme antics and general tomfoolery) should be one of the top targets for Virginia Democrats in 2013. Of course, that assumes we get our "presidential year" voters out in odd-year Virginia elections, and that's easier said than done. But still, wouldn't it be great to boot Bob for good? Seems like a no-brainer, right?
Then I saw this article and it got me thinking, are we actually better off WITH "Sideshow Bob" Marshall in some ways than without him? First, read this from the HuffPo piece:

Virginia Del. Bob Marshall (R-Prince William), the author of the state's fetal personhood bill, says he has always been a bit of a thorn in the side of the mainstream Republican Party. But since the 2012 election, he said, the party is "more overtly gun-shy" about dealing with abortion, and the pressure from GOP leadership to back off of his socially conservative agenda is constant.

"It doesn't happen more than seven days a week, 52 weeks a year," he told The Huffington Post sarcastically in an interview. "Through committee assignments, being shoved aside ... I've had to deal with things the hard way."

He added, "The Republican consultants have advised ducking these social issues for years. The social conservatives don't get any credit when they help Republicans win, but they get blamed by the consultant class when they lose."
First of all, I've just got to say, hahahahahahaha. Poor Sideshow.
Second, more seriously, what this tells me is that "Sideshow Bob" is a major problem for Virginia Republicans, one they must expend a lot of energy on to try - and often fail - to keep under control. And why are Virginia Republicans even trying to keep "Sideshow Bob" under control at all? It's not as if they disagree with him on making abortion illegal in most or all circumstances. Since it's not substantive, it must be politics: e.g., Virginia Republicans know that the issues "Sideshow Bob" insists on pushing, year after year, are simply killing them with Virginia women. Perhaps even worse, if that's possible, the "Sideshow Bobs" of the world - add to the long list people like Rick Santorum, Ken Kookinelli, Todd Akin, Richard Mourdock, Dick Black, Eugene Delgaudio, etc. - are generally killing the Republican "brand," making them seem (correctly, as far as I can determine) that they want to be in everyone's bedroom and doctor's office, telling you what you can, and more to the point can NOT, do with your body and your private life. And that doesn't just hurt them with women, but also with a lot of men as well.
So, why shouldn't Virginia Democrats just sit back, heat up some popcorn, and enjoy the "Sideshow Bob" (and Dick Black, Eugene Delgaudio, etc.) Show for many years to come? Only one reason, albeit an important one: these guys do damage, not just to the Republican Party, but to a lot of Virginians (e.g., the heinous "Marshall-Newman" amendment enshrines anti-LGBT discrimination in our constitution). For that reason alone, we should almost certainly toss political considerations aside and do everything we can to boot Bob in 2013. Still, the political part of me keeps salivating at the thought of keeping this clown around for many, many election years to come.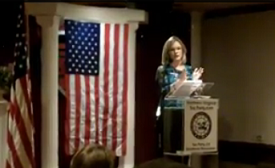 Briefly, a few winners and losers from yesterday. In general, the day belonged to the Republican Party of Virginia since most of the focus was on its contests. Generally not that much unusual to note, but if you have anything to contribute or simply disagree, please jump in.
Winners
1. Democrats in Alexandria. Imagine, left to their own devices and without a slate, they managed to choose six diverse and capable candidates for city council.
2. Republican conventions. Formalize incumbent protection over there, will you? The RPV really should get out of these embarrassing and unnecessary primaries when they already know who they want to run. Let's see what they decide come Friday. (Though a 3:1 beat down by Ken Cuccinelli in a primary might be something to behold.)
3. Jim Moran. A solid and well-deserved victory only surprising by his opponent's meager showing. "Not the incumbent" usually can gather 30% on that distinction alone. (See Bob Goodlatte)
4. Incumbency. Always a good bet and better now than ever.
5. George Allen. This man of solidly adequate accomplishment and famous lineage stands a fumble away from the goal line. Virginia may become the first state ever one of just a handful of states to elect a Senator who was unable to win re-election to the United State Senate as an incumbent. The federal government is at it again, telling us Virginians how to go about saving energy, money, and the environment. At least, that's what Prince William County Republican Bob Marshall is saying.
Del. Marshall has introduced a bill (HB 66) in the VA General Assembly that would permit the manufacture and sale of incandescent light bulbs within the commonwealth after new federal energy standards go into effect. Because incandescent light bulbs are so inefficient relative to other bulbs in the market, the former would basically be taken off the market by lack of consumer demand. Isn't that what markets are supposed to do Del. Marshall?
This bill by Marshall comes as one of many anti-federal government bills being pushed by the wing-nut conservative House of Delegates who see the federal government as interfering with Virginia's choices, choices in the case of Marshall's bill to add unnecessary energy demands and expenses onto the taxpayers of Virginia. Great news
- if you're a Democrat or named "Tim Kaine," that is. :)
Del. Robert G. Marshall, R-Prince William, will run for the U.S. Senate, he said today.

Caught before a daily caucus meeting at the state Capitol, Marshall confirmed that he will enter the race, challenging former Gov. George Allen and three others for the Republican nomination.

"Yes," he said simply when asked if he would officially announce in coming days.
Why is this great news for Democrats? Let us count the ways:
First, "Sideshow Bob" could actually beat Allen, resulting in an ideal, Christine "not a witch" O'Donnell scenario this coming November for Tim Kaine, Barack Obama, and other Democrats on the Virginia ballot.
Second, even if "Sideshow Bob" doesn't win, he will force Allen to expend resources and cover his far-far-far-right flank, both of which are VERY helpful to Virginia Democrats, first and foremost Tim Kaine. Oh pleasepleasepleasepleasepleaseplease
let this be so!
Longtime Del. Bob Marshall is considering entering the race for Virginia's open U.S. Senate seat and has gone so far as to seek legal advice from the attorney general on how to collect signatures for a statewide run.

Marshall, a Prince William Republican who narrowly missed the party's nomination for the job in 2008, told The Washington Examiner on Tuesday that he still has people asking him to throw his hat in the ring but he didn't have a timetable for making a decision.

"Bottom line, am I serious about this prospect? Yes. Definitely," he said. "But I've still got to get all these ducks in line before I set the trip wire."
To put it mildly, this would be entertainingly HIlarious. It also would be a great benefit to Virginia voters, who could see just how crazy the Teapublican'ts really ard. So...Sideshow Bob? Please let us know if you need any help with those "ducks." Heck, it might be worth having a reunion of Jim Webb's "ragtag army" for that reason alone! LOL
h/t: Jesse Ferguson
UPDATE: Aaron Blake tweets, "Marshall nearly beat former GOV Jim Gilmore at the GOP convention in 2008, but VA GOP holding a primary this time, so that hurts his chances."