 by Lowell Here are a few national and Virginia news headlines, political and otherwise, for Wednesday, June 15. Trump Declared War on American Muslims on Monday Clinton...
In just 12 days, Virginians will head to the polls in a number of districts and jurisdictions, yet if you simply read your Virginia...
The Washington Post headline on today's Supreme Court hearings in the 3rd CD racial gerrymandering case is "Supreme Court may decide against Va. Republicans...
by Lowell With the announcement this afternoon by Rep. Randy Forbes (R-4th) that he'll be "leaving behind his 4th Congressional District to seek election next...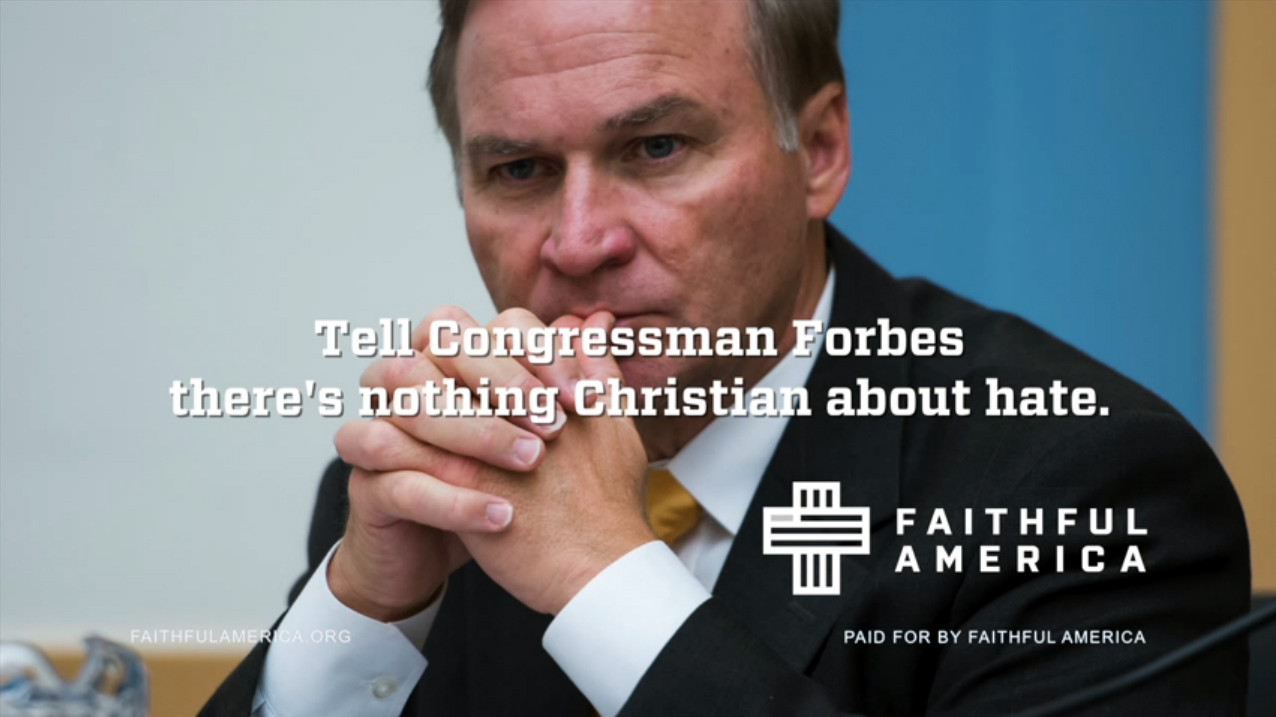 While
Jeb Bush
made his usual, mushy, try-to-please-everybody response yesterday in Atlanta when asked about a proposed Georgia law to allow businesses to discriminate against gays by claiming a religious belief, Rep. Randy Forbes (R-4th Virginia) clearly declared his support for such discrimination a few days ago in an op-ed appearing in the Washington Examiner, when he and another Representative, James Lankford of Oklahoma, straight out advocated for prejudice against gays. Bush hedged his support for blatant discrimination by saying that "couples in long-term committed relationships" deserve "respect," but then justified prejudice by stating that people had a right to discriminate because of their "faith." Not Forbes.
Forbes and Lankford used a bizarre, ridiculous reason for their support of bigotry, tying it to a business decision by Chipotle restaurants to refuse to buy and serve pork from suppliers using cruel factory farming of pigs. Because Chipotle could decide from whom to buy its food, Forbes argues that all businesses should have the right to discriminate against gays and lesbians because they say their "religion" requires it. Or, put another way, if one can "discriminate" against pork for humane reasons, then bigots should be able to discriminate against other people on the basis of who they love. Huh??
Without even going into the obvious unconstitutionality of such discrimination, my first question for the legally-challenged representative from the 4th District is this: Just how will businesses know a person is gay? In Nazi Germany it was easy because gays and lesbians were required to wear pink triangles. Is that the next step in a Forbes plan to let people justify their hatred through claims of a religious exemption?
It's past time for voters in the 4th District to find someone else to represent them, someone who won't be a national embarrassment. Randy Forbes does nothing for the citizens of his district, while doing far too much to show the world just how ridiculous he can be.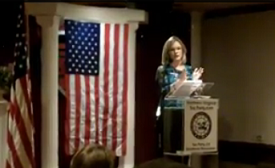 Briefly, a few winners and losers from yesterday. In general, the day belonged to the Republican Party of Virginia since most of the focus was on its contests. Generally not that much unusual to note, but if you have anything to contribute or simply disagree, please jump in.
Winners
1. Democrats in Alexandria. Imagine, left to their own devices and without a slate, they managed to choose six diverse and capable candidates for city council.
2. Republican conventions. Formalize incumbent protection over there, will you? The RPV really should get out of these embarrassing and unnecessary primaries when they already know who they want to run. Let's see what they decide come Friday. (Though a 3:1 beat down by Ken Cuccinelli in a primary might be something to behold.)
3. Jim Moran. A solid and well-deserved victory only surprising by his opponent's meager showing. "Not the incumbent" usually can gather 30% on that distinction alone. (See Bob Goodlatte)
4. Incumbency. Always a good bet and better now than ever.
5. George Allen. This man of solidly adequate accomplishment and famous lineage stands a fumble away from the goal line. Virginia may become the first state ever one of just a handful of states to elect a Senator who was unable to win re-election to the United State Senate as an incumbent.
The
latest Congressional scorecard from the League of Conservation Voters
flunks every single Virginia Republican, including House members like Scott Rigell, Rob Wittman and Frank Wolf who'll be trying to sell themselves as moderate in November. Committed opponents of clean air & water, public health, and wildlife like Eric Cantor, Randy Forbes, Bob Goodlatte, Morgan Griffith and Robert Hurt all scored in the teens. Meanwhile, Virginia House Democrats Gerry Connolly, Jim Moran and Bobby Scott all scored 100%. On the Senate side, both Sen. Mark Warner and Jim Webb scored 100%, though given that both support oil drilling off Virginia's shores and Webb has
opposed clean air regulations
, neither is perfect on conservation.
What drew the LCV's ire? Every single Republican voted for the House Republican budget resolution to gut the Clean Air Act & Clean Water Act, to protect billions in tax giveaways for oil corporations that banked $137 billion in profits in 2011, and to weaken offshore drilling safety rules even as they pushed to bring oil drilling to the Virginia coast: