"Ralph's whole life has been about honest, responsible service to others." —President Barack Obama Ralph's spent his life serving Virginians He's served as a resident helping...
Appearing in newspapers in conservative VA-06. It is now 60 years that I've been following American politics closely. Long enough to get surprised when the...
It is presumably but days before President Obama goes before the cameras to do what presidents always do in nominating someone for an important...
by Dan Sullivan The good news first: our Governor set yesterday as the goal for ending veteran homelessness in Virginia; he declared a "functional end" in November....
What a difference a year makes. This time last year there was a sense that comprehensive immigration reform at the federal level may happen in some form. It would be sweeping and, like any compromise, not exactly what everyone wanted. Now we have something worse: only the noise of recrimination.
The Virginia Coalition for Immigrant Rights (VACIR) met last year to map out the values and principles held by Virginians and provide a voice to Congress. But now what since reform appears dead in the water? Well, during the Obama administration, more than 2 million mothers, fathers, brothers, sisters, and children have been deported; more deportations than in any previous administration. That number is hard to wrap your head around and does not convey the individual personal tragedies involved. For example, Immigration and Customs Enforcement (ICE) reports 72,410 of those deported said that they had one or more U.S. born children. Tens of thousands of U.S. citizens, then, have had their parents deported. So the VACIR has changed its tact and directed its energy toward pressuring the Obama administration to act since the House of Representatives has failed in its responsibilities. They are also looking at ways state legislators can address the issues.
11% of Virginians were born outside the United States. They, like all Virginians, need the tools and opportunities necessary to build strong families, healthy communities, and a culturally and economically thriving Virginia. For now VACIR is focused on four key areas:
Comprehensive Immigration Reform at the Federal level
Where do we even begin with Federal reform? The well is poisoned. I will disclose that my bias on this matter begins and ends with the Republican Party, Ronald Reagan, Simpson-Mazzoli, and close personal experiences with immigration and naturalization. Some 3 million immigrants were granted amnesty in 1986. That is the precedent that those who are angry should focus on when crying about today's "failed policies." And the fact is that the reason for the current flood is not anything President Obama has done but a more pedestrian cause: it's the economy stupid; the economy in Honduras, El Salvador and the rest of Central and South America. Places where we meddled, then abandoned; the spawn of Ronald Reagan's foreign policy abetted by Ollie North and "company."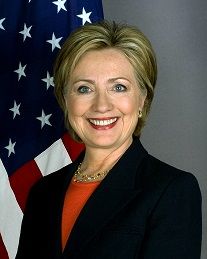 This has to be a particularly uncomfortable moment for Hillary Clinton. She was an architect of this Syrian dilemma by omission and commission. Her team has been hoping we would ignore that. The statement that was released on her behalf was nuanced for deniability. Like her vote on Iraq, spineless.
"Secretary Clinton supports the president's effort to enlist the Congress in pursuing a strong and targeted response to the Assad regime's horrific use of chemical weapons."
There is no escape for this pretender this time. And it really doesn't matter that the situation in the Middle East is the culmination of a decade or more of national arrogance that overlays a crumbling economic foundation. Ms. Clinton bought a permanent stake in this when she cast her vote at that very important moment supporting George Bush's war. When she had an opportunity to redeem herself and demonstrate her moxie as Secretary of State, she didn't.
There have been too many missteps to count regarding Syria alone. And throughout this period, her understudy, Susan Rice, now the National Security Advisor, was completely ineffective in her role as Ambassador to the United Nations. Every bit of this has Hillary's signature all over it. And this will weigh her down throughout her campaign for 2016.
The Russian reset is part and parcel of this situation; Hillary owns that. At a time when Clinton's State Department team was sending out feelers to Assad's opposition, inviting representatives to meet with our Ambassador to Syria, we were handing Assad's benefactor a trump card. Unexpectedly, as the opposition transitioned to the use of organized violence, something happened to change Hillary's opinion of Assad and to cast him as a reformer. No wonder the Russians and their client read the tea leaves the way they did. Meanwhile, Senator McCain was allowed or maybe even encouraged to traipse around the region as though he had any ability to discern the situation on the ground. But that fit with Hillary's penchant for wanting to have it both ways. The United States could be seen supporting both sides.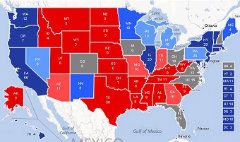 Barring any unforeseen event, there aren't enough undecideds to sway these uncertain elections. Persuasion is over now. The embers are being fanned with advertising dollars, but the electorate is now fairly immune to the heat from either side. The negative ads won't do the heavy work of GOTV.
The tea leaves from the polls give a very murky outlook. Republicans told us weeks ago that the polls are unreliable and biased. They were certainly not giving the news that they wanted to hear. For a while they were apoplectic; then curled up in the fetal position. When the polls swung their way, they suddenly became prophetic. But the truth is we (except maybe Nate Silver) won't know what they mean until midnight Tuesday.
The benefit of the ad deluge right now is nearly zero compared to ads run in June or July. Dr. Quentin Kidd (Christopher Newport University) suggests that was factored into the strategy of the Obama campaign. The campaign had ads up at that point in all the swing states because they wanted to set the stage early. Everyone knew that by fall the ads would be ubiquitous to the point of being indistinguishable. This strategy may prove the difference in this race.
In a conversation with Cathy Lewis on WHRV last week, Kidd concurred with the view that we have reached the point of political ad saturation. But, he said, we are in an arms race from which no campaign can pull back without demonstrating some sort of weakness; suggesting maybe the financial support has gone (see George Allen's contribution to himself). And just today a very expensive 20 page, glossy, Obama mailer arrived from OFA.
I caught
Mudcat being interviewed this morning on MSNBC
by Chuck Todd.
The entire interview was not particularly interesting. Todd is a generic television political analyst who tends to base his reporting on the conventional wisdom, occasionally channeling the analysis of the last political operative to plant an idea in his brain (lately, he seems to have developed a good source in the Romney camp, based on his reporting). Both of those skills were on display for the majority of his chat with Mudcat. Meh.
Mudcat did explain that he did not see the Commonwealth as a "purple" state, but rather still as a "red" state, based on the makeup of the General Assembly. At a local state level, he is without doubt correct (and it must look extremely red from his perch down there in Roanoke), but thanks to continuing demographic changes and a growing urban population, particularly in NOVA, the picture is not quite as clear on a statewide basis. It is now possible for Democrats to statewide elections without attracting significant numbers of "independents" to its side.
Indeed, at the very end of the interview, Todd asked about the whether Democrats could offset losing that "independent" vote in the Commonwealth (which Todd sited in the Southern D.C. suburbs, the Northern Neck, and the more rural areas of Hampton Roads), and Mudcat had an interesting response:
When he claims the president has doubled the deficit, Mitt Romney is an extreme liar.
First, as the graph shows, the President has reduced the deficit. The Red column on the graph represents George W. Bush's contribution to the deficit. But serial liar Romney falsely claims Obama has doubled the deficit. Not only has the president NOT doubled the deficit, the president has reduced it. The data are clear. Barack Obama has reduced the deficit more than two Bushes and more than Ronald Reagan. In point of fact, only Bill Clinton and Barack Obama have actually reduced the deficit.
But as Rachel Maddow discussed today, amazingly Mitt Romney supposedly has more supposed "cred" on the matter of deficit reduction. The new Washington Post poll shows that is the only element upon which Mitt Romney does better than the President.
A chilling
article
in
The New York Times
by Charles Savage indicates that, if Romney is elected, he will probably re-institute the "enhanced interrogation" methods approved by President George W. Bush, which Mr. Obama, in one of his first acts as President, abolished by executive order. You will recall these "enhanced" techniques included "prolonged sleep deprivation, shackling into painful 'stress' positions for long periods while naked and in a cold room, slamming into a wall, locking inside a small box, and the suffocation tactic called waterboarding," as well as other methods such as slapping, head-grabbing, and withholding solid food (starvation tactic).
The Bush doctrine on torture as national policy, once disclosed, "ignited a heated debate," one in which Republican Senator John McCain tried to codify limits on torture in our domestic statutes, over strenuous objections from the Bush administration. In 2006 the Supreme Court ruled against Bush, holding that the Geneva Conventions applied to wartime al Qaeda prisoners---- but I suspect that some forms of torture did continue under the Bush regime, excused by a kind of picky bureaucratic hair-splitting.