by Lowell Here are a few national and Virginia news headlines, political and otherwise, for Tuesday, May 7.  We're killing off our planet, and our...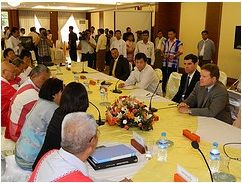 Senator Webb has called for
lifting all economic sanctions against Burma
. What seem slowly unfolding changes in that nation after decades of tyranny are significant achievements on two fronts. They merit the potential galvanizing effects of Webb's proposal.
"Many people are beginning to say that the democratisation process here is irreversible. It's not so." - Aung San Suu Kyi
The strange new territory the relationship between the United States and Burma may enter is one that could shape the application of power into the future. It is promising. For once the United States may have imposed its will on an adversary without resorting to military intervention. Next it establishes a dynamic in the relationship where both parties pursue interests that are complementary and mutually beneficial while continued reform is its own reward. This is a balancing act. American temperament and policy usually reflect our impatience and many will challenge what may be perceived as acting too swiftly. But the window of opportunity will not remain open forever. Six months from now, when our attention is elsewhere and we have not acted, there will be no reason for Burma's leadership to perform in crisis in any way differently than has kept them in power to date.