 Apparently someone forgot to tell Rob Wittman that it isn't ok to use taxpayer dollars to prepare, publish and mail his political campaign materials. The "franking privilege" allow members of Congress to send "official mail," under their signature, without postage - although this sort of mail is not free as it is paid for by annual tax-funded appropriations. As Rob is no doubt aware, political campaign mailers do not fall under what is allowable as "official mail."  
Additionally, congressmen are prohibited (Section 3210 (a)(6)(A), Title 39 U.S.C.) from sending out any mass mailings during the 90-days preceding the date of an election - be it primary or general. A mass mailing is
defined
as "an unsolicited mailing of 500 or more pieces of substantially identical content - whether mailed singly or in bulk - over the course of a legislative year."  
Since the 90-day blackout period begun, Rob has not shied away from using taxpayer funds to send out what are clearly campaign mailers. Kandy Hilliard, Chair of the Stafford Democratic Committee, issued a press release this morning that accused him of misusing taxpayer funds for campaign expenses and called for a formal investigation to be launched.
I was reading the comments section on
Slate's article, "Is Krystal Ball the Left's Answer to Sarah Palin?"
, and strongly agreed with the following.
What a ridiculous premise. A "Liberal Sarah Palin" defies all logic. Additionally, she would have to have an IQ of 80.
I also liked:
She has to be a lot stupider and speak in incomprehensible babble for her to be "the left's answer to Sarah Palin.
And this:
Can she speak English? Yes? Well then don't compare her to Sarah Palin.
And finally, I like this one: Also, see Krystal Ball's fiery, passionate
Huffington Post article
, in which she writes (bolding added by me for emphasis):
...these photos were released by a right-wing smear blog with close ties to my opponent. I don't believe these pictures were posted with a desire to just embarrass me; they wanted me to feel like a whore. They wanted me to collapse in a ball of embarrassment and to hang my head in shame. After all, when you are a woman named Krystal Ball, 28 years old, running for Congress, well, you get the picture. Stripper. Porn star. I've heard them all. So, I sat in my husband's arms and cried. I thought about my little girl. I couldn't stand the idea that I had somehow damaged the cause of young women running for office. I couldn't stand the idea that I might shame my family, my friends or my supporters in some way.

The tactic of making female politicians into whores is nothing new. In fact, it happened to Meg Whitman, one of the world's most accomplished business women, just last week. It's part of this whole idea that female sexuality and serious work are incompatible. But I realized that photos like the ones of me, and ones much racier, would end up coming into the public sphere when women of my generation run for office. And I knew that there could be no other answer to the question than this: Society has to accept that women of my generation have sexual lives that are going to leak into the public sphere. Sooner or later, this is a reality that has to be faced, or many young women in my generation will not be able to run for office.
Strong stuff, and mostly on point in my opinion. Anyway, we'll see how this plays out politically, but I've got to say, nice job by Krystal Ball in handling this situation. As you probably know, photos of Krystal Ball from a party several years ago, where she is "posing suggestively with a sex toy," are now all over the internet. For more, see
NBC 12
. Also, see after the "fold" for more video from the interview. Among other things, Krystal Ball notes that Scott Brown posed nude as a centerfold, and he's in the U.S. Senate.
UPDATE: Ryan Nobles tweets, "get ready for the Krystal Ball national media tour. She is scheduled to appear on the @TodayShow later this week." Talk about making lemonade out of lemons! What will Krystal Ball's name ID be after this week? As high as Christine O'Donnell's nationally? Stay tuned!
UPDATE #2: Ryan Nobles tweets, "Rob Wittman's campaign asking GOP bloggers to take down photos of his opponent, Krystal Ball circulating on the internet." I sure hope that's true.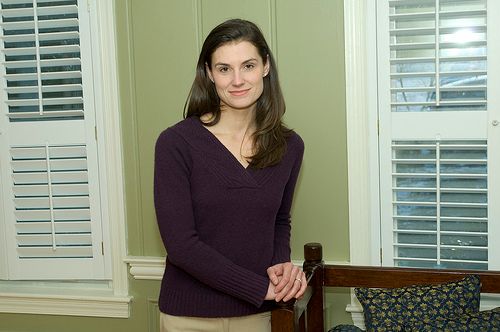 Krystal Ball is dead wrong on the issue at the center of American strategic security interests. Her naïve, casual, pragmatic responses to complex questions and nervous laughter when she was being taken to task by her interviewer today made clear that she is neither ready for prime time nor Congress.
None of this makes Rob Wittman more qualified for office, mind you. But if Krystal Ball believes what she expressed in her discussion on the Tony Macrini show this morning, there is no compelling reason for progressives to think more than to vote for her on election day. She doesn't even list the war as an issue on her website. Shoe leather and money are better directed to a Tom Perriello who can think on his own and explain to his constituency why his positions are in their and the nation's interests.
Macrini went to the conflict in Southwest Asia in short order reasoning that people in Hampton Roads are more likely to be somehow directly affected than people who live in Idaho or elsewhere. He turned the discussion over to Ball after wondering aloud that, here we are with 4,500 Americans dead and $1 trillion spent, if the wars were a good idea. Most of the discussion of that issue follows. This is cross-posted at
Leaving My Marc
.
I'd say that the Wittman campaign is feeling quite threatened these days by Krystal Ball's (D-VA-1st CD) candidacy that they felt that they needed to dismiss her as a candidate through an extremely sexist comment.
Great job by the Farm Team on calling them out!
Wittman for Congress makes sexist remarks about
female opponent, Krystal Ball

Recently, a spokesperson for Congressman Rob Wittman of the 1st District of Virginia made a controversial statement about his opponent, Krystal Ball. In referring to Mrs. Ball, the Wittman campaign described her as "cute" stating, "As cute as our opponent may think she is..."

Today, Susan Platt, a founding member of The Farm Team said, "It is regrettable that Rob Wittman's campaign feels it is acceptable to degrade the Democratic Nominee for Congress for the First Congressional, who happens to be a woman, in such a manner."

Platt continued, "Krystal is running a smart, issue-oriented campaign and should be treated with respect.  Not only is it disrespectful to Mrs. Ball, but to the many other women across Virginia who expect more from their elected officials.  We hold our leaders to a higher standard.  That's why we're supporting Krystal Ball for Congress."
This is cross-posted at
Leaving My Marc.
That's what constituents in the 1st District of Virginia are wondering. It's no wonder that his constituents have no idea who or where he is, since he has no legislative accomplishments to speak of and instead spends his time hobnobbing at GOP fundraisers and hanging out with his pal Eric Cantor (see Lap Dog article).
This is cross-posted at
Leaving My Marc
.
Democrats helped Krystal Ball (D-Fredericksburg) shed the presumptive nominee label by selecting her to be the official democratic nominee from Virginia's 1st Congressional District at a convention this past Saturday.
Ball wasted little time in drawing a sharp contrast between her and Congressman Rob Wittman (R-Montross).

When we passed Social Security they threatened to repeal it, when we passed Medicare they threatened to repeal it and now, now that we have passed health care reform they are threatening to repeal it. Well I have one message for Eric Cantor and John Boehner and to Rob Wittman. Let me say this clearly. I don't care what your buddies in the health insurance lobby want we are not going backwards!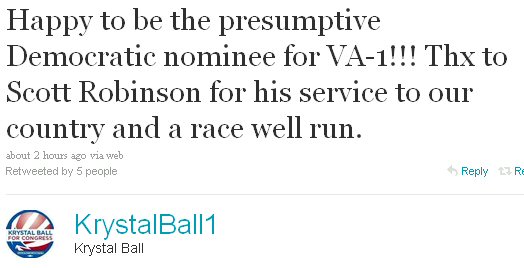 Congratulations to Krystal Ball! With the withdrawal today of
Scott Robinson
from the 1st CD Democratic nomination race, Krystal is the
de facto
nominee. If you want to support Krystal's campaign, you can
contribute to "Bloggers for Ball" on ActBlue
. Thanks, and go Krystal!
P.S. To learn more about our Congressional nominee in Virginia's 1st district, see my extensive interview with Krystal.
UPDATE: Scott Robinson's statements is here.

When we started this campaign seven months ago, I had just retired from a 25-year career in the United States Army and was attempting to catch up to my would be opponents by building a political operation from scratch. The factors surrounding that short amount of time proved to be a daunting task. That is why I will be changing directions and am putting aside my aspirations to serve in Congress for now...