The midterm elections are less than a month away,  and per Nate Cohn's well-researched perspective, Democrats have a strong shot at taking the House,...
Virginia voting has been going on for several weeks (restricted early voting) and the polls are open in nine days. This should be, according...
(Cindy Cunningham was out-of-state this past weekend to I took up the mantle on her behalf!) As the man opened the door and eyed me...
by Josh Katcher A Democrat stays in the White House -- if Virginia stays blue. Virginia stays blue -- if we run up the score in...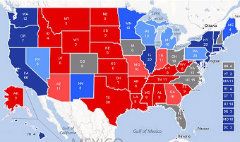 Barring any unforeseen event, there aren't enough undecideds to sway these uncertain elections. Persuasion is over now. The embers are being fanned with advertising dollars, but the electorate is now fairly immune to the heat from either side. The negative ads won't do the heavy work of GOTV.
The tea leaves from the polls give a very murky outlook. Republicans told us weeks ago that the polls are unreliable and biased. They were certainly not giving the news that they wanted to hear. For a while they were apoplectic; then curled up in the fetal position. When the polls swung their way, they suddenly became prophetic. But the truth is we (except maybe Nate Silver) won't know what they mean until midnight Tuesday.
The benefit of the ad deluge right now is nearly zero compared to ads run in June or July. Dr. Quentin Kidd (Christopher Newport University) suggests that was factored into the strategy of the Obama campaign. The campaign had ads up at that point in all the swing states because they wanted to set the stage early. Everyone knew that by fall the ads would be ubiquitous to the point of being indistinguishable. This strategy may prove the difference in this race.
In a conversation with Cathy Lewis on WHRV last week, Kidd concurred with the view that we have reached the point of political ad saturation. But, he said, we are in an arms race from which no campaign can pull back without demonstrating some sort of weakness; suggesting maybe the financial support has gone (see George Allen's contribution to himself). And just today a very expensive 20 page, glossy, Obama mailer arrived from OFA.
Lost in the news today is a small item that looms large for Tuesday. John E. Gordon has switched political parties. He is one guy. But in the GOTV effort, he is a guy that signals a slippery slope for Republicans who have thrown in with some pretty petty "populists."
"It's not that I'm leaving the Republican Party; it's that the Republican Party left me ... me and many other moderates," Gordon said in his announcement. "It aspired to be a big-tent party; but now it is dominated and exclusive to the tea party and folks with a very conservative social agenda." - Richmond Times Dispatch
So while the Republicans have been pandering to the know-nothing wing for two decades, they have driven those broader minded, more representative of the American electorate, to the curb. Concurrently they have touted a "big tent" welcome mat in an effort to attract a broader base of, well, non-whites. But is it sincere? After expressing frustration that more minorities have not joined the cause during a Virginia Beach appearance last spring, George Allen brushed off an African American member of the audience who commented that he might be able to explain how to help. Allen simply deflected the offer by telling him that he was interested; "see me afterwards..." Not interested or competent enough to share an unscripted conversation publicly. No, that's way too dangerous terrain for George. And there is nothing to demonstrate that Allen or many other Republicans are interested in anything but the votes.