We're coming down the home stretch on this, with a Joe Biden VP announcement coming in the next 10 days or so, most likely....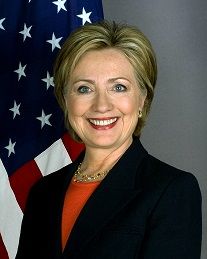 This has to be a particularly uncomfortable moment for Hillary Clinton. She was an architect of this Syrian dilemma by omission and commission. Her team has been hoping we would ignore that. The statement that was released on her behalf was nuanced for deniability. Like her vote on Iraq, spineless.
"Secretary Clinton supports the president's effort to enlist the Congress in pursuing a strong and targeted response to the Assad regime's horrific use of chemical weapons."
There is no escape for this pretender this time. And it really doesn't matter that the situation in the Middle East is the culmination of a decade or more of national arrogance that overlays a crumbling economic foundation. Ms. Clinton bought a permanent stake in this when she cast her vote at that very important moment supporting George Bush's war. When she had an opportunity to redeem herself and demonstrate her moxie as Secretary of State, she didn't.
There have been too many missteps to count regarding Syria alone. And throughout this period, her understudy, Susan Rice, now the National Security Advisor, was completely ineffective in her role as Ambassador to the United Nations. Every bit of this has Hillary's signature all over it. And this will weigh her down throughout her campaign for 2016.
The Russian reset is part and parcel of this situation; Hillary owns that. At a time when Clinton's State Department team was sending out feelers to Assad's opposition, inviting representatives to meet with our Ambassador to Syria, we were handing Assad's benefactor a trump card. Unexpectedly, as the opposition transitioned to the use of organized violence, something happened to change Hillary's opinion of Assad and to cast him as a reformer. No wonder the Russians and their client read the tea leaves the way they did. Meanwhile, Senator McCain was allowed or maybe even encouraged to traipse around the region as though he had any ability to discern the situation on the ground. But that fit with Hillary's penchant for wanting to have it both ways. The United States could be seen supporting both sides. I've been trying to figure out why John McCain, Lindsey Graham, and several other Republican senators are piling on Susan Rice, UN ambassador, for her role as spokesperson for the administration on the Benghazi Sept.11 attack. There is no reasonable evidence for their ridiculous attacks, but maybe there's a political motive.
One of the "shining stars" of the GOP, Scott Brown, got wiped out by Elizabeth Warren, a genuine progressive, in his race to return to the Senate from Massachusetts. If we look at the two names mentioned for Secretary of State we come up with Susan Rice and John Kerry. If the GOP senators can make Susan Rice a difficult choice for President Obama, then perhaps Obama will simply nominate Kerry, thus opening a Senate seat in Massachusetts.
When Willard "Mitt" Romney was governor of Massachusetts, the Democratic majority in the legislature took away his ability to name someone to an open Senate seat. That came back to bite them when Sen. Ted Kennedy died in office in 2010, and Scott Brown won a special election against a feckless Democrat, Martha Coakley. (Coakley actually thought that Curt Shilling, hero of the Boston Red Sox victory in the 2004 World Series, played for the Yankees!) I'm coming to the conclusion that some GOP senators hope they can force the nomination of John Kerry as Secretary of State, thus giving Scott Brown another chance at a low-turnout special election.
Such Machiavellian maneuvers rarely work out as planned. Just ask Bob McDonnell and Bill Bolling. In their dream scenario, Romney names McDonnell his Attorney General (!?!), thus enabling Bolling to be the incumbent governor when he faces crazy Ken Cuccinelli in 2013. Now, all Bolling can do is drop out of the race for the Republican nomination and scheme (we hope) for a way to stop Cuccinelli from getting to the governor's mansion.
Oh, I do love politics!