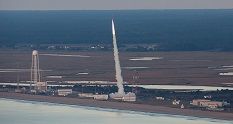 While riding the good fortune of geographic proximity to Washington, McDonnell never brought a single advanced industry employer to Virginia but was proud to take credit for every job at any new convenience store. Now it is Governor McAuliffe's turn to show that jobs aren't just a campaign talking point.
The kinds of jobs that mean something are those that will employ the STEM (science, technology, engineering, and math) workers we hear about from every politician who wants to sound like an higher education proponent. These are in industries, manufacturing and services, which pay well and contribute significantly to the GDP because they have a multiplier effect. They have supply chains that stimulate local economies by leveraging opportunities from the benefit of shorter lines of communications.
"They send you to new governors school when you are elected. We're standing outside talking ... so what'd you run on? ... We all kind of, after a while, sheepishly admitted we were going to be the jobs governor. And we realized that all thirty plus new governors at that point in time were going to be the jobs governor. The point of that is that it is a very competitive world out there." - Governor Bill Haslam (TN) speaking at the Brookings Institute
Possibly the clumsiest McDonnell attempt to weigh into advanced industry focused on Wallops Island. During his campaign for Governor he pledged a tenfold boost in state funding for the Mid-Atlantic Regional Spaceport and proposed space tourism as a natural tie-in. His only tangible legislative achievement was an initiative that amounted to a frequent flyer program for well-heeled space travelers. No miles have been accumulated in any individual account just yet.
Last night, a rocket launched
from Virginia to the moon
.
What a wonderful thing to bolster our pride in this state, after all the depressing news we've had to bear about scandals and reactionary politics. And what a fitting tribute to the Commonwealth that once hosted the great intellects behind the Declaration of Independence, Bill of Rights and Constitution - Thomas Jefferson, George Mason, James Madison.
Scientific and technological breakthroughs don't happen by accident, they occur because of leadership -- academic, industrial and political. As one article from 2010 noted:
Virginia has put some effort into supporting a commercial space sector, anchored by NASA Wallops. In 2004, governors Bob Erlich of Maryland and Mark Warner of Virginia created the MARS partnership. And in recent years the General Assembly passed two laws to make the state more friendly to space transportation companies. The 2007 Virginia Space Liability and Immunity Act gives companies some legal shelter in the event of a mishap, and the Zero G Tax Act of 2008 provides an exemption to companies doing business in the state with plans to launch from MARS or to do spaceflight training.
Yes, tech-savvy political leaders like Mark Warner make the difference between a state that moves forward into the 21st century, and one that falls backwards into irrelevance and decay. Which brings us to the current race for governor.