From Free Nelson: "The Dominion Energy bullies are back at it again. They have filed suit against the Nelson Board of Supervisors because the Nelson...
by Jonathan Sokolow, an attorney and activist from Reston, Virginia. "The past is never dead.  It's not even past."  William Faulkner In March 1865, as the Civil...
Free Nelson has been reporting on errors, accidents and violations by Dominion and/or its partnerships over the last several months. We became interested in Dominion's safety record last May, when Nelsonians began receiving letters regarding a 554-mile long, 42" natural gas pipeline known then as the Southern Reliability Project. The pipeline has since been renamed the Atlantic Coast Pipeline (ACP), and is now a partnership between Dominion, Duke, Piedmont Natural Gas and AGL Resources.
The proposed ACP would cut a 125' swath, wide enough for a 6-lane highway, through Nelson's steep, forested terrain, as well through our rolling farmland. The originally-proposed route for Nelson is approximately 30 miles, entering at the county's northeast corner near Humpback Rock on the Blue Ridge Parkway. It would travel in a southeasterly direction to the James River. This route, or any of the other four recently announced alternate routes through the county, would traverse the land of hundreds of private property owners.
We have heard all the platitudes. The most often heard is that "pipelines are the safest way to transport natural gas." Actually, it is the only way natural gas is transported. But that doesn't mean it is safe. As pipelines increase in size, it becomes more imperative that we know the risks to those in the path of these behemoths. In 2012, a 20" natural gas pipeline exploded in Sissonville, WV along Interstate 77, melting 800' of the interstate highway, destroying three homes and damaging countless others. Another pipeline, in Appomattox County, Virginia, exploded in 2008, destroying two homes, melting the siding on over 100 others as far as a mile away. Clearly, the radiational heat from these explosions is tremendous. Yet here in Nelson, Dominion (which has chosen the proposed path) puts existing lawndowners' homes within 330' of a much larger, 42" pipeline which operates at a much higher 1,440 psi than the two pipeline explosions we gave as examples.
We won't address Dominion's many lies, nor the crass, bullying behavior of Dominion toward landowners and our community in this article. But we will share with you the many errors, unreported violations, fines and accidents Dominion and its partnerships have been party to over the last few years. Details are sketchy, but we have learned a short time ago, Dominion and the Atlantic Coast Pipeline (ACP) LLC lost in a suit filed by the ACP LLC against a landowner refusing to allow survey. eminent domain attorney, Chuck Lollar, represented the landowner.
We understand the landowner won because Dominion requested survey, not the ACP, LLC.
Will update when we have more information! The Federal Energy Regulatory Commission (FERC) Environmental Impact Study scoping meeting was held Wednesday night in Nelson before a standing-room-only crowd in the 600-seat auditorium at Nelson County High School. FERC had "invited" several state police officers to maintain order. We welcomed them and told them we promised to behave.
After being told we could not have signs at the venue or in the meeting, we arrived to see numerous Dominion Power "Clean Energy" signs. In an effort to appear to have community support, there were two hand-painted signs, in favor of the pipeline, planted on school property. Problem is, Dominion representatives were seen putting those hand-painted signs up! Of course, Nelsonians were quick to add their "No Pipeline" signs.
Having arrived at 6:15 pm to sign up to speak for a 7 pm start time, Free Nelson was surprised to be designated as speaker number 43, and dumbfounded when FERC representatives told us they had to be out of the building by 10 pm. They handed us a form suggesting we submit our comments in writing. We questioned why they would end the meeting at 10 pm when there would be hundreds, we believed, who would want to speak, and would be unhappy if not allowed to do so. They answered by shrugging their shoulders and asking us to move along.
Dominion and FERC tried quite ineptly to stack the deck with speakers. This attempt infuriated those with legitimate concerns about the proposed Atlantic Coast Pipeline (ACP). The first 12 folks to speak were pro-pipeline and many, we believe, were Dominion Power plants. We had a pipefitter from Columbia Gas, a retired Exxon executive, another oil distributor, etc. Also, several of the early speakers lived in Richmond, Albemarle or somewhere other than Nelson.
Saying nothing about the Environmental Impact Study, but using every second of their three minutes, these folks spewed Dominion talking points about jobs and tax revenue, and supporting property rights except if it meant we could have energy independence. All, of course, are points which have been thoroughly debunked.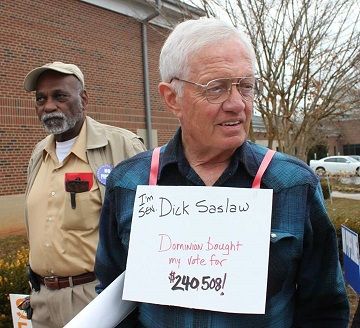 On February 23, Dominion Power announced four additional alternate routes in Nelson County for its proposed Atlantic Coast Pipeline (ACP), nearly doubling the number of land owners affected. Augusta now has nine possible ACP routes, and Dominion has added one alternate route in Buckingham County.
Holding an Open House in Nelson for all three counties is a first, especially since we were told by Dominion representatives they didn't have to hold it all. When landowners complained the maps presented for their use in viewing all these routes were extremely difficult to read, Dominion agreed! Suffice it to say, the anti-pipeline booths set up outside the venue were very busy. Most people were joining Nelson's anti-pipeline groups, buying No Pipeline signs and t-shirts, and asking how they could help with the resistance.
Free Nelson organized a protest for the event, centered around Dominion's purchase of Virginia's elected officials. On February 5, about 50 citizen lobbyists attended the General Assembly session to lobby for the repeal of the survey without permission law passed in 2004. They lobbied Virginia's Senators in the morning and attended the Commerce and Labor Committee meeting where the bill was promptly killed without a motion.
Local citizens wore tent cards at Tuesday's Open House with a Senator's name who serves on the Commerce and Labor Committee and comments which read "bought and paid for by Dominion" and "Dominion bought my vote for" and the dollar amount of contributions. Governor McAuliffe and Senator Warner were included in the protest, because McAuliffe supports the proposed ACP, and then-Governor Warner signed the 2004 survey bill into law. Each "Citizen Senator" also had an envelope of "Commonwealth of Dominion" bucks equalling their specific pay off received from Dominion. Senator Dick Saslaw won the prize for the largest amount of contributions received at over $240,000.
At the end of the evening, the "Citizen Senators" went to Dominion's "Public Input" table where they sang a revised version of the old Lesley Gore song, "You Don't Own Me" and returned all of Dominion's contributions received by our legislators in "Commonwealth of Dominion" bucks.
Photos by Marion Kanour and Jennifer Lewis First, Gov. Terry McAuliffe
ducked into a restaurant in Charlottesville
last fall to avoid anti-pipeline protestors. Now, just this past Saturday at the Governor's Mansion, McAuliffe did a tight circle dance attempting to avoid grassroots anti-pipeline activists yet again (see the video).
The Democratic Party of Virginia (DPVA) held its quarterly meeting Saturday. DPVA central committee members were also invited to a reception following the meeting at the Governor's Mansion. In support of a resolution Democrats were to present regarding climate change, members of anti-pipeline groups Free Nelson and Friends of Augusta went to the DPVA meeting and the reception hosted by the governor which followed.
The climate change resolution was deferred until DPVA's quarterly meeting in June, said Second Vice Chair of Rules and Resolutions, Fred Hudson. LG Ralph Northam, AG Mark Herring and Governor McAuliffe all spoke at the meeting about the accomplishments they had made on behalf of Virginians during their first year in office. Governor McAuliffe touted his success in job creation and the 325 "deals" and $6.1 billion in economic activity those deals will generate to help create Virginia's new economy.
McAuliffe spoke eloquently about climate change and its effects on rising sea levels and the naval bases in our Commomwealth. He noted that heavy rains lasting only an hour in duration force road closures in the Norfolk and Hampton areas on a regular basis. He told us that climate change is real and that we must act to counter its effects on our Commonwealth. McAuliffe didn't, however, mention his support for the proposed Atlantic Coast Pipeline. McAuliffe did tell those assembled that he wanted to hear from them, to talk to them, that his door is always open.
Those in Nelson, Augusta and other counties across the Commonwealth fighting Dominion's proposed Atlantic Coast Pipeline are appalled the chair of the Commerce and Labor Committee, Senator John Watkins, would write
this Resolution commending Domminion Power
and take it to the Senate Floor for a vote [Lowell's note: where it passed by voice vote; same thing in ths House of Delegates], even after he heard the testimony of landowners regarding the aggressive, bullying tactics Dominion has used in its efforts to secure survey of private property against the will of landowners.
This is just another example of our elected officials bowing to Dominion, portraying Dominion as a good corporate citizen, while continually passing legislation benefitting those legislator's largest corporate contributor against the best interests of the citizens of the Commonwealth! Senator Watkins was very much in favor of the "Ratepayer Ripoff Bill" (SB 1349) which shields Dominion from reviews of its books, while thwarting legislation which would have repealed the survey law (SB 1338). Nelsonians couldn't be happier that Watkins is retiring!
General Assembly
2015 SESSION
SENATE JOINT RESOLUTION NO. 323
Offered February 3, 2015
Commending Dominion Resources, Inc. The Virginia Senate's Commerce and Labor Committee is Exhibit A in a case which exemplifies the influence of Dominion on the Virginia General Assembly. In its Committee hearing Monday, lawmakers first questioned whether Dominion Transmission is a "public service corporation" under Virginia law, during a brief discussion regarding SB 1166, which would have required Dominion to open its books if they used eminent domain in its projects.
Friends of Nelson President Joanna Salidis, during her remarks, held up Code Section 56-49, even offered copies to the Senators, and said if Dominion Transmission is not a public service corporation, then why are we here, why are they getting these special carve outs only utilities receive? Attorney Henry "Hank" Howell 111 told the Committee during his remarks that these companies are not public service corporations. SB1166 was referred to a committee studying the FOIA statute.
About 50 landowners and community activists (some who brought teenage children) from Nelson, Buckingham, and Augusta Counties made the trek to Richmond Monday morning to lobby all 40 senators regarding SB 1338, which would repeal a law Senator Frank Wagner introduced in 2004, known as the Wagner Act. Code Section 56-49.01 purportedly allows natural gas companies to send "survey" crews onto private property to complete surveys, borings, etc. without landowner permission. There is no time limit for these "surveys," nor notification of a specific date to be given the landowner for when these teams of contractors will appear on their private property. This special exception is allowed only to natural gas companies and no other "public service companies" in Virginia.
The citizen lobbyists had previously set up morning appointments with legislators. When they arrived, they broke up into eight groups to ensure contact and discussion with each Senator. They ate lunch and then made their way to Senate Room B where the hearing was scheduled to begin at 1 pm.
After a lengthy two-plus-hour delay because the Senators were in session in the Capitol, the hearing finally began. Senators continued to saunter in after the hearing had been gaveled into session by Chair Senator John Watkins. Watkins, when meeting with one citizen lobbying group Monday morning said, "We need electricity, this isn't going to happen," referring to the repeal of SB 1338. Citizens group Free Nelson, which opposes the proposed Dominion pipeline through Nelson County, Virginia, has sent the following letter to Attorney General Mark Herring sharing residents concerns about the legislative process in Richmond and its bias in favor of Dominion.
Dear Attorney General Herring,
We are residents of Nelson County opposing Dominion's Atlantic Coast Pipeline and organized as a group called Free Nelson. As you might imagine, the current Virginia Legislative Session is of great interest to of us.
We attended the first meeting with Dominion representatives and the Nelson County Board of Supervisors on August 12 and felt dismayed to hear Dominion External Affairs Manager Emmett Toms threaten eminent domain fifteen minutes into a meeting that was to have been informational in nature. "Pin-dropping" silence would have been deafening in comparison to how the nearly 600 residents reacted. When interviewed after the meeting, Toms made arrogant, flip remarks, telling us to go home and put solar panels on our roofs. He also stated that they "would only use as much dynamite as they need" on our slopes. This was the beginning of Dominion's relationship with Nelson County.
Our open houses have been, frankly, less than informative. Representatives have given vague answers or no answers at all, when questioned about impact on water sources, construction on slopes damaged by more than 100 slides in 1969, and proximity to houses (they have told us that by law, they only need to be 50 ft from our homes). And when family members questioned the proposed route through an area where the bodies of some 17 residents were never recovered after the flood, they simply responded that they have a policy in place for dealing with human remains. They have knocked on residents' doors who have denied survey with veiled threats and served lawsuits on landowners at 9 o'clock at night. And as widely reported in the news, they have supplied incorrect maps and filed suits against landowners in error.