SPONSORED CONTENT by Attorney Ryan Sargent, the owner and founder of the Sargent Law Firm, exclusively practicing plaintiff's injury law throughout the state of California.   California's...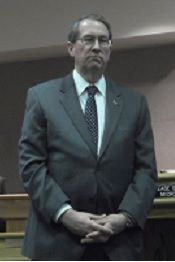 So now that Bob Goodlatte has visited the border and determined that all blame for the immigration crisis
du jour
rests squarely on President Obama's shoulders, maybe we can get to some substantive discussion. Dismissing Goodlatte's and Darrell Issa's grandstanding on its face, a well-considered, rational strategy is essential.
"Word has gotten out around the world about President Obama's lax immigration enforcement policies, and it has encouraged more individuals to come to the United States illegally, many of whom are children from Central America." - Bob Goodlatte, R-VA 6th
This is a ridiculous and simple-minded assertion designed to play on prejudice and fear. The law that codified current policy toward unaccompanied minors, the Trafficking Victims Protection Reauthorization Act (TVPRA) was enacted in 2008 and signed by President Bush. Reagan administration policies in and subsequent neglect of countries in the Central American Northern Triangle, which includes Honduras, Guatemala and El Salvador, have directly led to the highest homicide rate per capita in the world. These governments cannot contend with rising levels of violence. Internally displaced persons constitute the bulk of those displaced but increasing numbers of people are crossing state boundaries in search of safety. However, criminal gangs are transnational, meaning there is no sanctuary obtained by crossing an adjacent border.
The TVPRA requires the establishment of standards for custody, creation of more child-friendly asylum procedures, and relaxation of eligibility for Special Immigrant Juvenile Status (SIJ) visa status. These are simple internationally recognized expectations of humanitarian treatment. Do the critics believe that inhumane treatment of children for their first 72 hours or so in America will somehow discourage migration?
In the heyday of terrorism paranoia, the Virginia General Assembly changed the requirements for obtaining a driver's license. All House and Senate patrons were Republicans. They made proof of legal presence a requirement. Many Democrats were cowed into supporting this. The unintended consequences are apparent now; change the law!
While the grander issues of separating families through deportation, comprehensive immigration reform, Deferred Action for Childhood Arrivals, and in-state tuition are terribly important, the day-to-day practical issue of transportation that allows migrants to support themselves and their families is most immediate for laborers. In many cases, persons whose status allows them to legally remain in the United States are prohibited from obtaining licenses under Virginia law.
"How, if you are allowed to work, are you not able to drive to work?" - Joseph Montano, American Civil Liberties Union of Virginia
The consequences on a personal level are devastating. Virginians still in high school, working to support their families, end up taking court docket time, missing school, and paying fines that are doubly punitive. Teachers who take an interest in the welfare of their students often accompany them on their own time in an effort to provide at least support and some counsel. Out of necessity, many end up repeat offenders. Further, being responsible, they make an effort to follow the law by acquiring insurance. But as anyone who has experience in the shadows knows, there is only street justice there. Who knows if these often more expensive policies are even in force?
2010's
tied for the hottest year on record
so far. Over the weekend, DC
tied the record
for most 90 degree days in one year. And now America's 2nd-largest city has broken its record for
highest temperature
:
As of 12:50 p.m.: downtown L.A. had hit 113 degrees, a record high. Stuart Seto, a forecaster for the National Weather Service, said that's the hottest temperature recorded at the downtown station since record-keeping began in 1877.
As climate scientists have been predicting, it's just more evidence of
global warming amplifying summer heat waves
.
But nothing to see here, right California GOP Senate candidate Carly Fiorina? No need to buy any less Middle Eastern oil or burn any less mountaintop-removed coal? Just all a coincidence, or sunspots, or something?
This is a great idea
that Virginia should adopt as well.
...A new bill introduced in the state Senate by Sen. Leland Yee (D-San Francisco) seeks to ensure that none of the Texas standards are allowed to be used in California in any fashion.

Under Yee's bill, SB1451, the California Board of Education would be required to look out for any of the Texas content as part of its standard practice of reviewing public school textbooks. The board must then report any findings to the legislature and to the secretary of education.
Among other lunacy, the
new Texas "standards"
"say that the
McCarthyism of the 1950s was later vindicated
-- something most historians deny -- draw an
equivalency between Jefferson Davis's and Abraham Lincoln's inaugural addresses
, say that international institutions such as the
United Nations imperil American sovereignty
, and include a
long list of Confederate officials about whom students must learn
." As I said, "lunacy."
So, which delegate(s) and which state senator(s) are going to introduce this legislation in the next Virginia General Assembly session?
E-Bay auctioneer CEO and billionaire Meg Whitman is trying to buy the governorship of California with many millions of her own money. This week we learned about the extent she will go to do that. It turns out that Meg Whitman produced a fake town hall to use in lieu of a real one for an info-mercial. The whole thing was staged. She planted attendees, planted questions, and even planted the cheering, as the video below the fold shows.