A week with a reckless president beating the drums of (nuclear?) war. First he publicly tells his Secretary of State that "he is wasting...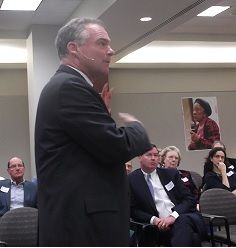 Going to war is serious business. Senator Kaine (D-VA) believes that those in whom that power is vested should follow a deliberate process and that the executive should be bound by the decision. The Constitution is not vague about the responsibilities but the world presents circumstances that are.
In an attempt to clear up any misunderstanding about the authority to commit forces to war, Senator Kaine has joined with Senator McCain (R-AZ) to offer legislation that will establish a process to ensure the judicious application of military force. Yesterday's participation in the Richmond Times Dispatch Public Square series was part of Senator Kaine's effort to gather "comments, suggestions, criticisms..." in a strategy to shape and craft the bill.
Tacitly, President Bush followed the requirements of the War Powers Act, a law passed in 1973 following the frustration over the prosecution of the Viet Nam War. That was designed to rein in the initiative of any President using military force but written with both Johnson and Nixon in mind. Johnson had the support of a Congress that never imagined the scope of involvement that would precipitate. Then Nixon attacked two countries, Laos and Cambodia, without consulting Congress. To be honest, no President went as far as Bush to conform to the letter of the War Powers Act. The others managed to avoid anything more than consulting with Congressional leadership and always went on their merry way. However, the fact that George Bush appealed for authority may be more revealing about how thin he knew his justification was and that he needed cover rather than indicating sincere regard for the law. Plus the timing of the request appears suspiciously politically motivated.
Further, the authorization that Congress gave President Bush has no sunset or clearly defined achievable objective. As long as it remains in effect, Presidents can and will chase any remnant or offshoot of al Qaida's ghost, real or imagined, while waving the authorization as justification for centuries to come. So, even if you argue that he and his successor have acted under the authority of the War Powers Act, you observe the same result that arose before the Act, different day: war(s) with a scope never imagined when authorized, being fought in second, third (fourth, fifth...) party countries. Senator Kaine's obsession with the subject is more than justified.