Sad news from Alexandria Mayor Allison Silberberg; my deepest condolences to former Alexandria Mayor (1991-1996) and Virginia State Senator (1996-2012) Patsy Ticer's family and friends... It...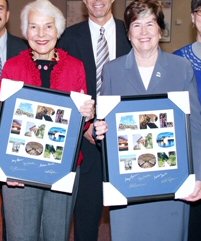 With the Arlington County Board Democratic caucus just 8 days away, things are definitely heating up with the two candidates widely assumed to be the frontrunners. First off,
Libby Garvey
has now been endorsed by recently retired State Senators Mary Margaret Whipple (D-31) and Patsy Ticer (D-30). These endorsements follow the endorsement of Garvey by incoming Senator Barbara Favola (D-31), whose departure from the Arlington County Board for the General Assembly in Richmond triggered this special election. The full endorsement statement by Whipple and Ticer of Garvey is on the "flip."
As far as I can tell, these endorsements help cement Garvey's position as an (increasingly) strong front runner for County Board. Why? Two reasons. First, I strongly doubt that Favola, Whipple, and Ticer would have all decided to endorse Garvey unless they were confident she's going to win. Second, Favola, Whipple, and Ticer are all very popular among the likely electorate -- hardcore, longtime Arlington Democrats who are overwhelmingly favorably inclined towards the endorsers.
Finally, Garvey already had major advantages in this race, as the only elected official running, as the candidate with by far the highest name ID, and as the candidate with the best organization and most resources (e.g., Garvey seems to have a full mail program, unlike the other candidates). Then, last Wednesday, Garvey had a strong performance in front of a couple hundred people at the Arlington County Democratic Committee debate. Now, with just 8 days to go, it's hard to see how anyone tops this combination, especially since - as we've seen in Iowa and New Hampshire recently - a multiple candidate field can be highly advantageous to the "establishment" candidate, as the others tend to split the "not-establishment-candidate" vote. That very well could happen in this case, with Garvey winning 40% or more of the vote next Thursday and Saturday. Stay tuned...
P.S. I'm well aware, as are many Arlington Democratic and progressive activists, that there are rumors flying around about another major candidate in this race. However, until I'm able to get a coherent story, confirmation of exactly what's going on, and preferably the source(s) of the allegations being thrown around (a potentially fascinating story in and of itself, possibly more interesting than the rumors themselves!), I'm not planning to write any further on this stuff. We'll see what other blogs and news outlets decide to do, as the information is being sent around to everyone and their uncle/aunt/cousin/neighbor/dog/cat/etc., apparently. This
is one of the most bizarre articles I've read in a while. WTF?
State Sen. Patsy Ticer, D-Alexandria, might be a leading opponent of coal in Virginia, but even she spoke highly Wednesday of the 585-megawatt coal-fired power plant under construction here.

"It's very impressive," Ticer said after touring Dominion's Virginia City Hybrid Energy Center with a group of legislators Wednesday. "This is not your regular plant. It's unique."

She stopped short of saying she'd vote in favor of another such plant, but the influential Democrat who chairs the senate's Agriculture, Conservation and Natural Resources Committee said the visit changed her perspective.

"I don't like the idea of coal as a primary source of energy ... because it has downsides," she said. "But I think that here, I've always said there's no such thing as clean coal, and I think here at the plant they want to make it as clean as they possibly can, and provide a needed resource to our population."

She said she still wants more alternative fuels. But of the power company's need to provide electricity, she said: "I think this is a very good, very responsible way for them to fulfill that responsibility."
Also see Del. Joe Morrissey's positive comments in the same article, about how "this is something that's good that they are doing."
Uh, guys? Now that you're back home, can you tell us what they did to you at that coal plant? Either they: a) brainwashed you; or b) gave you some seriously powerful hallucinogens. Either way, I'm very curious to hear the story. Thanks!
P.S. In all seriousness, this is big-time bizarre. No evidence whatsoever is presented in that article as to what makes this plant so (supposedly) "impressive" or how it is a "very good, very responsible" way to produce power. Sen. Ticer, Del. Morrissey: we're all ears! In today's
Roanoke Times
Dan Casey has a fascinating chapter in the unfolding story about the sleaze surrounding the U.S. Navy Veterans Association and its purchase of legislative "access" in Virginia. Ever since Sen. Jim Webb blew the cover of this bogus "charity" and revealed it for the fraud it surely seems to be, more and more information is accumulating about exactly how former director Bobby Thompson got his desired exemption from a law that would have required the group to register with state government.
Considering the millions that the "charity" has raked in, the price in campaign contributions for that "access" was pretty cheap, a paltry $67,500. Politicians who received campaign contributions from the group have given the money to real military charities, including Repubican Gov. Bob McDonnell and Democratic State Sen. Patsy Ticer, with one glaring exception - Attorney General Ken Cuccinelli.
In addition to Cuccinelli getting $55,000 in contributions to his campaign from U.S. Navy Vets, it is now coming out just how much Cooch courted the group (if it is a group) for those funds.