Home
Tags
Campaign contributions
Tag: campaign contributions
Dear Senator Surovell, Thank you for your response to my column about how campaign contributions and a reverence for the "Virginia Way" corrupt politicians. As I... SB 1367
, a bill introduced by Dick Saslaw (D-Fairfax), passed the Senate by an overwhelming vote and now has also passed the House of Delegates, where the vote was very close because a bipartisan group of delegates opposed it. This bill, on its way to Bob McDonnell and sure to become law, allows car title companies operating in Virginia to lend to non-residents, effectively overturning laws in Maryland and Washington DC that limit rates that can be charged by the companies which give people loans with exorbitant interest rates if they put the title to their car up as collateral. Neighboring states have effectively driven these leeches out of their jurisdictions by limiting the interest they can gouge from people down on their luck. Dick Saslaw's bill welcomes them to set up shop in the Old Dominion on our borders and take advantage of people from other jurisdictions.
So, how did car title companies - hardly able to hold themselves up as model lending agencies deserving of legislative support - hit this legal home run in Virginia? Well, they spread around more than $1 million in campaign contributions since 2004. Just last year, Dick Saslaw got $36,750 from check lending and car title companies, according to the Virginia Public Access Project.
On the other hand, Mamie Locke, who introduced a bill to limit the interest car loan purveyors could charge, saw her proposal die in committee, not even given the dignity of a vote on the Senate floor. Locke, by the way, got nary a penny from the car loan pimps.
This is a perfect example of what I consider to be the single biggest threat to representative government in the United States. It's not the angry Tea Party screamers or mindless little Sarah "I'm So Pretty" Palin. No, it's the combination of the recent Citizens United Supreme Court decision, coupled with our campaign contribution "system" that almost guarantees a politician will have to prostitute himself or herself in order to raise the money needed for a political run. I don't have to wonder any longer where at least part of the faith-based community stands on Bob McDonnell's rush to privatize Virginia's ABC stores. The Virginia Interfaith Center for Public Policy, Virginia's oldest nonpartisan, faith-based advocacy group, has issued a report
"Off the Wagon: Why ABC Privatization Is a Bad Idea."
Using a series of questions and answers, the report makes the case that it would be an extremely bad idea, both socially and from a fiscal point of view, to change the present state system in Virginia by selling off the wholesale and retail ABC businesses.
One of the arguments being made by McDonnell and the other worshippers at the altar of the free market is that privatization will result in lower prices and greater variety for the consumer. Results in states that have privatized liquor prove otherwise. In Iowa, where liquor sales were privatized in 1987, it only took one year for prices to increase six percent. In 1981, three years after privatization, voters in Alabama decided to return to state stores because of price increases and the loss of available brands of liquor.
Noting that the ABC system is a "well-run agency that is a consistent source of revenue" for the Commonwealth and that privatizing sales will "disproportionately affect lower income and minority communities" with the social problems that will come from more than tripling the access to liquor and the consequent difficulty in controlling legal access, the VIC says, "Don't do it." Quid pro quo
is a Latin phrase that literally means "this for that." The slang way to say the same thing is, "You scratch my back, I'll scratch yours." If there is a Virginia politician who understands what that means, it's Eric Cantor (R-7th).
During this election cycle, the same Wall Street firms that in 2008 gave more money to Democrats than to Republicans, have given less this time around to both parties, with one glaring exception: GOP House whip Cantor.
According to the watchdog group Public Campaign, Cantor accepted more than $460,000 in the second quarter alone from the financial sector - including Goldman Sachs and Bank of America - far more than he has raked in before from that group.
Donors from Goldman Sachs gave $15,600 to Cantor in the second quarter of this year. Donors from Bank of America offered checks totaling $6,000. Equity Group Investments officials forked over $10,800 and American Express employees donated $7,500.
Plus, Cantor raked in $18,250 from registered lobbyists and firms that have Wall Street clients, all of this largess coming (as luck would have it) as Congress was debating the recently passed Wall Street reform bill. Cantor helped lead the GOP fight against any re-regulation of the financiers that caused the worst recession since World War II. Coincidence? If you believe that, I have a great bridge in New York that I'd like to sell you.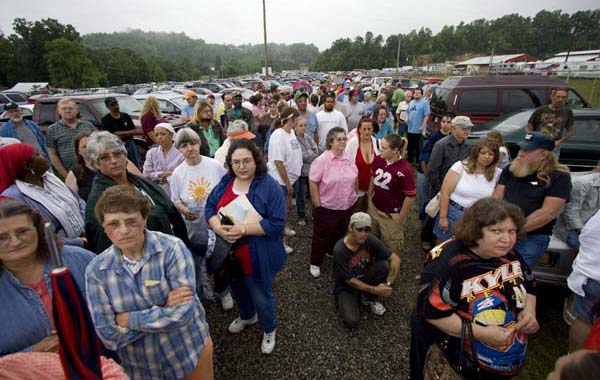 While Virginia's AG Ken Cuccinelli - our very own reincarnation of John C. Calhoun and nullification - spends his time, and the valuable time of his tax-payer-funded staff, in his personal vendetta against the recently passed health care reform program, the need for health care availability for the "least among us" continues because the bill Cooch hates so much doesn't even take full effect until 2014.
I sometimes wonder how Virginians think it makes our state look to have to have a medical group that was formed to bring medical care to the poorest parts of the world now with an arm dedicated to providing dental, visual, and medical care to rural parts of the United States - places like southwest Virginia where there are no other alternatives available to many of the people living there.
This year on July 23-25, the Remote Area Medical (RAM) Clinic will again be held in Wise VA at the Virginia/Kentucky Fairgrounds. As usual, the clinic featuring free medical, dental, and vision care will serve thousands of persons who otherwise have no access to doctors or dentists. On October 2-3 the Ram team will visit Grundy at Riverview Elementary School.
Not only does the annual RAM clinic starkly point out the need for that health care reform bill Cuccinelli is trying to overturn, but it also inadvertently led one man who made a very lucrative living as vice president for public relations for CIGNA health insurance company to reverse the course of his life and become an advocate for health care reform. Wendell Potter may well be the most effective antidote we can find to Ken Cuccinelli and the other GOPers who don't care about those who suffer and die because they are given the "freedom" to go without health care.