(Agreed, this is an excellent pick! – promoted by lowkell)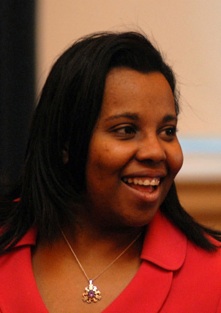 With the announcement this morning that Brian Moran will be stepping down as chair of the Virginia Democratic Party, The Farm Team announces their strong support for the election of Delegate Charniele Herring as our next Democratic Party chair and Virginia's first African American chair.
"I am confident Delegate Charniele Herring has the skills and tenacity to reach out to the many different constituencies within our Party, from small business owners to immigrants to minorities and women. Her well-rounded skills and life experience make her, once again, a winning choice for our Party. I am proud to offer The Farm Teams endorsement of her candidacy for Virginia State Party Chair" said Susan S. Platt, Founding member of The Farm Team.
Delegate Herring was the first woman that The Farm Team supported in her special election in January, 2009. She will bring a fresh and winning perspective to the future of the Virginia Democratic Party.
Herring has the unique background – and inspiring life story – to reach out to the many diverse constituencies throughout Virginia. As a child who spent a part of her teenaged years in homelessness, Herring put herself through law school, now runs her own small business, and was the first African-American woman elected to the House of Delegates from the Northern Virginia region. Herring currently serves as Minority Whip for the House Democratic Caucus.
The Farm Team thanks Brian Moran for his hard work and dedication to the Democratic Party over the last several months and wishes him well in future endeavors.