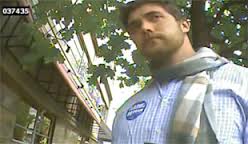 I've been busy, also collecting my thoughts, on the Patrick Moran/Jim Moran mess. For now, let me just say I'm utterly disgusted by/livid about this entire situation. Here are a few links regarding the story; I invite people's comments and thoughts.
*Rep. Jim Moran's Son Guilty of Beating Up His Girlfriend in Columbia Heights (How does a "good kid" end up "pleading guilt…to beating up his girlfriend outside a Columbia Heights bar?" How is a 24 year old a "kid?" And how is this an "embarrassing situation," not a horrifying, inexcusable incidence of violence against a woman?)
*Rep. Moran: Son's Attack on Girlfriend "An Accident" (Wait, how can it be an "accident" if Patrick Moran pleaded guilty to assaulting her, and if the police report clearly stated that Patrick "grab[bed] a white female by the back of her head with his hand and slam her head into the metal trash can cage in front of the nightclub," leaving her "bleeding her heavily bleeding from her nose" and with a possibly "fractured" "right eye socket?")
*Moran's Son Pleads Guilty to Beating Up Girlfriend (The statement here by Patrick Moran's girlfiend, Kelly Hofmann, completely contradicts the police report, as well as the fact that Patrick Moran pleaded guilty to assault.)
*No justice for congressman's girlfriend-abusing son ("Representative Moran's behavior this week, in fact, could serve as a checklist of all the ways that friends, family, colleagues, and society treat domestic violence, ways that make it difficult for victims to leave, and let abusers know they can offend without being held accountable.")
*Columbia Heights Bar Distances Itself From Patrick Moran Arrest (The alibis continue to unravel, as "The Getaway, the Columbia Heights bar outside which Patrick Moran, the son of Rep. Jim Moran (D-Va.) was arrested for assaulting his girlfriend, says it did not serve either Patrick Moran or his girlfriend the evening of December.")
On and on it goes, where this fiasco will stop, nobody knows. All I can say is, the deep "blue" 8th Congressional District can, and should, do a lot better than this.