Advertisement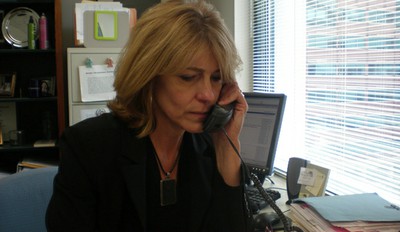 If you don't know Arlington Deputy Commonwealth's Attorney Theo Stamos, you're likely to hear a lot more about her in coming months as she runs to succeed her boss, Richard E. Trodden, who is retiring after a distinguished career (including 17 years as Arlington Commonwealth's Attorney). A few weeks ago, I had lunch with Theo Stamos and was highly impressed. Since then, she's announced her candidacy for Commonwealth's Attorney, and received endorsements from pretty much everyone, including Trodden and a slew of Commonwealth's Attorneys from all over Virginia; Rep. Jim Moran; Arlington Revenue Commissioner Ingrid Morroy; Arlington Treasurer Frank O'Leary; former Democratic Committee chair Peter Rousselot; Delegates Patrick Hope and Bob Brink; several members of the Arlington County Board (Barbara Favola, Mary Hynes, Chris Zimmerman); the Arlington Coalition of Police; and a slew of grassroots activists (Kip Malinosky, Mary Detweiler, Bree Raum, and many many more). Anyway, barring something really weird happening, it looks like Theo Stamos will be Arlington's next Commonwealth's Attorney, and as far as I'm concerned, that's great news.
In the meantime, here's what Stamos is up to these days:


Arlington County Circuit Court Judge Benjamin Kendrick had little sympathy for former Marine Jorge Torrez at the convicted rapist's sentencing today.

Calling Torrez a "coward," Kendrick imposed the jury's recommendation that Torrez serve five consecutive life sentences, plus an additional 168 years in prison. Torrez will also pay a $190,000 fine.

[…]

In her argument before the court today, Deputy Commonwealth's Attorney Theo Stamos said Torrez is a "predator" who made his victims endure horrifying ordeals. The jury "did the exact right thing" by recommending multiple life sentences, she said.
Nice job, thank you for the work you do Theo Stamos!