Advertisement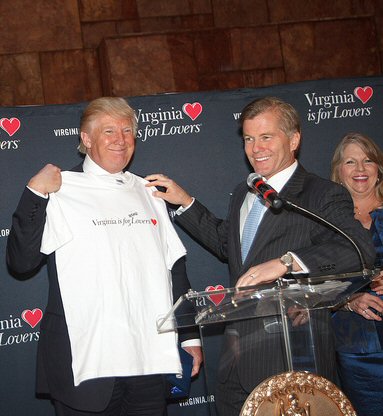 Thanks to DPVA for finding the missing paragraphs from the self-congratulatory announcement by Bob McDonnell (aka, Donald Trump's BFF) earlier today on Virginia's unemployment rate. I guess he must have dropped that page while wrenching his arm (not to mention his conscience) around to pat himself vigorously on the back for something he had basically nothing to do with. Actually, his party's policies played a big role in causing the "Great Recession," then keeping it going far longer than it needed to. But other than that, heckuva job Bob! Heh.

DPVA Cares: The missing paragraphs from McDonnell's jobs statement

Richmond, VA – Today Governor Bob McDonnell celebrated the news that Virginia's unemployment rate has fallen for the 4th straight month. In a press release he patted himself and Lieutenant Governor Bill Bolling on the back for "getting Virginians back to work and our economy back on track."

While that is certainly good news for the Commonwealth, the Governor's office seems to have unknowingly omitted a few key paragraphs from their self-laudatory statement. Fortunately, the Democratic Party of Virginia has discovered that missing text and is pleased to present it below as a service to the Governor and the people of Virginia:

"In order to avoid the impression that we are taking credit for a nationwide economic recovery in order to boost our own political ambitions, Lieutenant Governor Bolling and I must acknowledge the role that President Obama's economic leadership has played in Virginia's recovery.

"Having inherited a historic economic collapse, our President acted swiftly to enact policies that have contributed to 25-straight months of job gains and a national unemployment rate that has fallen from 10% to 8.2% and set the stage for states like Virginia to rebound.

"Virginia is seeing the positive effects of the President's policies, from investing in infrastructure and high tech jobs, job training programs, tax cuts for small businesses and 95% of middle class families and promoting policies that help a large population of Virginians — including veterans – with hiring tax credits and other incentives.

"Finally we would be remiss if we did not mention the significant role the federal government played in Virginia's comparatively strong position throughout this recession, both in terms of the billions of dollars that we received thanks to the American Recovery and Reinvestment Act and the ongoing benefit of federal investment in areas like Northern Virginia and Hampton Roads."

It's possible that the Governor's failure to include the above paragraphs in his statement can be attributed to how busy he's been with social legislation that does nothing but move the Commonwealth backwards, which is why the DPVA is happy to help remind him and Virginians that the President has continued to fight for what matters the most: jobs and creating a fair economy – and today's news is an example of that.