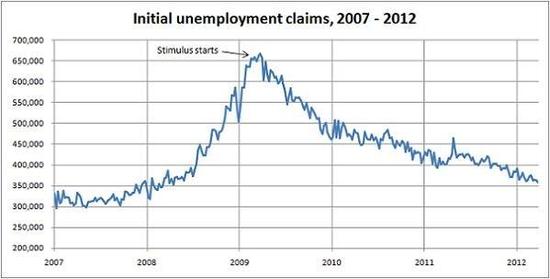 Yeah, what a disaster that "socialist" (or is it "Kenyan ant-colonialist," whatever the hell that means?) has been! LOL

Initial claims for unemployment benefits have now been below 400,000 for 24 consecutive weeks and are at their lowest level since the week of April 19, 2008. The Department of Labor announced Thursday morning that for the week ending March 31, seasonally adjusted initial claims was 357,000. That's down 6,000 from the previous week's revised figure of 363,000. The four-week running average, which analysts prefer because it flattens volatility of the weekly figure, fell 4,250 to 361,750 from the previous week's revised average of 366,000.
Oh, and for all you revisionists out there (e.g., Willard), note that unemployment claims were rising through the roof in the last few months of the Bush Administration, then began falling almost the minute the Recovery Act (aka, "stimulus") passed — with basically zero Republican support — and was signed into law by President Obama. Willard can try to twist this any way he wants, but the narrative is as clear as can be — Republicans drove us into the ditch (as they often do), Democrats pulled us out and got us going again. Why on earth would we even consider voting for the guys who drove us into the ditch?