Advertisement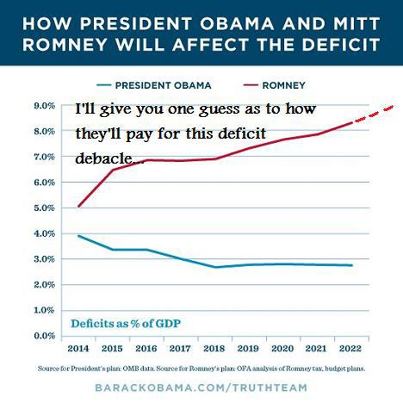 Here are a few Virginia news headlines, political and otherwise, for Tuesday, June 12 — election day (polls are open from 6 am to 7 pm). Make sure you exercise your right, and in my view, your duty as a citizen of the United States, to vote. Finally, check out the graphic, and remember the next time you see one of those 100% false ads about the "job-killing debt" or whatever, that: a) Republicans like Ronald Reagan and George W. Bush are mostly responsible for racking it up; and b) Romney would make the situation a LOT worse if, god forbid, he were elected president. In short, those ads are a actually a strong, albeit unintentional (and also false, as I don't believe there's any serious evidence that debt, per se, "kills jobs"), argument NOT to vote for Willard.
*Jeb: Reagan, Bush Sr. 'would have hard time' in new GOP (As would Dwight Eisenhower, Gerald Ford, Bob Dole, and all the moderate and progressive Republicans who used to fill the GOP – but not anymore! See Rule and Ruin: The Downfall of Moderation and the Destruction of the Republican Party, From Eisenhower to the Tea Party for more on that subject.)

*Today voters pick GOP nominee for U.S. Senate

*Editorial: Primary day for Virginia's GOP ("Voting today will show party leaders the masses want a say in nominations.")

*The Warners – Mark and John – reminisce about bipartisanship (And there still would be bipartisanship if the Republicans hadn't driven moderates and progressives out of their party and essentially become the John Birch Society.)

*Tim Kaine Outlines Economic Strategy at Senate Campaign Event

*Analysis: Goodlatte, Allen probably OK

*McDonnell signs budget, vetoes one provision

*U.Va. president learned of ouster Friday afternoon

*Ouster of Sullivan leaves UVa faculty 'shocked and dismayed'

*Independents the apple of Allen's eye in Va. race (Why would independents vote for a corporate hack and right-wingnut like George Allen?)

*Misclassified workers cost Va. millions, JLARC says

*The leadership crisis at U.Va.

*Editorial: UVa board owes an explanation ("The board of visitors hinted that fundraising is one reason for the departure of President Teresa Sullivan.")

*Washington-area housing prices pick up in May

*Fairfax to base 40% of teacher evaluations on student progress

*Democrats to pick Alexandria council contenders

*Nationals vs. Blue Jays: Edwin Jackson, Bryce Harper, Adam LaRoche stake Washington to three-game lead in NL East

*Forecast: Showers and storms today; seasonal-to-cool weather into the weekend

There's no paywall on Blue Virginia, and we definitely want to keep it that way! If you want to help support our work, you can donate here - thanks!
Also, you can
sign up for our weekly email list here
.