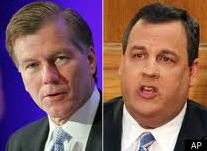 You and I know him as Pat Robertson's good friend, a guy who's so conservative that he was once nicknamed "Taliban Bob," etc. But to the ideological purist, burn-the-heretics-at-the-stake crowd over at the Conservative Political Action Conference, Bob McDonnell might as well be Che Guevara.

…Virginia's popular Republican chief executive won't be at the annual event set for March 14-16 — he wasn't invited to this year's forum after being asked to attend the past two years.

[…]

McDonnell's perceived sin is more recent — he compromised with legislative Democrats and Republicans on a state transportation funding package that includes new tax revenue to repair Virginia's aging road network.
So, add Bob McDonnell to the list of popular, Republican governors who are considered EVIL by the hard right of the Teapublican Party. I wonder what these people would do to multiple-tax-raising, illegal-immigrant-mass-amnesty-granting, Evil-Empire-negotiating, budget-deficit-exploding former President Ronald Reagan. At this point, most likely, he's be considered a heretic as well. So…bring on Ted Cruz, Ken Kookinelli, Wayne LaPierre, Rand Paul, Sarah Palin, Rick Santorum, Rick Perry, Allen West, and all the rest of the extremists and tinfoil-hat-wearing John Birchers who have infested the once-great Republican Party. Sad.