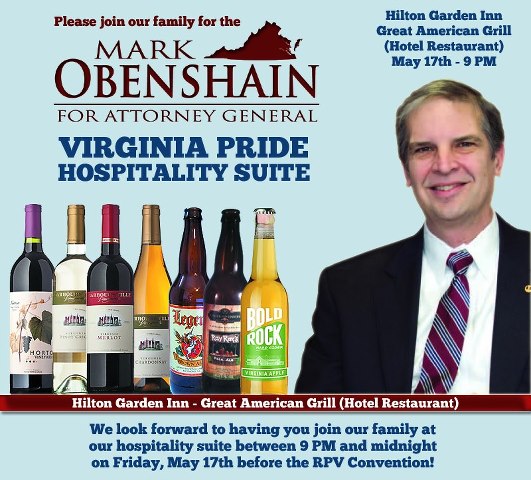 From the Mark Herring for AG campaign:
OBENSHAIN: GUNS AND BOOZE MIX
Republican Senator brags about supporting Guns in Bars
Leesburg – Senator Mark Obenshain continues to receive endorsements that show just how out of touch he is from mainstream Virginia. The latest example is his recent endorsement from the Virginia Citizens Defense League.
On his website Obenshain applauds the endorsement and brags about sponsoring a bill to allow guns in bars, calling opposition to it "nonsensical."
"Guns and booze don't mix," said Senator Mark Herring. "That's common sense, but apparently when you are vying for right wing support at a Republican Convention, common sense is not a priority, and public safety can take a back seat to right wing politics."
"Alcohol and guns are a deadly combination and for Mark Obenshain to brag about being the person that helped allow guns in bars is so far out of the mainstream it is astounding," said Senator Mark Herring. "Obenshain continues to take extreme positions. He refuses to even listen to the majority of Virginians who want common sense laws, like background checks, to prevent gun violence."
Obenshain has an extreme record on guns. In the Senate Obenshain:
The VCDL endorsed Obenshain after reviewing his questionnaire. The questionnaire asked candidates if they will fight to:
Allow guns on school grounds

Allow guns on college campuses

Allow guns in libraries and government facilities

Oppose closing the gun show loophole

Oppose universal background checks

Oppose legislation for trigger locks to promote gun safety
"Mark Obenshain represents the extreme right wing. He is a clone of Cuccinelli hoping to continue to push an agenda that only the Tea Party supports, which is why they too have endorsed him," Herring said.
"I support common sense solutions to prevent gun violence," Herring added. "I support universal background checks, banning assault weapons, repealing legislation to allow guns in bars and reinstating the one gun a month law. Additionally, we need to do more to improve mental health screenings and treatment. These are common sense solutions that most Virginians agree with."