Advertisement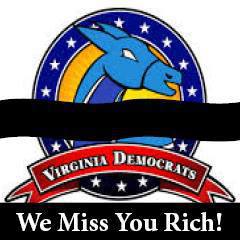 Here are a few Virginia (and national) news headlines, political and otherwise, for Monday, May 20. Also, rest in peace to Rich Savage, a Virginia Democrat who ran for Lt. Governor in 2009 and who sadly committed suicide this past weekend.
*Poll: Obama approval holds steady (Wait, you mean the ginned-up outrage and overhyped "scandals" by Teapublicans aren't causing President Obama's support to collapse or anything? Apparently, the American people are a lot smarter than Republicans think they are!)

*Virginia: The Seppuku Convention of 2013

*Virginia G.O.P. Pleases Crowd With Barbs About I.R.S. (Can we say "demagoguery?" Can we say the head of the IRS was a Bush appointee? Whatever, facts be damned, these are Republicans after all!)

*Va. pick bemoaned 'slavish devotion'

*Virginia GOP nominee compared Planned Parenthood to KKK

*Virginia Republican: 'Black civil rights leaders' responsible for 'genocide'

*The 10 Most Anti-Gay Statements From The Republican Nominee For Lt. Governor Of Virginia

*New Va. GOP Ticket Touring State Monday

*Virginia GOP Candidate Has Questionable Theories on Homosexuality, Planned Parenthood, and the KKK

*Cuccinelli says open gov't law doesn't apply to his office (Uhhhhhhhh…)

*Va. GOP candidates campaign together

*Light rail at a crossroads as Virginia Beach nears decision

*Two FBI agents killed in accident off Virginia Beach coast

*Padres trounce Nationals, 13-4 (OK, guys, time to start hitting your stride now!)

There's no paywall on Blue Virginia, and we definitely want to keep it that way! If you want to help support our work, you can donate here - thanks!
Also, you can
sign up for our weekly email list here
.