Advertisement

( – promoted by lowkell)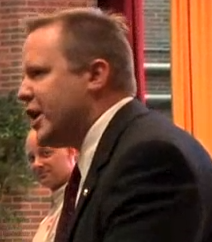 Corey Stewart's latest failed attempt to seek higher office has certainly been interesting to watch for Prince William County political observers. Corey began the campaign fresh off a strong showing in 2011 and told reporters after his announcement that the nomination would be locked up quickly. That unraveled as Scott Lingamfelter, from Corey Stewart's back yard, jumped in the race and looked like he could shake up the PWC base. Corey's downward spiral in the LG race has been well documented, but the real question is, what effect this will have on his campaign in PWC in 2015 and beyond.

It is clear there is a strong division in PWC Republican circles. Former Stewart allies, such as conservative bloggers Jim Riley and Greg Letiecq are now on the outs with the Stewart machine. Since 2006 Riley and Letiecq have done the dirty work for Stewart's campaigns, leading the crusade on immigration and pushing attacks on opponents. While they come out of this race a bit damaged after predicting an earlier exit for Stewart, the alliance is clearly fragile and Stewart may not get their same support in the future. Corey's continued relationship with Donna Widawski, an immigration activist and Republican campaign attack-dog from Gainesville, is also turning off some Republican activists who view her as too extreme.
The Republican activists look ready to split IF a candidate would jump in and primary Stewart in 2015. At the end of Stewart's current term, he will have become the longest serving Chair in PWC history, with no Chair ever being elected to a third full term.
Since joining the board together in 2003, Marty Nohe (Coles) and Stewart have never fully seen eye to eye and Nohe has talked about running for Chair before. Marty Nohe would be the absolute wrong candidate to defeat Stewart in a primary. During his early years on the board, Nohe was seen as a strong ally of former Chairman Sean Connaughton, a moderate, pro-development Republican willing to strike deals with Democrats. While the board has shifted further to the right Nohe has remained in the middle which has done little to cultivate any favor with Republican activists who are now upset with Stewart.
On the other side of the spectrum is conservative Supervisor and hero of the bloggers, Pete Candland. After getting elected in 2011, Candland quickly picked battles with his fellow supervisors over county budgets, discretionary funds and taxes. If Candland can capitalize on Stewart's betrayal of the establishment at the convention with his last minute EW Jackson endorsement, he could be in a very strong position to knock Stewart off. It would be quite ironic to see Corey Stewart, painted as an ambitious, pro-development Supervisor who is out of favor with the grassroots activists, knocked off by a first term, conservative reformer, just as Stewart used to be in 2003 and 2006.
With Stewart weakened, it is important that PWC Democrats find a strong candidate for chair in 2015 and win this seat for the first time in 16 years. Community Activist Rick Smith strongly considered a run in 2011 but chose to step aside after Babur Lateef's 1st quarter fundraising. In addition to serving as Chair of the Hylton Performing Arts Center and on the Board of Zoning Appeals, Smith has been getting more active with the Democratic Committee. Smith has a strong relationship with both the Jenkins family and Marty Nohe. Smith would probably receive a lot of establishment support, unless Mayor Earnie Porta decides to run. Porta, who first ran for Delegate in 2005, has been a force in the Democratic Committee ever since. Porta is always one of the first people to offer support and help to new candidates in Prince William County and has been very supportive financially of candidates in PWC so far this year. To be successful in 2015 Porta would need to improve on his fundraising from 2005, but would certainly begin the campaign as the Democrats best chance to win the Chairmanship.
2015 is a long time away, but Corey Stewart's defeat and a growing division among Republican activists make now a good time to begin paying attention to who is making moves for 2015.
There's no paywall on Blue Virginia, and we definitely want to keep it that way! If you want to help support our work, you can donate here - thanks!
Also, you can
sign up for our weekly email list here
.