Advertisement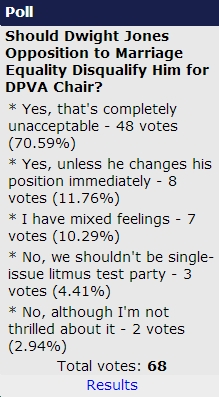 The following are the statements I've received as of 5:15 pm today regarding whether Dwight Jones – who opposes marriage equality – should be the next Chair of the DPVA. I've listed them roughly in descending order of forcefulness (several are roughly tied, such as Ebbin's, Hyra's, Shuttleworth's and Levine's). Also note that I have sent multiple emails to the Charniele Herring and Lavern Chatman campaigns, starting on March 2, but for whatever reason have not received any statement from them Herring's campaign at all. In Chatman's case, I was told yesterday to expect a statement shortly, but never received one (I followed up by telephone…still nothing). In Herring's case, I didn't hear a word. Not cool. And let me just add, if Herring can't/won't stand up against the governor of Virginia (who put her in the position, and who she obviously doesn't want to cross), why on earth would we ever think she'd stand up against the President of the United States?!?
P.S. Also check out the poll results, which show that Blue Virginia readers overwhelmingly oppose Dwight Jones as the next DPVA Chair.

UPDATE 5:33 pm: A few minutes after posting this, I received a statement – albeit one that doesn't even mention Dwight Jones – from Lavern Chatman's campaign. See below.
Adam Ebbin: "No. He does not represent the mainstream of our party and marriage equality is a civil right. We need someone who understands that."

Mark Levine: "He needs to be removed from consideration immediately." (Note: the Levine campaign sent me another statement on 3/4: "The tide of marriage equality turned a long time ago. Mayor Jones should evolve on the issue like the rest of the country and our fellow Virginians or he should not be taken into consideration. As Democrats lead the fight for equality and to love and live as one chooses, it is crucial that our party chair support these rights.")

Derek Hyra: "I believe that all committed and loving couples deserve equal protection and recognition under the law. As Democrats, we must fight for equal rights for LGBT Virginians. Equality is a core value of our party and it is critical that the next DPVA Chair share those values. I stand with the LGBT Democrats of Virginia in opposition to Mayor Dwight Jones' bid to be the next chair of the DPVA, and hope that all the other candidates in Virginia's 8th Congressional District will join us."

Bruce Shuttleworth: "Anyone opposing marriage equality is not embracing true equal rights and thus is not embodying the values or spirit of today's Democratic Party. Most assuredly, we should not be nominating anyone to a Democratic leadership position who is unprepared to advance and defend the hard fought gains of the recent past. Being on the Board of AGLA, and having had at least 2 gay roommates, this is very personal to me and my friends."

Patrick Hope: "The Chair of the Democratic Party of Virginia needs to reflect our values as a party. This has been a historic year for marriage equality and we can not have a Chair of the party that does not support this civil right. I'm hopeful that Dwight Jones has reconsidered his position on this issue like so many others and will support marriage equality. However, if he is still against marriage equality, I strongly oppose his appointment as Chairman of the state party."

Mark Sickles: "Over the weekend, Delegate Sickles contacted the highest level of the governor's administration to express his opposition. We have received confirmation that his concerns have been acknowledged. If the governor nominates Mayor Jones for DPVA Chair, Delegate Sickles will issue a public statement in opposition."

Bill Euille: "I believe strongly that the Democratic Party of Virginia should continue to be reflective of the rich diversity of the Commonwealth. At a time when a majority of Americans all over the nation and the Commonwealth support marriage equality, a right the Commonwealth's highest court has recently affirmed, I believe firmly that our state Democratic party and leadership should be reflective of that reality. I am deeply disappointed by Mayor Jones' opposition to marriage equality. As Mayor of Alexandria, one of Virginia's largest cities, and as a strong and consistent supporter of marriage equality, I have shared by letter today this position with Mayor Jones and urged him to reconsider his previously articulated and untenable opposition to marriage equality. There is no place in our Commonwealth or nation to treat in a discriminatory fashion any individual based upon who they are or love. If Mayor Jones reconsiders his position on marriage equality I look forward to working with him as chair of DPVA."

Alfonso Lopez: "I have spoken to folks in the Mayor's office and to folks in the Governor's office to make it clear that the chair of the Democratic Party of Virginia should not lag behind the majority of the Commonwealth in supporting marriage equality for all Virginians. I have been assured by officials in the Governor's office that, if elected, Mayor Jones will fight to ensure that LGBT Virginians have the same rights as heterosexual Virginians. It is my belief that all people should be truly equal under the law no matter who they love. And I will continue to work in Richmond and on Capitol Hill to continue moving the march for equality forward."

Don Beyer: "I believe strongly in marriage equality, and trust that the next Chair of the Democratic Party will lead in a fully inclusive manner, respecting the rights of all."

Lavern Chatman: "I have spent my life working to promote equality for all Americans. In Congress, I will fight against discrimination of any kind, whether it be based on race, religion, gender, or sexual orientation. I applaud the steps the McAuliffe administration has made in promoting marriage equality in Virginia and in ending work place discrimination against the LGBT community. I hope that the administration continues to push forward on this important civil rights issue."