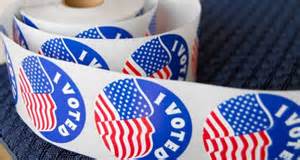 Today is primary election day in Virginia (polls are open from 6 am to 7 pm; vote at your regular polling location). There are hot races all over the state, so make sure your voice is heard! With that…what are you seeing and hearing out there? What's turnout like in your neck of the woods? Who did you vote for and why? Feel free to add your observations in the comments section.
UPDATE 6:43 pm: The Bull Elephant (TBE) reports: "It's looking like commuters are engaging when they are getting home, or the election day knock-and-drag efforts of the Howell campaign have paid off (or both), but turnout looks to end pretty high in the 28th district…That is likely welcome news in the Howell camp." Also TBE thinks that Sen. "Emmett Hanger's folks think he has it in the bag" and that "Amanda Chase is reportedly far outstripping incumbent Sen. Steve Martin in terms of working the polls and election day operations, making this upset seem increasingly likely."
UPDATE 4:19 pm: The Richmond Times-Dispatch has some info: "In Henrico, about 3.5 percent of registered voters had cast ballots in races that included the 12th Senate District Republican primary, the 74th House District Democratic primary, and countywide Republican primary elections for commonwealth's attorney and clerk of the circuit court;" "In the Chesterfield precincts of the 10th District, fewer than 2,500 people had voted in the Democratic primary, or about 3.4 percent of registered voters;" etc.
UPDATE 2:20 pm: In Mason District (Fairfax County) about 2 hours ago, Holmes #1 precinct was at 20 voters and Holmes #2 wa at 98 voters. 1 hour ago, Walnut Hill preinct was at 97 voters. I hear these are mostly older folks, likely Penny Gross supporters. I'm also hearing there's strong turnout at Dan Storck's home precinct in Mt. Vernon district.
UPDATE 1:19 pm: At 12:45 pm, 164 people had voted in Fairlington precinct in Arlington (for comparison purposes, 249 voted in the 2013 Democratic LG primary in that precinct). Also, at 12:15 pm, 70 people had voted in Jefferson precinct in Arlington (for comparison purposes, 161 voted in the 2013 Dem LG primary in that precinct).
UPDATE 11:09 am: Just heard that Salisbury precinct in Chesterfield County has had 53 voters. That's a very wealthy, very Republican, big precinct in Senate District 10. I also hear that Manassas Park has had only about 32 people come vote.
UPDATE 11:06 am: Just saw this on the Bull Elephant blog. "10:55 AM – Ridiculously low turnout in Prince William. Belmont precinct (House District 2) reports 10 voters as of a few minutes ago." Also, "8:10 AM – Relatively low turnout so far in Stafford."
UPDATE 9:50 am: I just voted ten minutes ago, was #39 at Virginia Square in Arlington. Pathetic. Also, there was not a soul there from any campaign to greet voters. I think that's the first time in all my years of voting in Arlington that I've seen that…