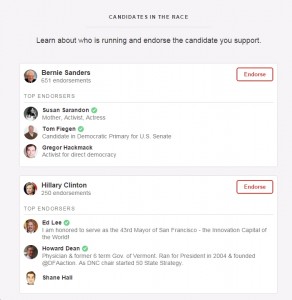 by Nick Troiano, ChangePolitics
Less than a week remains until Virginia's primary election on March 1, and Change Politics is helping people prepare to vote in the presidential race.
Change Politics is a new elections platform launched in January by Change.org that allows any citizen to "endorse" a candidate and share that endorsement with their friends. On the website, voters can browse endorsements by those they trust to help inform their decisions.
Hundreds of ordinary citizens and community leaders alike have published endorsements for the candidates they are supporting, including Hillary Clinton and Bernie Sanders. Now, it's your turn to weigh in.
Which presidential candidate are you supporting? Why? Sound off on Change Politics today by text or video, and share your endorsement with your friends to impact the election next week.
Change Politics will promote the most popular and compelling candidate endorsements to over 400,000 Change.org users in Virginia before Election Day. Keep up to speed by following Change Politics' Virginia Presidential Candidate Endorsement Tracker.