Great news from the Supreme Court a few minutes ago. See Josh Israel's tweet below, and also Progress Virginia's statement. Meanwhile, poor Bill Howell, Ken Cuccinelli and all the anti-choice extremists in Virginia must be having a serious "sad" right now. According to SCOTUSblog, "Both the admitting privileges and surgical center requirements place a substantial obstacle in the path of women seeking a previability abortion, constitute an undue burden on abortion access, and thus violate the Constitution." Which, of course, is what many of us have been saying all along!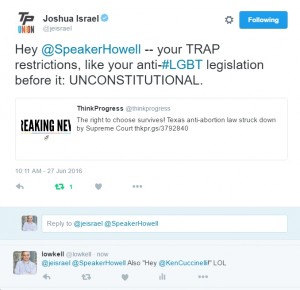 Decisive Victory for Women at SCOTUS
Supreme Court Strikes Down Sham Restrictions
Women across the country won a decisive victory at the United States Supreme Court this morning as justices struck down sham restrictions on women's health care and abortion access. The 5-3 decision found Texas's politically motivated restrictions on abortion providers unconstitutional, putting an undue burden on women's constitutional right to and ability—no matter where she lives—to make her own decisions about her family, her health, and her future.
"This morning the Supreme Court affirmed that every woman deserves compassion and sham restrictions designed to end access to abortion undermine women's dignity and constitutional rights," said Progress Virginia executive director Anna Scholl. "This landmark decision is powerful momentum for our movement to ensure that every woman has access to the care she needs, when she needs it. Like Texas, Virginia politicians have advanced outrageous restrictions on health care access, which are designed to shut down providers. In fact, since 2010, the General Assembly has considered over 75 restrictions on women's health. Our fight continues to end these sham restrictions in the commonwealth and get politicians out of the doctor's office."
Additional analysis will be forthcoming on the impact of the decision on Virginia. The Virginia General Assembly passed Targeted Restrictions on Abortion Providers (TRAP) in 2011. The Board of Health implemented restrictions in 2012, which were then the strictest in the country. Since TRAP passed in 2011, Virginia has lost one third of its first trimester abortion providers. Like the Texas restrictions challenged in Whole Woman's Health v. Hellerstadt, Virginia's sham restrictions include requirements for hospital admitting privileges and hospital-like building requirements. The Virginia Board of Health will vote on September 15th on proposed amendments to roll back some of these restrictions. A public comment period on the restrictions runs through July 1st. Members of the public can submit comment athttp://act.progressva.org/sign/scraptrap2016/?source=PVEFFW&t=2&akid=3818.1836.tHG5wo