I saw this post at ThinkProgress about Republicans not mentioning the LGBT community, which has experienced a horrendous tragedy (let alone what to do about the scourge of gun violence in America) in their statements on the Orlando mass shooting, and I was curious what Virginia's members of Congress were saying. As you can see, Republicans studiously avoided any mention of either the LGBT community or guns, while Democrats generally mentioned either the LGBT community, guns or both.
For instance, Rep. Dave Brat (R-7th) used this as an opportunity to tout his anti-Syrian-refugee legislation. Reps. Morgan Griffith (R-9th), Robert Hurt (R-5th) and Scott Rigell (R-2nd) have issued no statements at all so far. See below for more.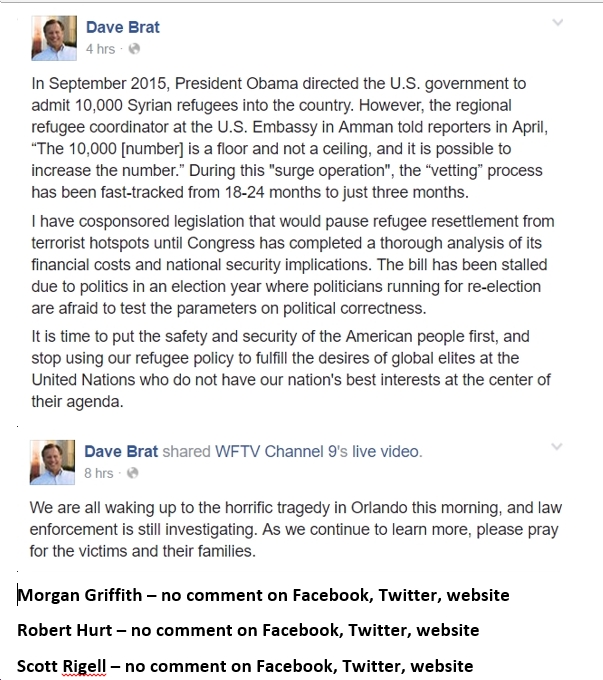 Rep. Rob Wittman (R-1st) mentioned "a gunman," but nothing about the issue of gun violence of the LGBT community. Rep. Randy Forbes (R-4th) mentioned nothing about either gun violence or the LGBT community.

Rep. Barbara Comstock (R-10th) mentioned neither LGBT people or guns, but condemned "radical terrorism" (as opposed to non-radical terrorism?). Bob Goodlatte also mentioned neither, but claimed we'd "continue seeking answers."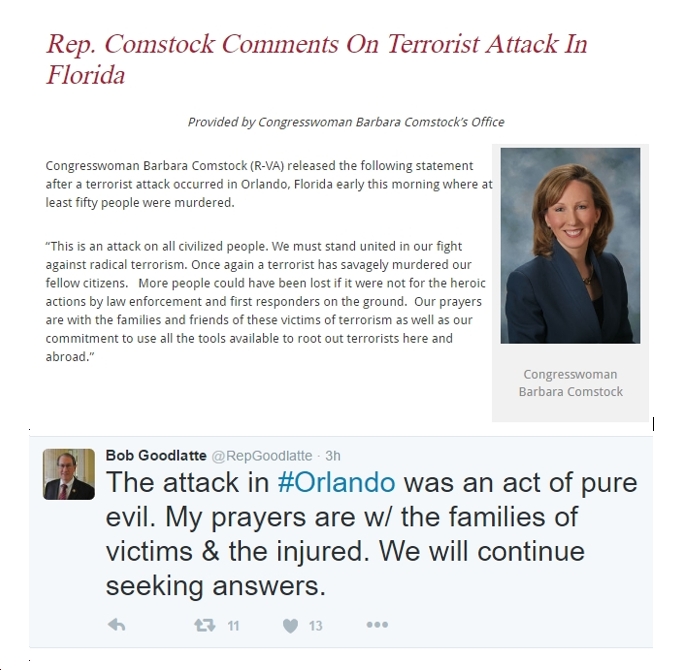 Rep. Bobby Scott (D-3rd) noted both the LGBT community AND the need to do something about gun violence (in his full statement on his website).

Rep. Gerry Connolly (D-11th) mentioned that "gun violence must end," but did not mention the LGBT community specifically on Twitter, Facebook or his Congressional website. Note that Connolly has been a strong advocate of LGBT equality for many years.


Rep. Don Beyer (R-8th) changed his Twitter feed to the LGBT rainbow flag; did not specifically mention gun violence, but note that he's been strong on that issue over the years.

Sen. Tim Kaine, also a strong advocate for LGBT equality (and ending gun violence), did not mention the LGBT community or the need to do something about guns in his statement.

Sen. Mark Warner, also a strong advocate for LGBT equality (although he has had an "A" rating from the NRA), specifically mentioned the "LGBT community in Orlando," but not guns.