The other day at a packed room in Sterling, Virginia (Loudoun County), Democratic 10th CD nominee LuAnn Bennett shared a stage with heroic gun violence survivor – and gun violence prevention advocate – former Rep. Gabby Giffords (see video clip below). According to Giffords, fighting gun violence "takes courage…The courage to do what's right. The courage of new ideas." Giffords added: "I've seen great courage when my life was on the line. Now is the time to come together, be responsible – Democrats, Republicans, everyone. We must never stop fighting. Fight, fight, fight."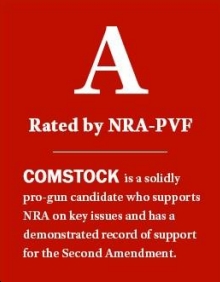 Obviously, you'd never see Rep. Barbara Comstock sharing a stage with Gabby Giffords, as Comstock has a horrendous record on this subject, just as she does on so many other subjects. Thus, as of 2014, Comstock continued to receive her "A" rating from the extremist NRA.
Earlier this year, Comstock demonstrated why she deserves that "A" badge of dishonor, issuing a statement about how President Obama supposedly "[did] not respect the rule of law" in taking executive action on background checks and mental health treatment, and vowed that a Republican President would rescind [the orders] on Day One." Yeah, don't boo, vote – for LuAnn Bennett!
As if that's not bad enough, in June 2015, Comstock voted for an amendment that prevented the ATF from banning some forms of armor-piercing ammunition and military style handguns. Why on earth does anyone need armor-piercing ammo? Ask Barbara Comstock next time you see her.
Finally, recall Comstock's record as a Virginia delegate, such as voting (in February 2012) in favor of House Bill 940 that would repeal the state's nearly 20-year-old ban on purchasing more than one handgun per month. Comstock also voted for Senate Bill 334 that would allow those with concealed weapons permits to carry their concealed weapons into bars and restaurants that serve alcohol. And in April 2013, Comstock did NOT vote to increase penalties on so-called "straw man" gun purchases where a buyer knowingly obtains a firearm with the intent to transfer it to a person who's legally barred from possessing a gun.
If you're tired of a Congresswoman who will simply do anything and everything the NRA wants, then please vote for LuAnn Bennett to replace her in Congress. In stark contrast, Bennett will "stand up to the gun lobby and support common sense gun safety measures" – measures supported by huge majorities (70%, 80% or more) of Americans. Thanks.