Advertisement

"Sabato's Crystal Ball" just came out with its final 2016 predictions. Here they are, with my comments/critiques. Mostly, I agree…except where noted.
First, on the presidential vote, I largely agree. The only quibbles I'd have here are that I'm more optimistic about Ohio, especially after  the LeBron James rally for Hillary in Cleveland this weekend. Also, the Columbus Dispatch poll yesterday had Clinton up 1 point in OH, while CBS News had her down 1 point. Given her far superior ground game to Trump's, that might be enough to win the Buckeye State. So I guess I'd lean Ohio to Clinton. Also, I wouldn't totally put Arizona or Georgia out of reach for Clinton, but I guess there's no sense arguing to much about those, since if Hilary's wins Florida and North Carolina, plus all the core "blue" states, it's a big win regardless.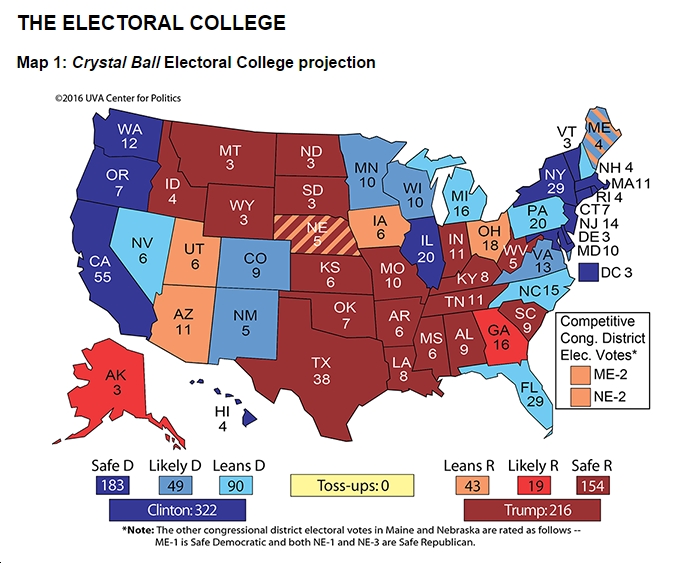 With regard to the U.S. Senate, I agree with Sabato et al. that Dems should pick up IL, WI, PA and NH. Where I disagree is that I find it very hard to believe that of the four tossup states – MO, IN, NC and FL – Republicans will win all of them. I'd think it will be more like a 2-2 split or something, maybe Dems taking MO and FL or something like that? Let's hope so, because we'll need a bigger cushion than 50/50 to get stuff done, and also to protect ourselves against the possible loss of a Senate seat for whatever reason, including the 2017 special election in Virginia for Tim Kaine's seat, assuming Clinton/Kaine win tomorrow.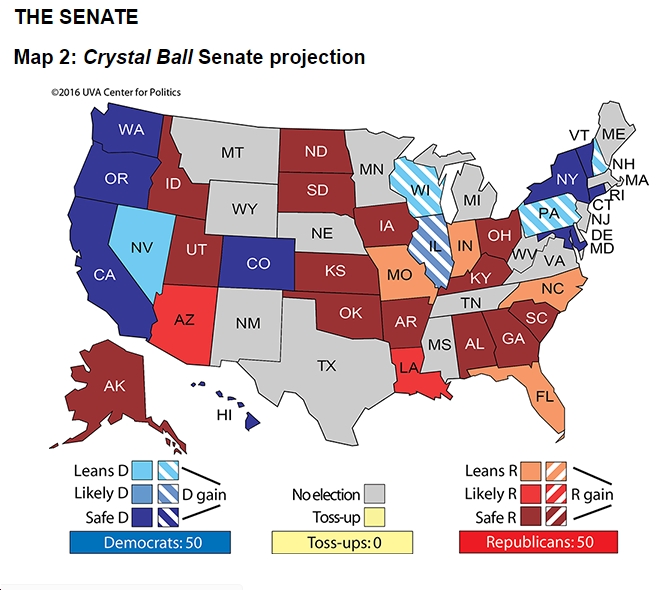 Finally, with regard to the House, I strongly disagree that VA-5 and VA-10 should be in the same category. If VA-10 is "Leans GOP," which it might just barely be, then VA-5 has got to be "Likely GOP," just based on the district partisan profiles. Other than that, I don't have any serious disagreements here, but of course I don't follow House races in other states nearly as closely as Sabato's team does! Also, very much looking forward to Donald McEachin replacing the abysmal Randy Forbes in the U.S. House of Representatives – a huge upgrade for Virginia's Congressional delegation!
So, what are your thoughts for tomorrow's results?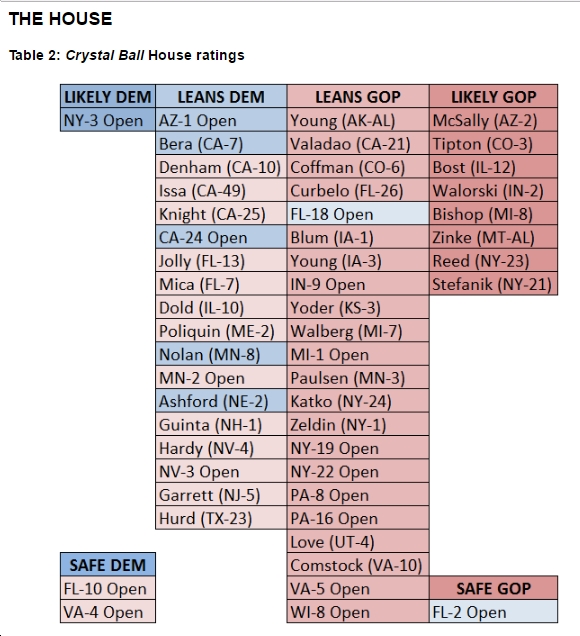 There's no paywall on Blue Virginia, and we definitely want to keep it that way! If you want to help support our work, you can donate here - thanks!
Also, you can
sign up for our weekly email list here
.