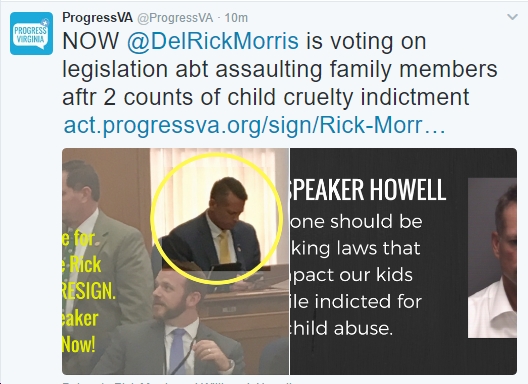 Gotta love this:
Tell Speaker Howell:
For several months, you knew of the allegation of child abuse against Delegate Rick Morris, but have not taken a course of action to request his letter of resignation.
The accusations that Morris punched his child, beat him with a leather belt, hit him with a wooden spoon, and even threw a metal hose nozzle at his head are utterly horrifying. Even as you continue to read this email, Delegate Morris continues to show up to the General Assembly to vote on laws that affect our kids.
No one under investigation for child abuse should have the privilege of governing in our Commonwealth. Rick Morris needs to step down from his position immediately until these allegations are addressed.
Please ask Delegate Rick Morris to resign today.
For more on the Morris case, see Del. Rick Morris indicted on two felony child cruelty charges, two misdemeanors.
An arrest warrant was issued for Del. Rick Morris Monday after a grand jury indicted him on two felony and two misdemeanor charges.
Morris, R-Suffolk, is charged with two counts of child cruelty, a Class 6 felony, and two counts of assault and battery of a family member, a misdemeanor, according to the Suffolk Circuit Court Clerk's Office.
Morris is in his third term representing the 64th House of Delegates District, which includes most of Isle of Wight County…
Lovely, eh? Now, compare how Virginia House Republicans, the self-proclaimed "family values" and "law-and-order" folks – are acting in the case of Morris, compared to how Virginia House Democrats acted in the case of Joe Morrissey.
In light of his conviction for Contributing to the Delinquency of a Minor, the House Democratic Caucus calls for the immediate resignation of Delegate Joe Morrissey.  The House of Delegates is the oldest legislative body in the United States of America and should hold its members to the highest standards of ethical conduct.  A conviction arising out of sexual misconduct involving a minor, accompanied by significant active jail time, and legislative service while serving in a jail work release program is not consistent with those standards.
"This is a very troubling case," said Minority Leader David Toscano, "and disqualifies him from serving in the House.  Our citizens are looking very closely at their legislators and the integrity of the body and his trust with his constituents and his colleagues has been broken.  For the good of the General Assembly and the Commonwealth, he should immediately resign, and we are actively exploring all available options, including removal, if he does not."