U.S. Supreme Court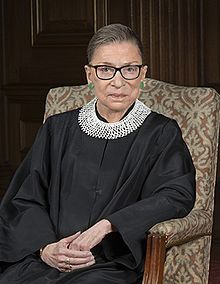 Justice Ruth Bader Ginsburg will conduct a public interview in Lexington on the campus of Virginia Military Institute (VMI) Wednesday, February 1st as part of a visit to the Washington and Lee University School of Law. The public event will be held at VMI's Cameron Hall.
Prior to the public event, Justice Ginsburg will meet in a closed session with students and faculty at the Washington and Lee University School of Law.
President Clinton appointed Ginsburg in 1993, making her the second woman to serve on the court where she currently presides with two other women, Justices Sonia Sotomayor and Elena Kagan. They were preceded by Reagan appointee Sandra Day O'Connor.
This is the fourth recent time Washington & Lee has hosted a U.S. Supreme Court justice: Samuel Alito in 2014, Clarence Thomas in 2009 and the late Antonin Scalia in 2005.
Tickets are not required; seating is available on a first-come, first-served basis. The event begins at 11:15 a.m. and doors to the facility are expected to open at about 10 a.m. Parking in Lexington is a "challenge," so the earlier arrival the better. Large groups are asked to call 540-464-7361 to provide information about the number of people and vehicles they will bring.
VMI has asked those attending to minimize the items they bring to facilitate security screening. Cameras and phones are acceptable, but attendees should not bring backpacks or other large bags.
Parking will be available on city streets and on post, and with prior coordination bus parking will be available on Main Street adjacent to Foster Stadium.  No buses will be permitted to enter VMI's main post area. Follow instructions from VMI employees assisting with parking when arriving on post.
In the event Cameron Hall reaches capacity, overflow seating will be available in Gillis Theatre, where the event will be viewed via a live video link.