Advertisement

Just coming in from Tom Perriello's communications director Ian Sams…compare to Ralph Northam's 1Q17 fundraising numbers here. Also, see Tom Perriello's press release below.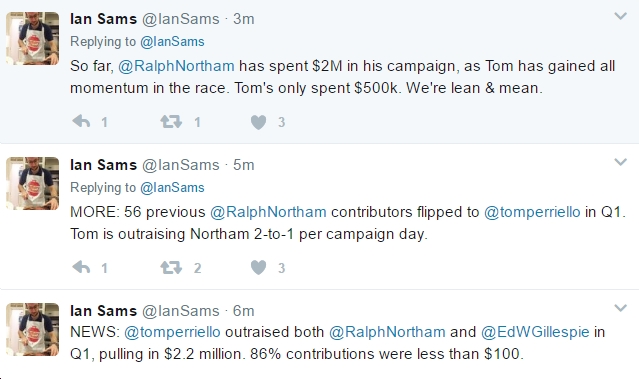 Tom Perriello Outraises Ralph Northam and Ed Gillespie in First Quarter, Bringing in $2.2 Million
With
Nearly $2 Million 
On Hand, Perriello Campaign Showing Financial Stewardship, Spending Far Less Than Northam Campaign, While Gaining All Momentum in Race
Perriello Raising Twice as Much as Northam Per Campaign Day, with 86 Percent of Contributions Less Than $100
More Than 50 Previous Northam Contributors Have Now Thrown Support to Perriello's Campaign
Today, Tom Perriello's Democratic campaign for governor announced that it had outraised both Lt. Gov. Ralph Northam and Republican frontrunner Ed Gillespie in the first quarter of 2017, despite both Northam and Gillespie's significant head starts in building campaigns. Tom brought in more than $2.2 million as of the March 31 reporting deadline and has more than $1.7 million on hand. 86 percent of Tom's contributions were under $100, and 56 previous Northam contributors have now thrown their support to Perriello. Tom is also raising twice as much as Northam per campaign day; Northam has raised about $13,000 per campaign day since launching in November 2015, while Tom has raised about $26,000 a day since his

January 5

launch. This showcases how Tom is outpacing his opponents by running a lean, efficient campaign that costs less, while connecting directly with voters and gaining all the momentum in the race. 
Tom launched his campaign for governor on

January 5

, with no baseline PAC support, unlike his primary opponent. As a State Department official, Tom was prohibited from political activities such as fundraising since February 2014 under the Hatch Act. Tom's campaign has only spent about $500,000, while the Northam campaign has spent more than $2 million. Tom has also pledged not to take campaign contributions from Virginia's publicly-regulated utilities, including Dominion, which has given Northam's campaigns and PAC more than $100,000.
Tom's ability to outraise Gillespie in the first quarter shows his strong standing for the general election. By outpacing Gillespie, Tom has shown he will have the resources to defeat Gillespie in November and lead the Democratic Party to victory against the corporate sellout who spent his career pushing the disastrous trickle-down agenda of George W. Bush. 
"We have laid the foundation for a winning primary and general election campaign," said Julia Barnes, Perriello's campaign manager. "We have been committed since day one to doing more with less money, and we're seeing the fruits of that pay off. Despite spending far less than our primary opponent, Tom is surging in this race because of his commitment to an energetic, accessible campaign that reaches Virginians directly. As we head into the home stretch of this primary, Virginians from across the Commonwealth are uniting behind Tom's bold, progressive campaign to unite the Democratic Party."
Since the launch only 98 days ago, Tom's campaign has seen steady momentum, garnering support across the Commonwealth and traveling more than 14,000 miles to more than 47 counties and independent cities.
Tom has also been committed to running a low-cost campaign, using resources wisely and implementing an accessible, next-generation campaign using social media. Tom has Facebook Lived dozens of events, reaching thousands of Virginians at no cost. For example, when a snowstorm forced Tom to cancel a town hall in Williamsburg, he had a Facebook Live town hall which more than 7,100 Virginians watched for an average of 29 seconds — the time of a standard political TV ad. 
These tactics allow Tom to reach more voters through nontraditional means, reducing costs and allowing the campaign to spend money more wisely.
Total for Q1 – Tom Perriello for Governor
Cash on Hand: $1,710,820.86
There's no paywall on Blue Virginia, and we definitely want to keep it that way! If you want to help support our work, you can donate here - thanks!
Also, you can
sign up for our weekly email list here
.