by Danica Roem
One of the defining traits of leadership is never asking someone to do what you wouldn't do yourself.
Lieutenant Governor Ralph Northam walked the walk Thursday evening, stopping by the Prince William County Democratic Committee Headquarters to phone bank for Jacqueline Smith, our Democratic nominee for Clerk of the Circuit Court, in the run-up to the April 18 special election.
With less than two weeks to go, this special election is, in Joe Biden-speak, a BFD: the clerk represents more than 500,000 people between Prince William County and the Cities of Manassas and Manassas Park. Electing a strong Democratic woman in Jacqueline Smith will ensure that we have someone in the clerk's office who's committed to client service and will conduct herself in a nonpartisan while making sure everyone who walks into the courthouse has equal access to services, no matter what they look like, where they come from, how they worship or who they love.
Dr. Northam could have been anywhere else in Virginia yesterday but he chose to help out my friend in my home county. We're both lifelong Virginians and we both have fond memories of working with the late Sen. Chuck Colgan, my legislative role model, who I interviewed countless times for the Gainesville Times between 2006-2015.
I watched Dr. Northam sit down next to Jacqueline and make phone calls based on her call sheet of likely Democratic voters as I did the same from my campaign's own call list across the room. He was also incredibly gracious to me when we chatted as soon as he entered the room. (Complimenting my rainbow bandanna didn't hurt either!)
He stopped by two days after Sen. Tim Kaine endorsed Jacqueline, saying, "As someone who began my public service as a member of my local city council, I know just how important it is to have effective local government. That's why I am proud to endorse Jacqueline Smith for Clerk of the Court in Prince William County, Manassas and Manassas Park.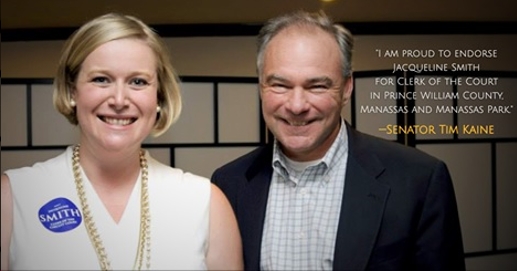 "As Clerk, Jacqueline will make sure you have a local courthouse that is effective, responsive, and free from partisan politics. It's critically important that your voice be heard in this election. On Tuesday, April 18th, let's send a clear message that the people of Virginia demand a government that works for them, starting with their local courthouse, and let's elect Democrat Jacqueline Smith as your next Clerk of the Court."
As a state senator, Dr. Northam demonstrated command of public policy, specifically around Medicaid, health care and transportation. He was also as strong of an advocate and ally for LGBTQ people as we could have in Richmond, something he's carried with him into the lieutenant governor's office.
Likewise, I voted for him in the 2013 Democratic primary and in the 2013 general election. He's conducted himself with civility, class and competence while in office, all of which I respect.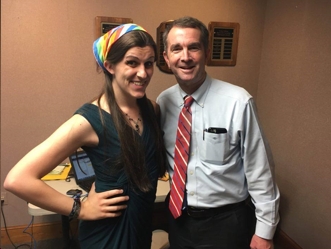 Even if his legislative record is different on some issues, his demeanor reminds me of Sen. Colgan and I don't get to say that much.
Dr. Northam's record is not flawless and he's acknowledged as much. No one in public office is perfect. But what I saw today was someone who was willing to step away from the spotlight that comes with a statewide campaign, sit down at a table and make phone calls for Jacqueline.
He wanted to do his part to help, just like every other Democrat in Prince William County.
Dr. Northam is a good man who knows the public policy issues of the commonwealth inside and out. He's a workhorse and he's working to help our Democratic nominee become the next Clerk of the Court in Prince William County.
After voting for him in the Democratic primary and general election of 2013, I'm honored to share the June 13 ballot with him and I'll be proud to once again vote for him, this time to become the next Democratic governor of Virginia.
Support Jacqueline Smith: Donate
Volunteer: SmithForClerk.com
Learn More: Facebook.com/SmithForClerk
Vote: April 18 – Registered voters of Prince William County, Manassas and Manassas Park