This one is well deserved (see Perriello campaign statement below). For more on Dick Saslaw, and why I've argued for years that he's a corrupt slimeball who badly needs to be ousted as a Democratic "leader," see Video: In Crude Language, Sen. Dick Saslaw Argues that Ethics Laws are Irrelevant, Unnecessary, Video: And Now for the Bad Dick Saslaw (D-ominion), Audio: Add This to the Long List of Reasons Why Dick Saslaw Needs to Go, Want to motivate VA Dems to vote? Dump Dick "TitleMax" Saslaw as Leader., etc. etc. Gack. Anyway, yeah, it's time for the Northam campaign to unequivocally tell Dick where to shove it, that his help is NOT wanted, and that the lies and foul language that Dick uses against a fellow Democrat are completely unacceptable.
Perriello Campaign Calls on Northam to Condemn His Top Surrogate's Profanity-Laden Rant Attacking Perriello
Northam

on Monday

at Georgetown: 'We Have Agreed to Have a Positive Campaign, And That's How We'll Move Forward'
Perriello Spokesman: Northam 'S

hould Ask Saslaw to Knock It Off or Stop Using Him as a Top Surrogate'
In an interview with Politico published

Thursday

, top Ralph Northam campaign surrogate Dick Saslaw launched a profanity-laden attack against Tom Perriello, using the words "mother—-er" and "f—ing fantasy" to levy nasty charges directed at Tom. 
Unfortunately this is not the first time that Saslaw, who has repeatedly 
been
used
 as a spokesman and surrogate for Northam's campaign, has 
lobbed absurd smears
 against Tom, without condemnation from Northam.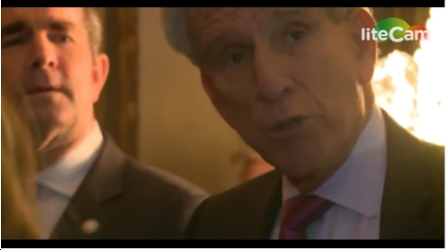 ​The attacks follow Northam's affirmation Monday that he was pursuing a positive campaign, telling Georgetown University students, "We have agreed to have a positive campaign, and that's how we'll move forward."
"Given Sen. Saslaw's proclivity to resort to four-letter words when lobbing false smears, Lt. Gov. Northam should cut him loose,"said Perriello communications director Ian Sams. "We take Ralph at his word when he says he wants to have a positive campaign, so we hope the lieutenant governor will back that up with action; he should ask Saslaw to knock it off or stop using him as a top surrogate. Stuff like this cheapens the conversation in our primary about who has the best vision for the future of Virginia."
Tom's momentum in this race was on display again

Thursday

, as he announced he had outraised both Northam and Republican frontrunner Ed Gillespie in the first quarter of 2017. Tom has spent this week barnstorming colleges and universities across Virginia, visiting 16 campuses from Fairfax to Radford to Hampton and meeting with hundreds of young Virginians to discuss the future of the state.