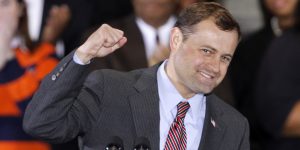 UAW Local 1981/National Writers Union voted unanimously to join their union sisters and brothers from the following Virginia unions to endorse Tom Perriello for Governor of Virginia: Virginia Association of International Brotherhood of Electrical Workers, International Union of Painters, Keystone Mountain Lakes Regional Council of Carpenters, Hampton Roads Building Trades Council, and the Richmond Building Trades Council.
Citing Perriello's public opposition to right to work laws, which have weakened workers' rights for over 70 years and contributed to growing income inequality in Virginia, chapter chair, Virginia Diamond said, "Tom is a rare candidate anywhere in the country who actually understands the importance of unions to a fair economy and to reverse income inequality. He gets it,"
In addition to his opposition to right to work laws, Perriello has pledged to support a $15 minimum wage and a living wage, and to improve labor protections, including tougher penalties for wage theft, cracking down on the illegal misclassification of employees as independent contractors to deny them a minimum wage or health and pension benefits, and reinstatement of Project Labor Agreements. Perriello also supports guaranteed medical leave and family leave, two years of community college, vocational training, or apprenticeships to guarantee that students are prepared for well-paying jobs when they enter the workforce.
"It is important for labor to have political leaders who are strong advocates for the working class. If we don't help our friends, soon we won't have any," said Karen Duncan, communications chair of the chapter.
"Tom Perriello is the only gubernatorial candidate in Virginia who has ever favored repeal of the right to work law," said Tim Ryan, chapter member.
UAW Local 1981/National Writers Union is proud to stand with Tom Perriello to defend and protect working families.