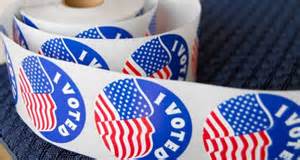 Today is primary election day in Virginia (polls are open from 6 am to 7 pm; vote at your regular polling location). There are hot races all over the state, including for the Democratic and Republican nominations for governor and Lt. Governor, plus many hotly contested House of Delegates races, so make sure your voice is heard!
What's turnout like in your neck of the woods? (To me, that could be the key number to watch – the higher the turnout, the better for Tom Perriello; the lower the turnout, the better for Ralph Northam? For comparison purposes, turnout in 2009, the last VA Dem gubernatorial primary, was 319,168. Turnout in 2013, when Dems had LG and AG primaries, was 152,076. Turnout for the 2006 Webb vs. Miller US Senate Dem primary was 155,784. Turnout in the 2005 VA Dem LG primary was 175,170. And turnout in the 2016 VA Dem presidential primary was 785,041. Can we match that last one or even come close to it? We'll see very soon…) Who did you vote for and why? Feel free to add your observations in the comments section.
With that…what are you seeing and hearing out there?