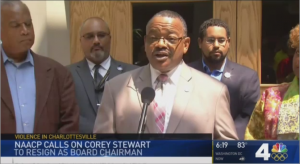 On Monday, the Prince William unity of the NAACP convened a press conference to address the "Unite the Right" hate rally held in Charlottesville last weekend, as well as Chairman Corey Stewart's conduct surrounding the rally. In his remarks, unit president Rev. Cozy Bailey condemned the rhetoric of the white supremacists who took part in the rally, and exposed Stewart for emboldening those groups for his own political gain.
Stewart parroted Donald Trump's narrative of their being blame on both sides of the protests in Charlottesville, refusing to decry the hate of Neo-Nazis, Klansmen, Neo-Confederates in favor of condemning the "violent left."
Reverend Bailey saw through Stewart's rhetoric, however, claiming rightly that Corey's words were "an invitation to white supremacists to bring their traveling road show of discrimination and hate to Prince William County."
This isn't the first time Stewart has galvanized the racist elements of his base, either. During his bid for Governor, he held a rally in Charlottesville in which he called upon his supporters to be more aggressive in defending Confederate statues and embraced white supremacist Jason Kessler. Kessler went onto help organize the "Unite the Right" rally in Charlottesville.
Bailey called upon us – especially those of us who live in Prince William County – to embrace unity rather than division. "We need to abandon the negative narrative of hate," he said. "Our county deserves a leader who will bring us all together."
In his closing remarks, he also called upon Stewart to step down from his position as chairman. "If he can't change and renounce racism, he must step down." When asked to clarify if we really meant this, Bailey replied simply: "In a word: Yes."