In case you missed it, here are a few highlights from a recent story in the Virginian-Pilot, entitled "Del. Ron Villanueva headed a defense contractor that feds say another firm secretly controlled." In short (bolding added by me for emphasis):
"While announcing a $16 million settlement this month, federal officials alleged a Virginia Beach defense contractor concealed its control of two other Beach companies so they could win federal contracts set aside for small or disadvantaged businesses."
"And at the intersection of the three companies is state Del. Ron Villanueva."
Villanueva "previously headed SEK Solutions and served as a director with Karda Systems. Over the past nine years, ADS Inc. – the contractor accused of controlling their management – was his second-biggest corporate campaign donor, and its founder, Luke Hillier, was his top private contributor."
Villanueva "claimed he was SEK's president for only about six months until he stepped down in early 2014 and never had an ownership stake," but "as recently as December 2015, Villanueva told the state in his economic-interest disclosures that he owned a stake in SEK of at least $5,000 and worked there as a 'director.'"
"When told that some of his statements didn't mesh with information uncovered by The Virginian-Pilot, Villanueva declined repeated requests for a follow-up interview."
"ADS has donated $20,000 to the Republican since May 2009, and its founder has given $16,000. Those numbers represent 43 percent of ADS's total political donations since 1997, as recorded by VPAP, and 29 percent of what Hillier has given."
It goes on and on like that. Pretty sketchy, if not totally slimy, eh? More to the point, would you want someone like this representing you in the Virginia House of Delegates?
In response to the settlement and other allegations from the Virginian-Pilot story, Villaneuva's Democratic opponent, Kelly Fowler, said "I'm running because we deserve an inclusive, responsive, transparent and an accountable representative. I believe in good governance …these allegations of fraud, collusion and rigging schemes raise serious questions about Ron Villanueva holding a position of public trust." I couldn't agree more, they really raise serious questions and should be looked into thoroughly, not to mention taken into consideration by voters this November.
In addition, re: Villanueva's multiple contributions from SEK, ADS, Karda, and CEO Luke Hillier over the years, and the fact that "SEK and Karda falsely claimed to qualify as socially or economically disadvantaged firms under a federal program", Fowler commented:
"Clearly these companies –SEK/ADS- are not economically disadvantaged if they were able to donate to Ron Villanueva's campaign."
Here's a screenshot showing Villanueva listed as a primary AND secondary contact, no less, for SEK Solutions.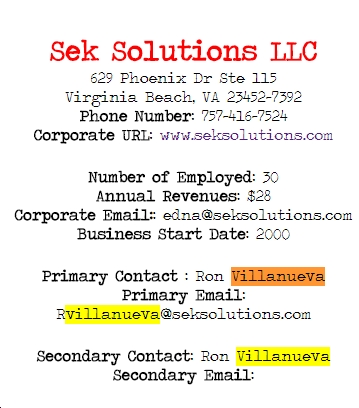 Also of interest, check out the website of Villanueva's Republican primary opponent, Bill Haley, who ripped Villanueva for "blatant violations of campaign finance laws and misuse of funds"; alleged that "There are huge appearances of self-dealing within Ron's campaign"; and noted (among other things), "Ron used his campaign card at gas stations over 90 times citing travel expenses just in the non-election year of 2016.  This is clearly against the law."
Last but not least, check out the following brochure for ADS, which clearly lays out SEK's role in the ADS procurement/contract process. As I said…sketchyslimy!
Ads Brochure by Lowell Feld on Scribd