Advertisement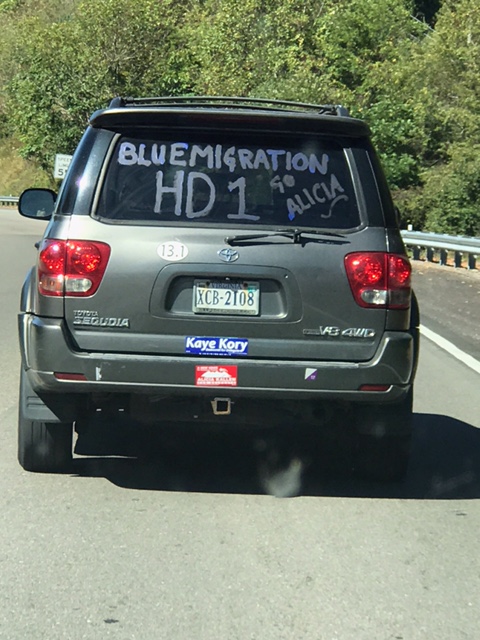 by Holly Hazard
The strategy of the Virginia Democratic political establishment to surgically focus on the top-tier House of Delegates campaigns this year has failed to quell the sense of loyalty many newly minted progressive political activists feel toward other quixotic House of Delegates campaigns clamoring for attention, money and resources.

From Tidewater to the Shenandoah, novice-but-committed women and men have stepped up to run in districts without any reasonable path to victory. For many Virginia Democrats, these unlikely races have a certain romantic appeal and, although the
professionals have at least indirectly admonished us to expend our energy and money on the more certain bets for the Virginia House of Delegates, many of us have harbored a longing at least to spend a bit of money or time rallying for the numerous underdogs.
Discipline targeting the most likely winners seems to make sense. However, there is more at stake than wins for 2018. And just as we can invest for both college for our kids and retirement for ourselves, this party can elect Democrats this year and lay the groundwork for flipping tougher districts in the years to come.
By running in lopsided, impossible contests, Democrats challenge the Republican incumbents to justify to constituents their bathroom bills, cuts to Medicaid and anti-environmental proposals. The Democratic challengers march in summer parades and talk about the issues at the fairs. Citizens have an alternative to debate and a reason to rally. And that's how a party grows.
The Blue Migration project was designed to give both a slice of encouragement to a novice challenger in one of our most remote
districts and toughest races, and also to help local Democratic campaigners get a jump on canvassing and connecting with identified voters to strengthen the local Democratic core.
Alicia Kallen, the Democratic challenger to a long-serving, rarely-challenged Republican Delegate, is a formidable politician with rural Wise County in her blood. She speaks with authority about the loss of Medicaid for 4,000 potential recipients in the tri-county area, due in part to the votes of their current delegate. And that
the wages of the many corrections officers in the District need to be raised. And that the schools need to focus on how to learn, not how to test. She's an easy sell in a part of Virginia unconcerned with mass-transportation or bathroom issues but rather, that their basic needs and health are ignored.
Blue Migration and Network NoVA advertised widely our plan to travel from Northern Virginia to Wise County this past weekend to canvass and connect with the Kallen campaign, with Democrats and with the community. Despite a significant amount of initial interest, we settled into a few carloads for the trip. On the other end, in a campaign run a a shoe string, volunteers got busy and the campaign had cancellations as well.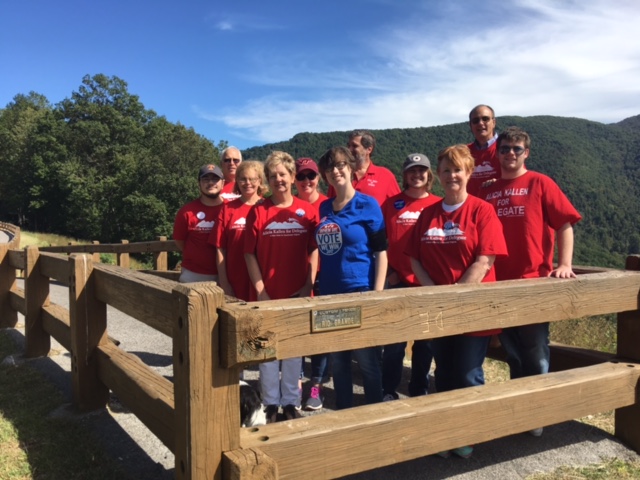 Despite the trepidation about how this would work on both ends, the weekend proved true to its ambition. I chatted on a porch with a 50-year-old, life-long Democrat about finding homes for the many feral cats nearby, and her frustration with her coal miner husband who left the party after it turned against him in the last election.
Another canvasser listened to a 35-year-old corrections officer and mother working three jobs and surprised her by mentioning that higher pay for corrections officers was one of Alicia's top priorities. We campaigned with UVA-Wise college students, excited to work in their first political race but worried that they won't have a thriving community to come home to after college.
Another participant talked to a voter with black lung and a retiree worried about new taxes. One canvasser, talking with a self-described Gillespie voter, mentioned that Dr. Northam had been in Wise County at the RAM clinic this fall. The voter, curious, answered, "That was him? I need to look at his website." The trip provided an eye-opening experience into the lives of our fellow Virginians for even our most seasoned suburban political canvassers.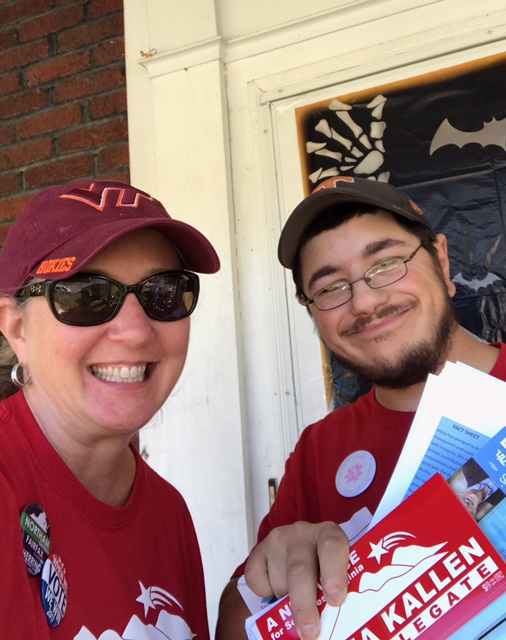 Our hosts treated us to an evening of live bluegrass music at the Country Corner near Wise, where one gracious woman even tried to teach us the flat step. We spent the night in the handsomely renovated Inn at Wise. Sunday morning, we all hiked one of the many spectacular trails in the areas.
I hope Alicia wins. But even if she doesn't, because of her, our party is stronger and our values are spreading out to the far western tip of our state. Blue Migration challenged our sense of what this election is all about. It brought the participants closer to a part of Virginia few of us have experienced. And that's a win for everyone. Wise, Lee and Scott counties deserve better than what they get  from their current House of Delegates member. Blue Migration cast some additional seeds for a rebirth of a strong Democratic Party in the region. We were glad to bear witness to both the beauty and the sorrow this place and to the hope Alicia
Kallen brings.
There's no paywall on Blue Virginia, and we definitely want to keep it that way! If you want to help support our work, you can donate here - thanks!
Also, you can
sign up for our weekly email list here
.