The following is from the brilliant Kenton Ngo, one of the original Virginia Democratic/progressive political bloggers, now with the Progressive Change Campaign Committee (PCCC). Fascinating chart and analysis, huh? And we wonder why Republicans are so hell-bent on suppressing the votes of minorities? Hmmmm…gee. – Lowell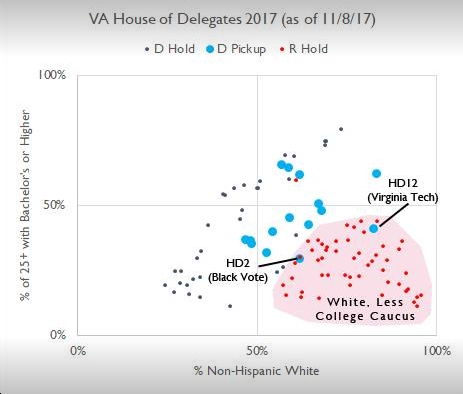 Astonishing: VA House of Delegates Republicans now control ZERO majority-minority seats, and only one majority-college seat (HD40 Hugo, leading by 0.38%). Pickups = coalition of college-educated whites + minority voters.
And the two outlier pickups? HD12 (Hurst) has Virginia Tech — white college students don't have degrees, but vote Dem. And HD02 is a unique district that combines Stafford County whites with Prince William County blacks — black voters of all education levels are solid Dem.
Anyone in the GOP Wedge of Doom on this chart — significant presence of college-educated whites and/or minorities — is quaking in their boots.
College-educated whites, stunned by Trump, are finally voting for Democratic delegates alongside nonwhite voters (who have been reliably Democratic) all the way down the ticket instead of splitting.