Advertisement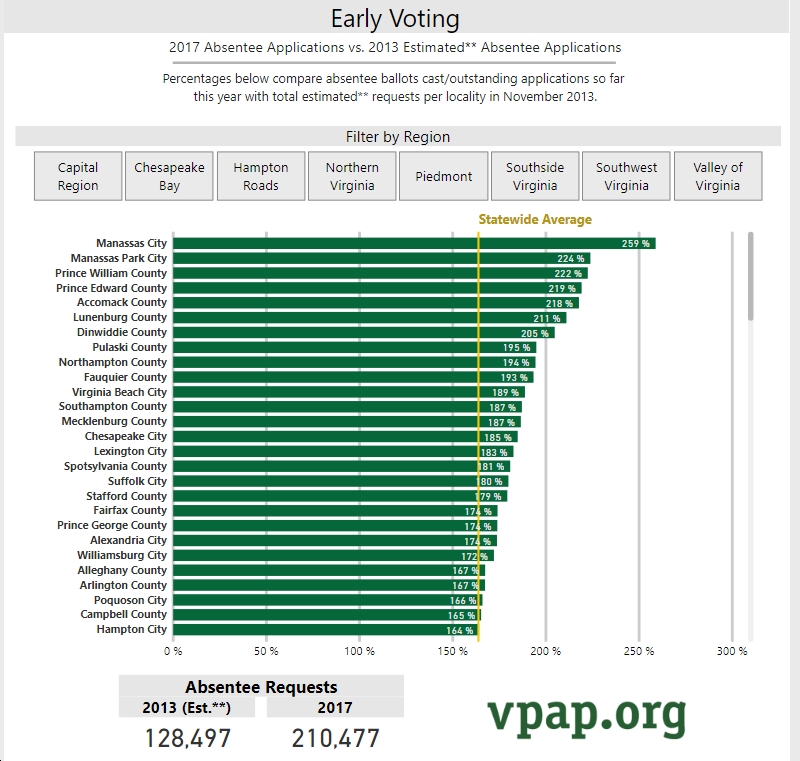 Check out the graphics below (and to the right; click to "embiggen" on that one), by VPAP, of final absentee ballot numbers in Virginia for 2017 compared to 2013. The overall takeaway is that this seems to be very good news for the Democrats. See below for a lot more detailed analysis…
Note that in 2013, Manassas City went 49%-46% for McAuliffe over Cuccinelli; Manassas Park City went 54%-42% TMac; PW County went 52%-44% for TMac; Prince Edward County went 50%-42% for TMac; Accomack went 54%-42% for Cooch; Lunenberg went 51%-42% for Cooch; Dinwiddie went 47%-45% for Cooch; Pulaski went 59%-32% for Cooch; Northampton went 52%-40% for TMac; Fauquier went 60%-35% for Cooch; Virginia Beach went 48%-46% for Cooch; Southampton went 50%-45% for Cooch; Mecklenberg went 56%-40% for Cooch; Chesapeake City went 49%-46% for TMac; Lexington went 62%-33% for TMac; Spotsylvania went 56%-39% for Cooch; Suffolk went 54%-41% for TMac; Stafford went 55%-40% for Cooch; Fairfax County went 58%-39% for TMac; Prince George went 54%-38% for Cooch; Alexandria went 72%-23% for TMac; Williamsburg went 63%-31% for TMac; Alleghany went 48%-39% for Cooch; Arlington went 72%-22% for TMac; Poquoson went 68%-24% for Cooch; Campbell went 70%-23% for Cooch and Hampton went 67%-28% for TMac.

Now, keep in mind that these jurisdictions are of wildly differing size. By FAR the largest jurisdiction, of course, is heavily blue Fairfax County, which saw 306k votes in 2013; purple Virginia Beach, with 108k votes in 2013; blue Prince William County, with 97k votes in 2013; super-blue Arlington County, with 68k votes in 2013; purple Chesapeake, with 63k votes in 2013; super-blue Alexandria, with 41k votes in 2013; super-blue Hampton, with 37k votes in 2013; red Stafford had 34k votes; strongly red Spotsylvania had 32k votes; strongly blue Suffolk had 24k votes; strongly red Fauquier had 21k votes in 2013 and super-red Campbell had 16k votes.
Again, note that by far the largest jurisdictions here are either blue/heavily blue (Fairfax County, PW County, Arlington County, Alexandria, Hampton) or purple (Virginia Beach, Chesapeake), with the red jurisdictions (Stafford, Spotsylvania, Fauquier and Campbell) much smaller. So, overall this is looking very good for the "blue team" and not nearly so good for the Republicans.
P.S. Also note that some of the other red areas with the highest increases in early voting this year are tiny. For instance, Prince Edward only had 5k votes in 2013; Accomack only had 9k votes; Lunenberg only 3k votes; Pulaski only 8k votes; Southampton just 5k votes; Mecklenberg 7.5k votes; Prince George just 9k votes; Alleghany just 4k votes; and Poquoson just 4k votes.
Here are Northern Virginia jurisdictions – nearly 100k total absentee requests.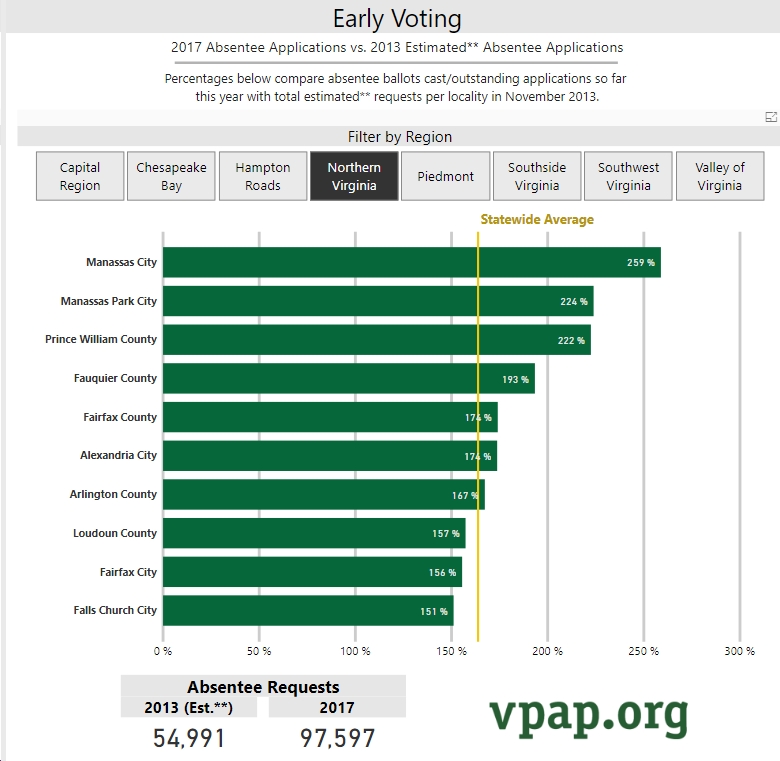 Here's Hampton Roads – in second place, although far behind at nearly 30k absentee requests.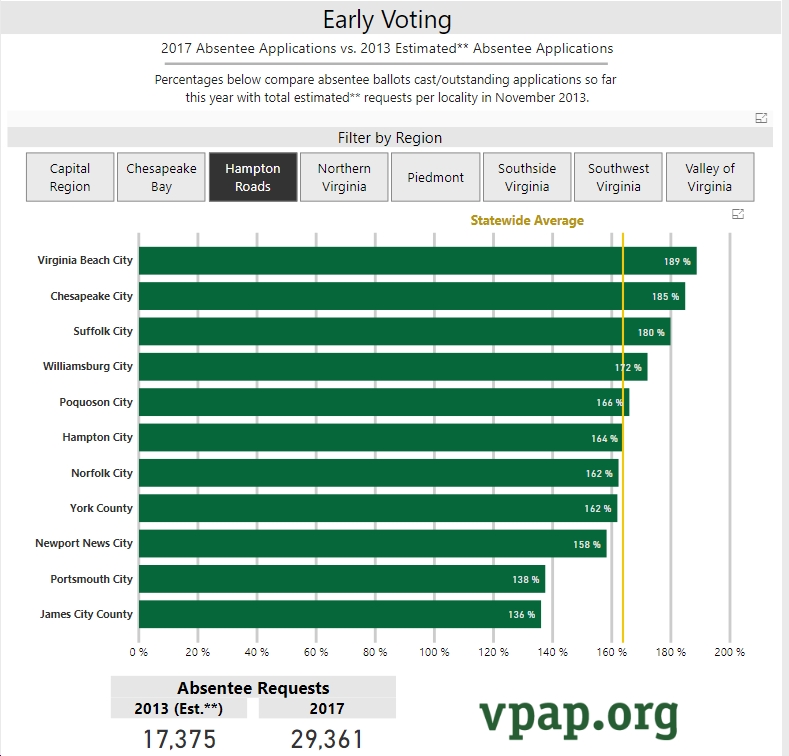 Here's the Capital Region – in third place, at 25k requests.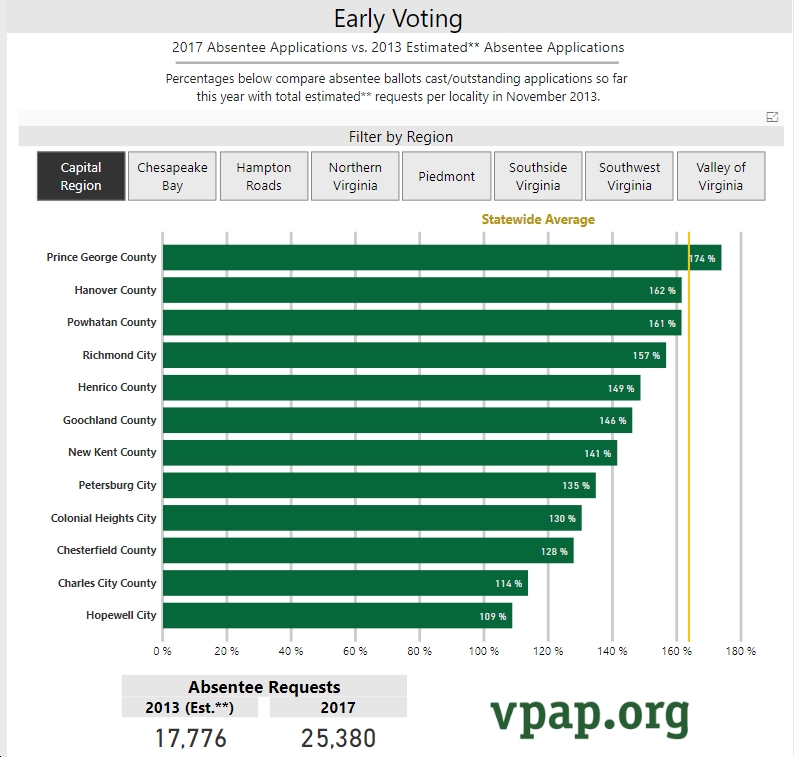 Here's Piedmont – small numbers here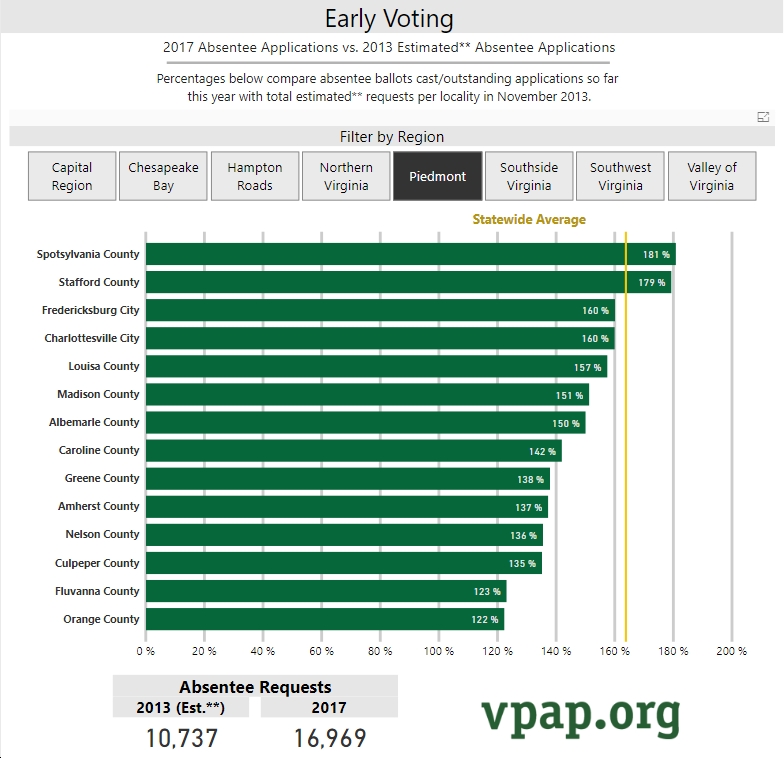 Here's the Valley of Virginia – small numbers here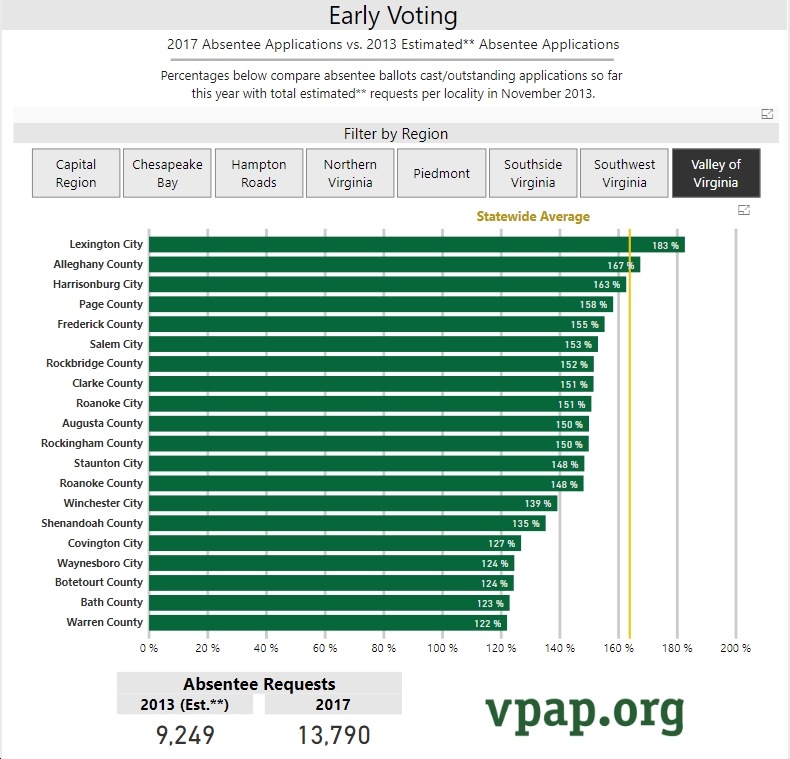 Here's Southside Virginia – small numbers here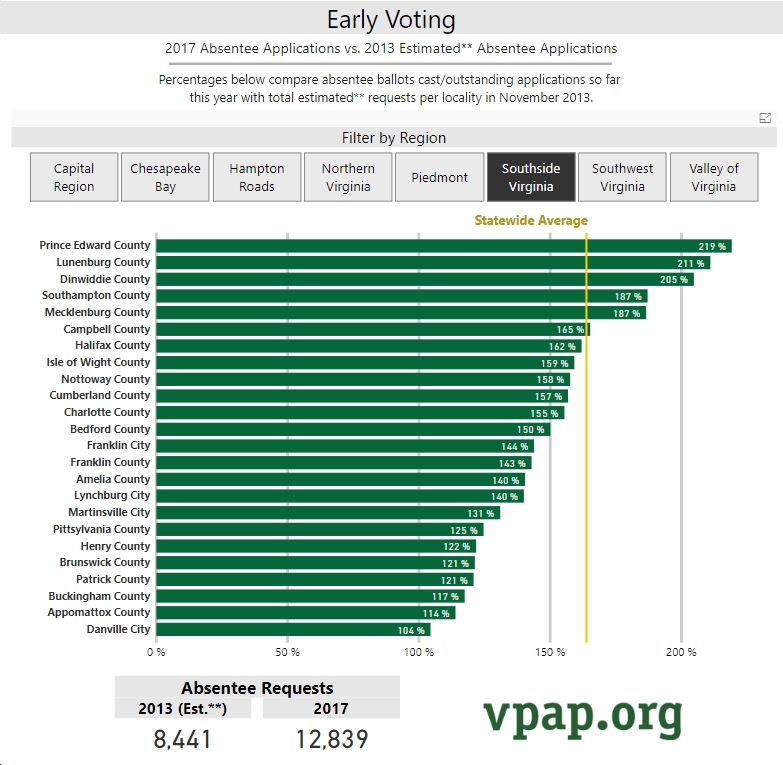 Here's SW Virginia – small numbers here)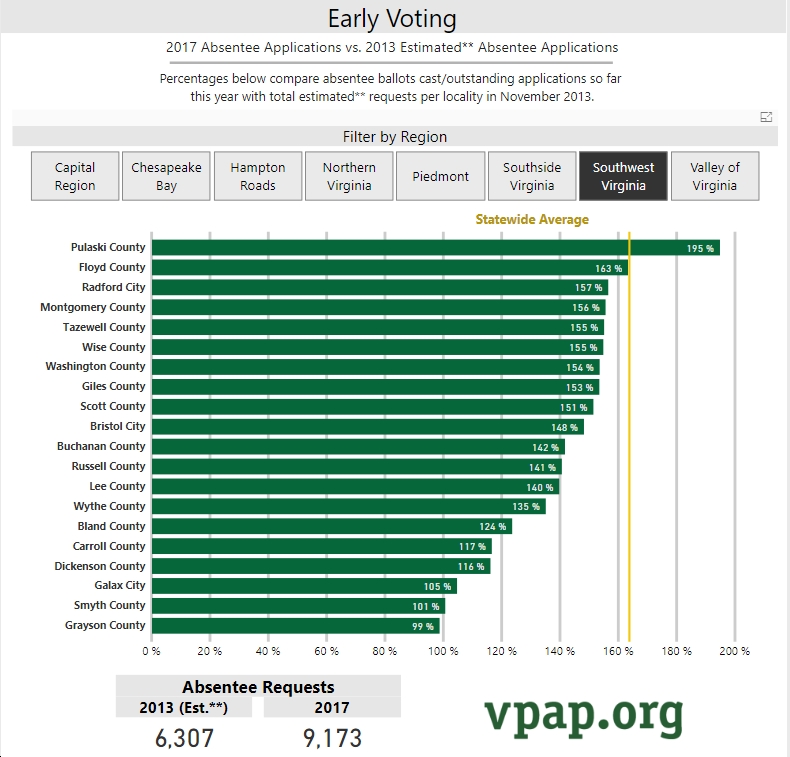 Here's the Chesapeake Bay region – relatively tiny numbers here